Andaman Islands travel FAQ
Readers of our web page and travel guide often contact us with questions. What are the frequently asked questions that people ask us about Andaman and Nicobar islands? We have summarized the Andaman travel FAQ here:
Where can I get restricted area permit (RAP) for Andaman islands. I have an e-visa to India, can I arrive to Port Blair and ask for RAP at the airport. (Katarína, Slovakia, November 2018)
What sort of permission do I need to enter Andamans and where, how can I get it. The embassy told they do not issue RAP and that we'll get it "somewhere there". 
(Pavel, Czech Republic, February 2019, Katarína, Slovakia, November 2018)
It is shocking for me, how under-informed is the staff working on Indian embassies. Travelers pay up to 100 Euros for visa and get such a poor service.Indian government cancelled restricted area permit regime for Andaman and Nicobar Islands in August 2018. This means there is no RAP needed to visit those islands mentioned in the guidebook. 
Sure there are island that require special permits (other than RAP). Also some areas within permitted islands may require special permits, e.g. permit from the forest department is needed to cross Long Island's forest to reach Lalaji Bay. Or you are forbidden from visiting tribal areas on Little as well as South Andaman. However, to put it simple, you need no permits to visit and stay on usually visited islands like North, Middle, South and Middle Andaman, Havelock, Neil, Long, Baratang etc…
What about malaria. Is there a risk of encountering malaria on Andamans? (Pavel, Czech Republic, February 2019)
Yes, there is a minor risk to encounter malaria and dengue fever on Andaman and Nicobar Islands. However, the risk is minimal in the area frequented by tourists. My suggestion is: learn about side effects taking anti-malaria medicine involves and make your own decision if taking prophylactic during 2-3 weeks visit to low risk area makes sense. And use common sense: long sleeves, long trousers at dawn and dusk, as well as anti-mosquito spray (bring it from home or mainland India).
How about internet on Andaman Islands?
(Pavel, Czech Republic; Michal, Slovakia; Sudharsan, India)
Surely the FAQiest FAQ. Get ready for no internet. Whatever is available is slow and unreliable. If you wanna play the digital nomad or you need internet for work during your holiday, stay away from Andaman islands.
There is no undersea cable leading to Andamans, thus satellite is the only connection there is. Satellite band with is limited and thus your experience is slow and patchy. Some accommodations have a wi-fi, but that wi-fi is backed by the same slow and patchy satellite internet. In Port Blair, the place with good mobile internet by BSNL, is by the Raj Niwas, or the seat of the Administrator. It is roughly in from of the MG park entrance. The more people try to connect to one BSNL tower the less the speed. Therefore we enjoyed the best speed in Diglipur, where mobile penetration is probably low, and the bandwidth was ours to enjoy.
Can foreigners buy a SIM card in Andaman Islands? 
(Pavel, Czech Republic)
Yes, however: "Who you gonna call?". Buying sim card involves passport copy, time and patience. It takes minimum one working day, sometimes three.  If you bring a sim card from mainland India, please note that only Airtel and BSNL are available in Andaman Islands. BSNL has better coverage.
Question really is: who you are going to call? Buying card for internet is close to nonsense (see FAQ about internet). My suggestion is go back to nineties and just politely ask your accommodation to let you make a phone call from their phone ...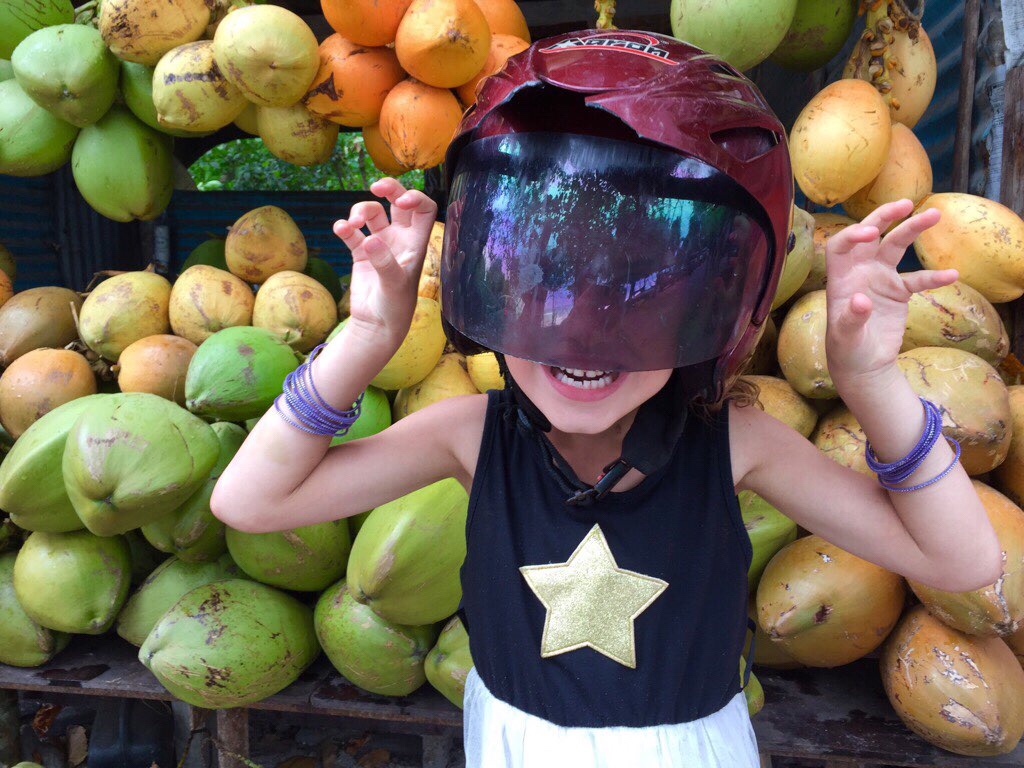 Renting a bike? Wear helmet.
Is it possible to rent a car in Andaman islands?
(Pavel, Czech Republic, Katarína, Slovakia)
Cars are being rented here with a driver. I have been exploring if it was possible to drive yourself and there is some bureaucratic hurdle to it. As renting a car with driver is an equivalent of taking a taxi, prices are rather high. It makes sense for a one day trips to places like Wandoor (Rs. 1500) or Baratang, where cost will be reasonable. However renting a car for a 3 day trip to e.g. North Andaman will cost some 12-17.000 Rupees, e.g. above 200 USD. And it makes no sense to hurry that trip in 3 days.
Is it Possible to rent a motorbike/scooter in Andaman Islands? Would it be possible to cross from south to north on a motorbike?
(Michaela, Slovakia)
Compared to renting a car, renting a scooter is a breeze in Andamans. We rented them in Havelock, Neil as well as in Little Andaman island. Scooters are also available in Port Blair, however we found no need there. Prices are 350-500 Rupees, depending on the season and demand.
Crossing Andamans South to North sounds like a great Idea for me. The only hurdle is, that you are not allowed to cross the Jarawa Reserve on south Andaman on any "open" vehicle. Thus between PB and Baratang or Rangat, you need to ship your bike or transport it by different vehicle.
What are the diving options in Andaman Islands?
(Iva, Russia, Pavel, Czech Republic)
Well, this is pretty tricky. The thing is, 99% of Andaman visitors are Indian tourists. If they snorkel, they do so in the life west, holding a certified instructor's hand. See my Wandoor/MG marine Park article. And if they dive, they are very beginners, so from what I have seen, they dived just offshore Havelock, near the jetty. We are certified divers too and we did not find it attractive to dive there.
Saying that, Havelock is the only place with any diving operation. My suggestion is to contact the diving schools there and check if you can get some reasonable dive.
You can also dive at North Bay, near Port Blair. But be prepare that this is just you and 99% Indians. If you find out more, please let me know
How is it with snorkeling in Andaman Islands?
(Surajit, U.A.E.)
In the list of the pain-in-the-ass bureaucratic restriction in Andamans, this one the most painful. De jure, you are only allowed to snorkel with a certified snorkeling instructor. "For safety reasons" you will have to snorkel in a very uncomfortable life west.  As ridiculous as it sounds, it is true. Such instructors are only available at Havelock island and at MG Marine park (Jolly Buoy island). For example, on Havelock's Elephanta beach, you can officially only snorkel in one place at with the hordes of Indian tourists in orange life vests.
A word towards Andaman administration and Forest department: foreign visitor, who spent time and money reaching Andaman islands will find such limitations ridiculous and unacceptable. Your visitors expect to be able to snorkel as freely, as they can in any other country: Indonesia, Maldives, Thailand, anywhere. Such limitation are unheard of. And, compared to majority of Indians, majority of foreigners know how to swim, thus the life west is of no use. Moreover many foreigners are certified divers. Thus wanting divers to hold instructor hand while snorkeling, is like requiring a certified bus driver to hold your hand when riding a rickshaw.
Further, most of the beaches are either sandy beaches with no reefs or as in Neil snorkeling is difficult, as the sea is shallow for swimming at low tide and reef is far in high tide. Good off-the-shore snorkeling places that we know, sorted by their quality, are:
Jolly Buoy (Rs. 1000 instructor + life west) is really amazing.
Craggy island
Elephanta beach. Good and quiet place is some 500m to the left (facing the sea) from the crowd.
The northern end of Lalaji bay beach, Long Island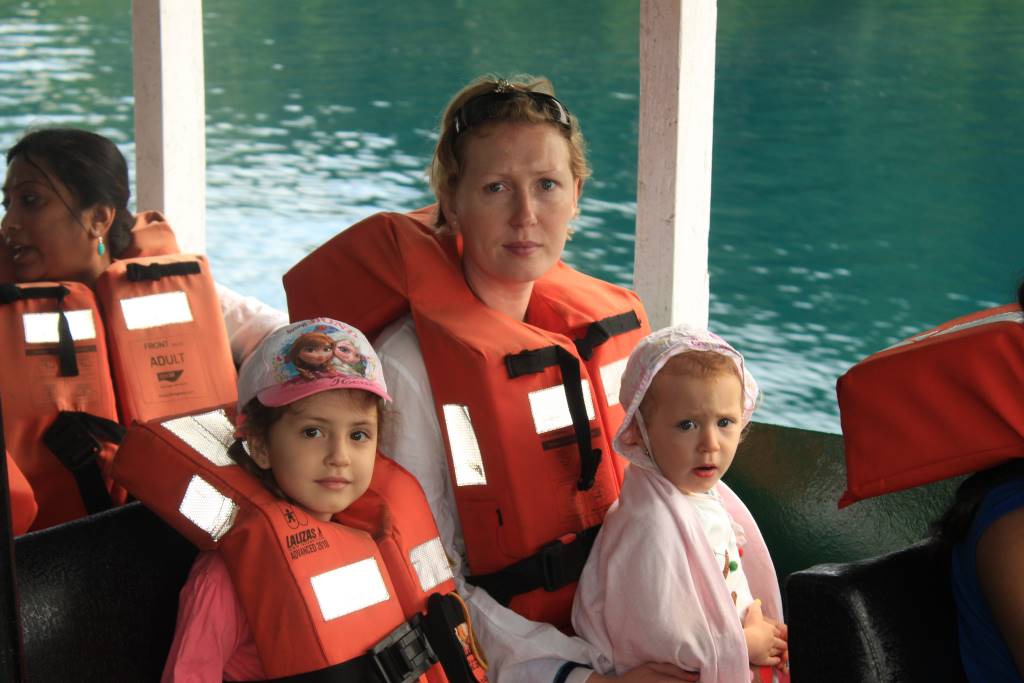 The orange life vest you may end up snorkeling in
The pain-in-the-ass bureaucratic restriction in Andamans ruin not only snorkeling but also diving. While you are right to presume Andaman islands must be the paradise for diving, I will give you a pretty different perspective.
Let me shout the truth out: if you are at least a little experienced certified diver, you will be either disappointed or annoyed by diving in the Andaman Islands. The reason for this is Indian (or Andaman) bureaucracy.
Forbidden boat dives
The thing is, it is periodically forbidden to do a boat dives around Havelock Island. This leaves you with only 2 shore dives options in Havelock, one very boring around the jetty and second, the better one, in Elephanta beach. Havelock is one of only 2 places where any diving equipment and instructors are available in Andaman Islands, the second is North Bay near Port Blair. As of October 2019 I got confirmed from local dive shop, tha they are allowed to do a boat dives within a mile from havelock, which is already an improvement. Let us all hope it lasts and regulations are further relaxed.
If you are totally inexperienced and never dived before, you will for sure be amazed by diving in the Andaman Islands. If you are a little experience inquire beforehand if diving from a boat is allowed as shore dives are far from amazing.