Hello and welcome to Dutta's Residency
Dear Traveller, thank you for visiting our web page. It will be our pleasure to welcome you as guest in Dutta Residency. Our rooms are spacious and airy. You will feel like at home.
We offer you
If you are a travelling couple or a family, if you just stop over for a night or you plan to stay in Port Blair for longer, we have something for everyone.
Dutta's Residency accomodation:
2 studios with double bed and attached bathroom.
Sleeping places for 2 plus possible extra bed
2 one bedroom apartments with 2 double beds and attached bathroom and kitchen.
Sleeping places for 4 plus possible extra bed
Services for guests of Dutta Residency
Airport pickup - free
Parking - free
Breakfast served in the room
Lunch or dinner - we are able to offer you our home cooked Indian food. To ensure that your lunch or dinner is delicious and fresh, we kindly ask our guests to notify us two hours in advance, as all purchase are made fresh after receiving your kind order. Lunch or dinner  we serve in the room or on the second floor terrace.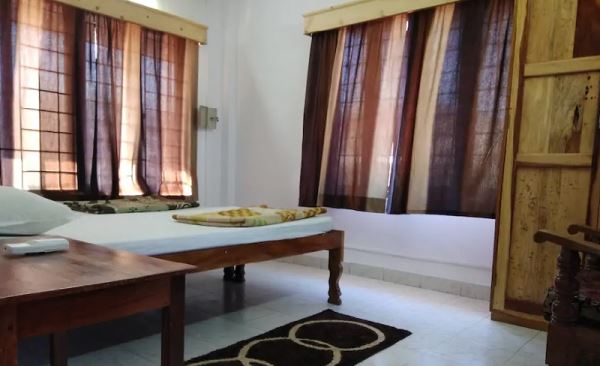 One bedroom apartment sleeping room Dutta's Residency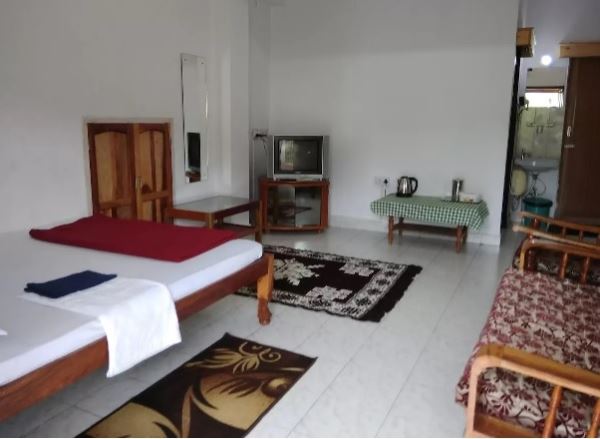 One bedroom apartment living room Dutta's Residency
Tours and travel by Dutta Residency
In Dutta Residency we have our own transport. Our  Mahindra is ready together with driver for you trips around Andamans. Wandoor with MG marine national park and Baratang via Jarawa reserve are among the most popular with our guests. We will gladly take you to other highlights of Port Blair and around: Cellular jail (light and sound show), Corbyn's Cove beach, Samudrika naval museum, Chatham saw mill, Anthropology museum, Chidiya tapu or Mount Hariet.
We can arrange bus and ferry tickets  for other islands, subject to availability.
How to reach Dutta Residency
Dutta Residency  is located in Shadipur, 5 minutes tuk-tuk (auto rickshaw) ride from the city centre, 5 minutes from sea port or 10 minutes from the airport, 15 minutes to Corbyn's Cove beach. At Shadipur Junction you will find small market, where groceries, vegetables, fish and meat are easily available. Pharmacy, barber shop, bakery shop, gym and ATMs are also located within walking distance.
If you take taxi or rickshaw, please quote the following address: "Ganesh Mandir, Shadipur Junction". Our house will be on the right side as you approach the address from city center.
Click here to display map
History. We have been welcoming guests since 2007. Dutta's Residency is officially registered with Andaman & Nicobar Administration as Bed & Breakfast establishment.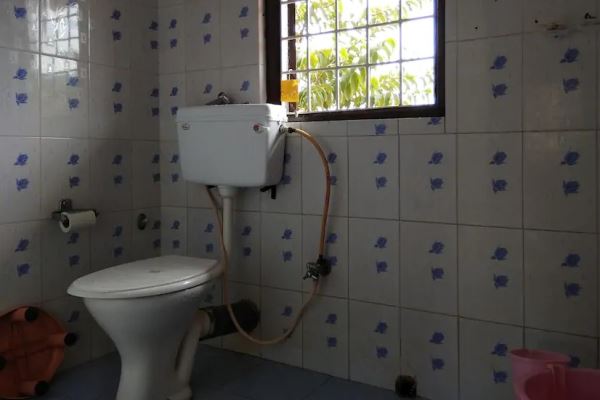 Shower and Toilet in Dutta's Residency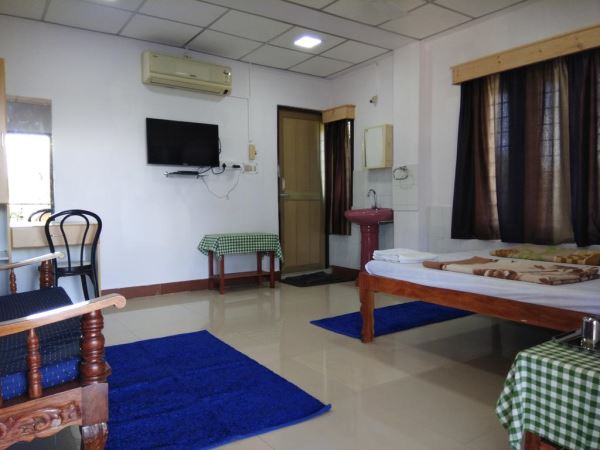 Studio room with AC shower and toilet and Dutta's Residency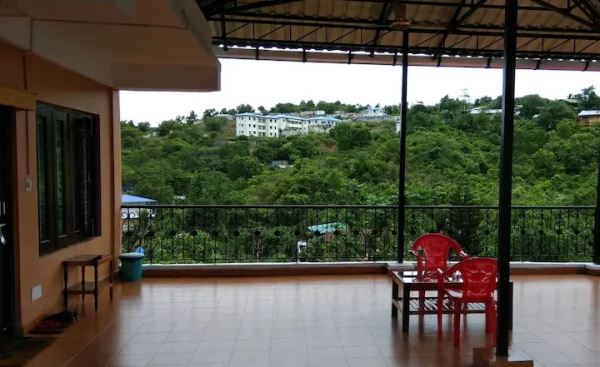 View and the terrace, Dutta's Residency
Why is Dutta's Residency featured on Eagle Fly Free?
While we rarely pick and recommend specific accommodations or restaurants, I believe Mr. Dutta and his team deserve it. We needed an accommodation for longer term. Overall, we spent some 3 weeks with the family. And as it turned out, we were the first foreign guests of this good place.
Become EagleFlyFree's Facebook friend, see pictures on Instagram and videos on YouTube. Thank you.
Save with us
Dutta Residency offers great value for money!
You can save even more using these great cashback offers:
Andaman Islands Guidebook
Click below to see our guidebook full with useful, first hand information:
Contact Dutta Residency
Have a question? Planning to visit Port Blair? Contact Dutta's Residency directly and save 🙂
+91 94342 88330