Guide to Long Island, Andaman and Nicobar, India
Little information was available about the Andaman Long Island, before we first headed to Andaman and Nicobar archipelago. What was available, turned not so true as presented. My impression from reading available information before visiting the Long Island was, that it is a quiet, little visited paradise. As we hit the reality, it turned out that the islands two accommodations are heavily overpriced, for no reason other, than lack of competition. The island itself is worth visiting.
Why visit - Highlights of Long Island
You may consider visiting Long Island for its beautiful Lalaji Bay beach and nice jungle walk heading from the inhabited south of the island to the Lalaji bay.
Lalaji Bay beach, Long Island
If you decided to visit Long Island, you did it because you heard about this beautiful beach. Lalaji Bay beach is indeed quite beautiful, it very much reminds Elephant beach on Havelock. Snorkeling on the left (northeast) side of the beach is OK, you need to swim further away from the shore and its sandy bottom.
Good think about Lalaji Bay beach is that is OK for swimming and snorkeling at any time and any tide, with higher tide slightly better. In any case getting there and away will take you 60-90 minutes, either by nice jungle walk or by boat from the village. Thus Lalaji Bay beach is a day trip from the village located at the southwest tip of the island. In our contest for the best beach in the Andaman Islands the Lalaji Bay Beach is the winner. Read more in the article here: The best beach in the Andaman Islands
Strange thing and great thing about Lalaji Bay beach
The strange thing about Lalaji Bay is the forest department accommodation there, called "Sea Mohwa Grove Eco-Tourism Huts". At the very peak of the season, when Havelock or Neil are overpriced and hopelessly booked this place wat totally empty with no visitor staying. Why would nice accommodation located at such a fantastic, beautiful location be empty? It is mispriced. With 5000Rs+tax asking price, this is just a no go …
The great thing about Lalaji Bay is that the empty forest department huts also include a "restaurant". Thus you do not have to hike to the beach with your own food supplies (take water though), but you may enjoy a very decent lunch or dinner here.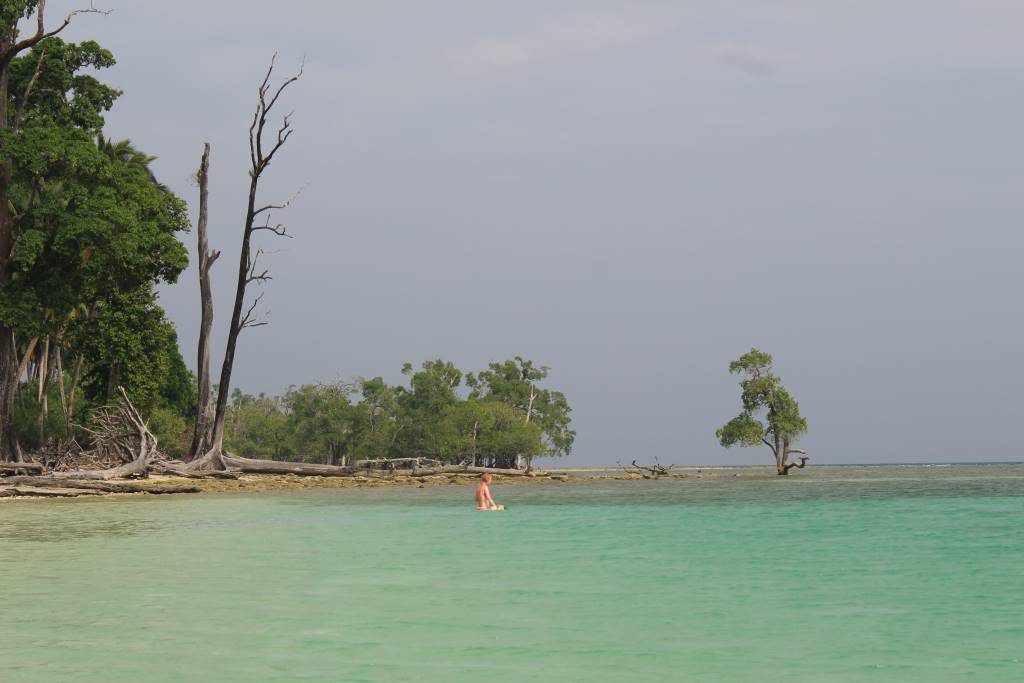 Lalaji Bay beach, Long Island, Andaman
Getting to Long Island (Andaman)
We have dedicated chapter about transport and getting around the Andaman Islands here.
There are 2-3 ways how to get to Long Island, all depending on where are you coming from.
Havelock / Neil / Port Blair to Long Island
There is government boat every second day connecting Port Blair with Rangat. This vessel stops at Neil, Havelock, Strait Island or Kadamtala, Long Island and finishes the day long journey at Rangat Jetty. Next day, the same ship sails back. The journey costs 355 RS (Feb 2018) regardless of from where to where you go. This ship is Ideal for a trip from Havelock to Long Island or vice versa.
See our section on ticket purchasing: buying tickets for ships and ferries around the archipelago.
Link to the Andaman administration, Rangat section with Andaman ship schedule: www.andaman.gov.in/web/guest/neilhavrangat
Rangat to Long Island, option 1
You can use the Port Blair to Rangat ship as mentioned above to reach Long Island from Rangat or vice versa, however I would recommend the option 2:
Rangat to Long Island, option 2
Between Rangat and Long Island there is a twice daily service from Yeratta Jetty. Saying that, please note that Rangat has two jetties, the Rangat Jetty, mentioned above and the Yeratta Jetty, from where smaller ship sails thru amazing mangroves to Long Island. This service is meant for Long Island residents, to visit Rangat, as administrative center in the morning and return on the afternoon ship. We do recommend to use the ship, if for nothing else, then for the beauty of the sailing to or from Long Island. Please refer to our Guide to Middle Andaman Island for details of Yerrata mangroves, its jetty and viewing tower.
Tickets are sold on the ship.
Getting around Long Island
I thought about skipping this section. The only way to get around the Long Island is to walk, plus there is one tuk-tuk, check with Blue Planet (below) for contact number of the driver. From the Jetty to Lalaji Bay beach you can take a boat with local fishermen.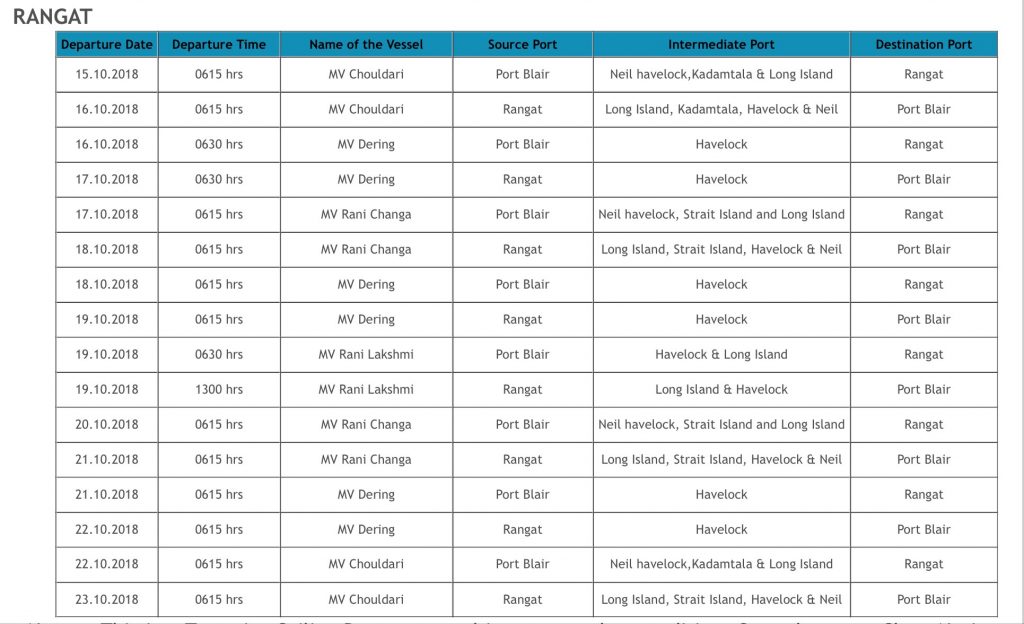 Long island, Andaman ship schedule
Accommodation on Long Island (Andaman)
Long Island's accommodation is the islands biggest weakness and the reason why I would not return to the island, until the situation improves. Forest Department has two accommodation options here. The already mentioned Sea Mohwa at Lalaji Bay, where nobody stays because of the unreal price and Vanashree Guest House. Do give this one a try. There are normal rooms at reasonable price (I guess 1200 or so), but these are almost always occupied by Forest Department workers. Same place also offers detached houses at some 4000 Rs per night, again way too much. Good think is that the place is just above the jetty, so checking it out is easy.
The only (poor) option
This price policy of the Forest Department leaves the accommodation options limited to one and only: the overpriced Blue Planet. It is quite long and tiring walk all the way from the Long Island jetty, especially if you have luggage. We booked by phone, so they knew we are coming, would somehow expect someone to pick us up and help with luggage. Well, Blue Planet enjoys quasi-monopoly position here, thus they do not need to be super service-oriented. If you decide to hit Long Island, then call Blue Planet, tell them your arrival details and kindly ask to be picked up from the jetty.
Blue planet is wooden-bamboo structure, which despite being quite new, already looks run down. For a reasonable room, I am not saying "nice", just "reasonable", they ask 2000-2500, no bargaining. A hole in the bamboo wall with a mattress on the floor, which honestly looks terrible and I am not a picky guy, will go for 800-1000.
On the positive side, Blue Planet has its management somewhere in Port Blair or mainland India, so they are pretty responsive to emails. Thumb up for Blue Planet here.
The worst thing I need to say and recommend is that you do book ahead. Call them and book your room. The thing is this place can get full.
Food on Long Island
Food is another reason to skip Long Island for now. There is no reasonable restaurant on Long Islands. Well, there is no place to eat at all, other than your accommodation. Anywhere in India, you hit the market area, you will get at least some food. Long Island's population is so small and poor, that there is nothing cooked available for breakfast, forget lunch or dinner. Thus you will eat at Blue Planet, which cooks reasonably, but order your food well ahead, so they can get supplies for your meals. Alternatively, check the Vanashree Guest House for lunch or dinner.
A few shops sell snacks and drinks around the market area.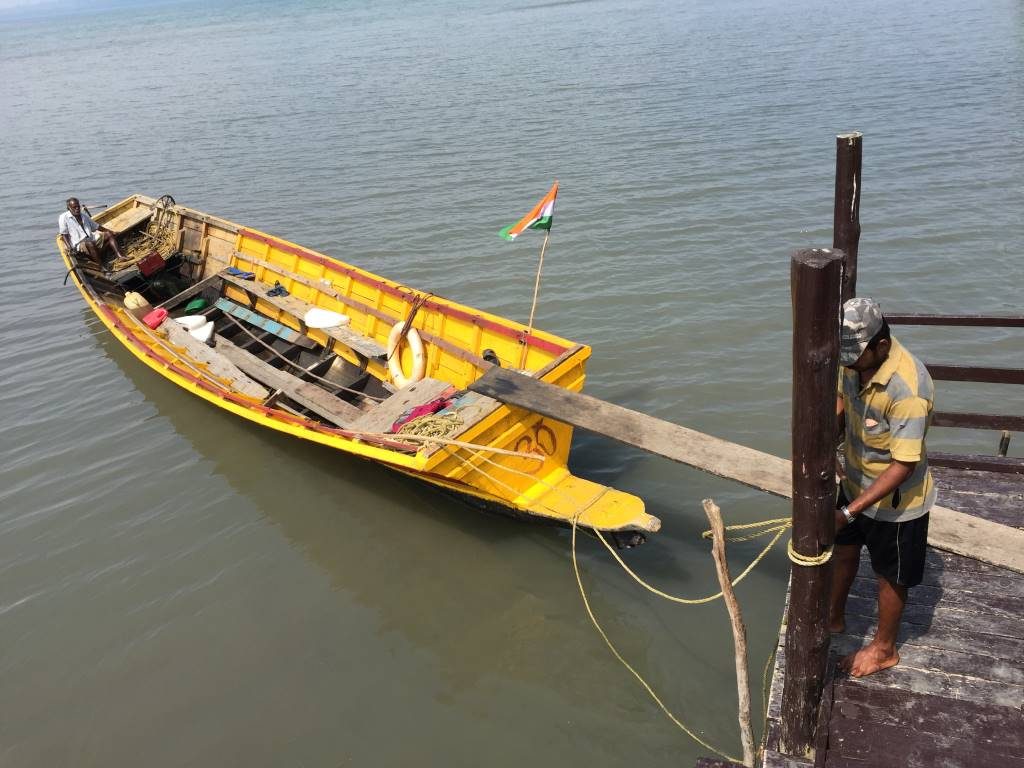 Going to Lalaji Bay, Long island, Andaman
Coconut plantation, Long Island, Andaman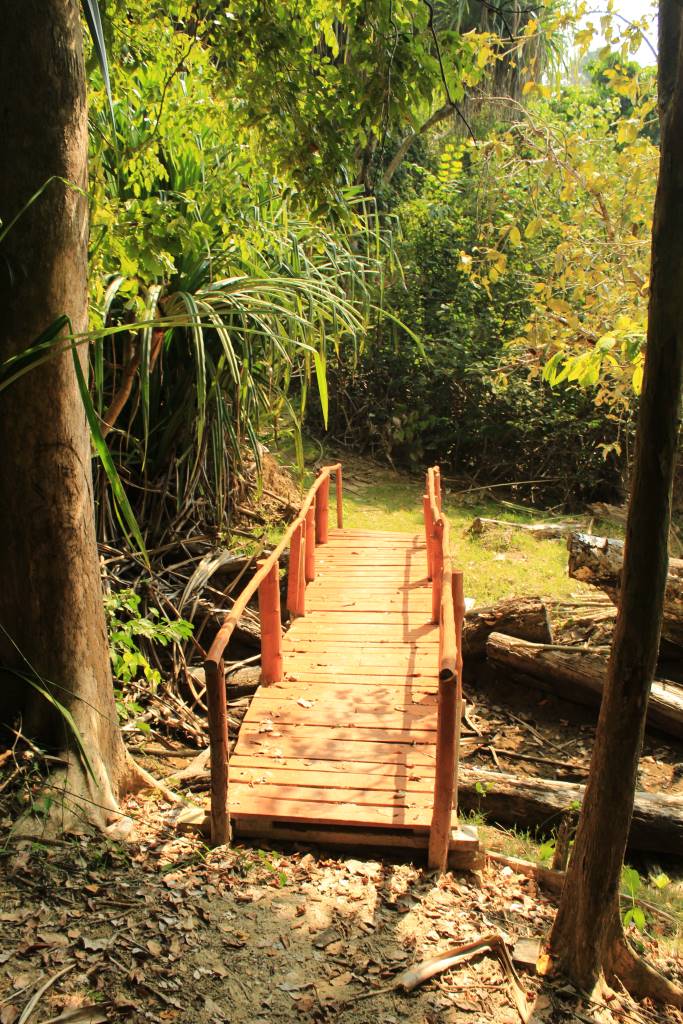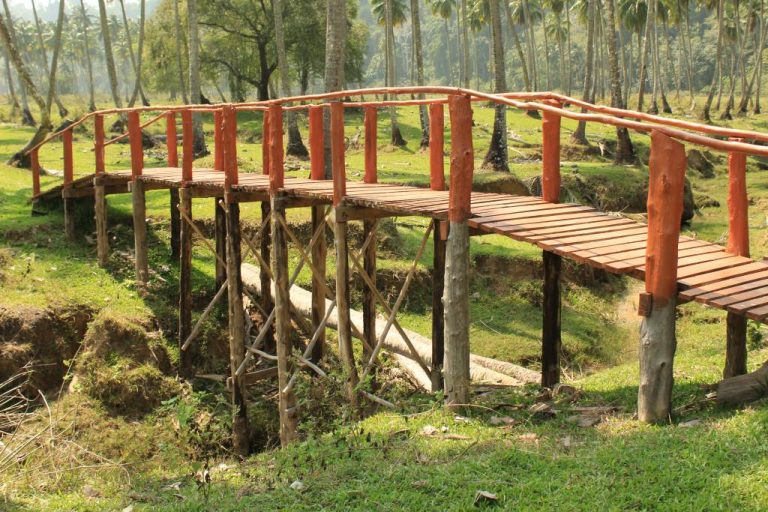 Long Island, Andaman
Long Island, Andaman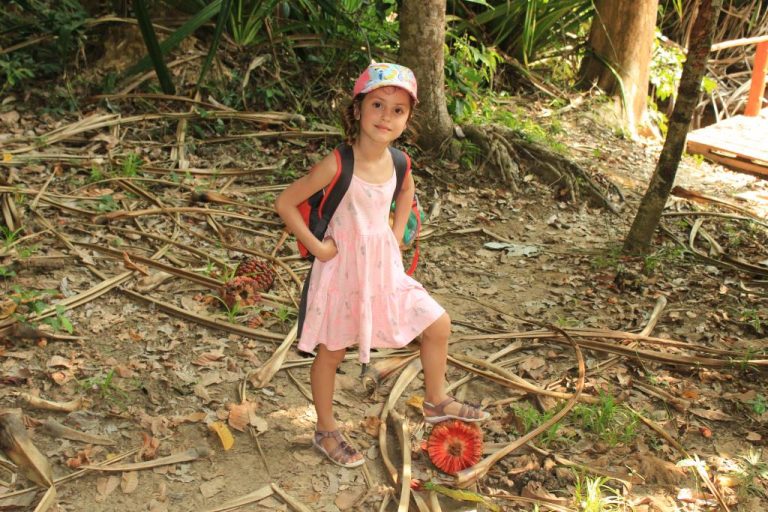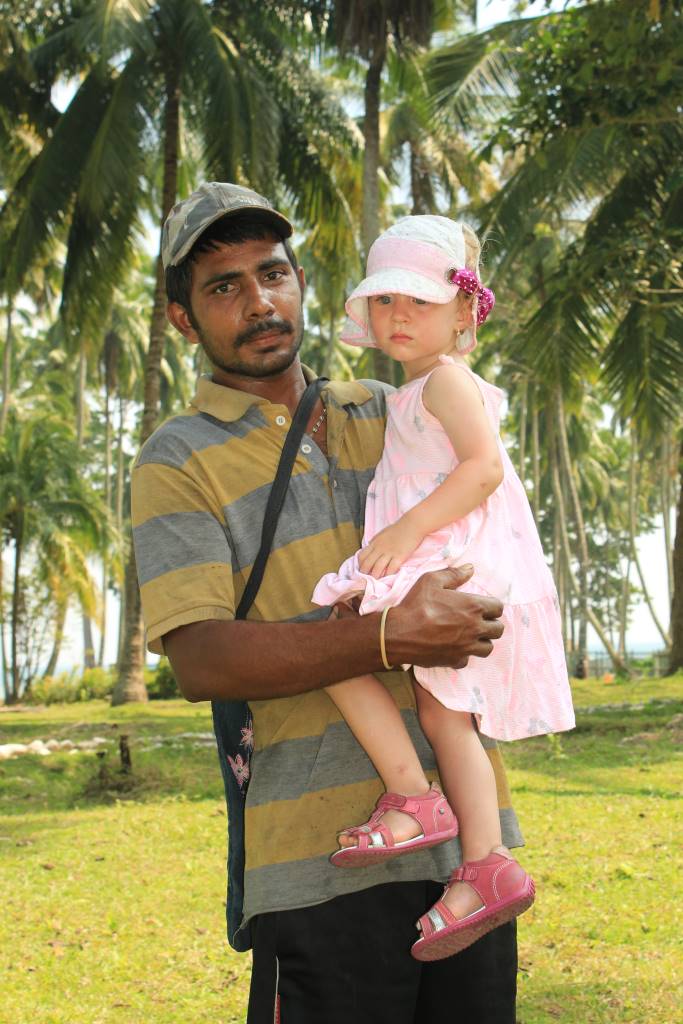 When your captain is more than a boat man, Long Island, Andaman
Conclusion about Long Island, Andaman
I am sorry to say that, but if there are two islands that I would skip next time we come to Andamans, Long Island is one of them. Neil is second. Why?
Poor and overpriced accommodation is the main reason. Lalaji bay beach is beautiful, but not much different to Elephant beach at Havelock. The jungle walk to Lalaji bay would be the only reason to come. However if you are heading to or from North Andaman and will do a jungle day trip towards Saddle Peak (that we strongly recommend in our North Andaman guide), you will enjoy the jungle scenery there.
However, if you are not heading to North Andaman, then let me suggest the following. Hit Long Island from Havelock and the loop back to Port Blair via Rangat. You will see the Jarawa reserve on the way back, which make a great journey. Spend 2 nights on Long Island and walk to Lalaji Bay via jungle and back.
Also, a good alternative is to get the morning boat from Yeratta Jetty to Long Island, hang around the beach near Blue Planet and return with the afternoon boat back to Yratta (Rangat).