Reaching Meghalaya Root Bridges
I will be honest. I did not know the root bridges exist. Friends we met on the Andaman Islands told us about this miracle of man and nature coexistence and I suspected, this will be one of the most amazing places on this little planet. After we left Andamans we headed straight to Meghalaya to witness living bridges with our own eyes.
The information how amazing the bridges are was accompanied by the warning, that steep vertical terrain will be a no go for our two children, aged 2 and 6. "No, you can not go to Double Decker, that is too difficult", we heard again and again. We did it and this is our guide to Meghalaya root bridges for you.What are living root bridges?
For more details about root bridges, check our previous article here:
Getting there - The unusual way.
When you look at the map, you will realise, that the Khasi hills are facing plains of Bangladesh down below them. Therefore, one unusual alternative is reaching Root Bridges from Bangladesh, via Dawki border crossing. (Have you visa stamped in your passport before you try.)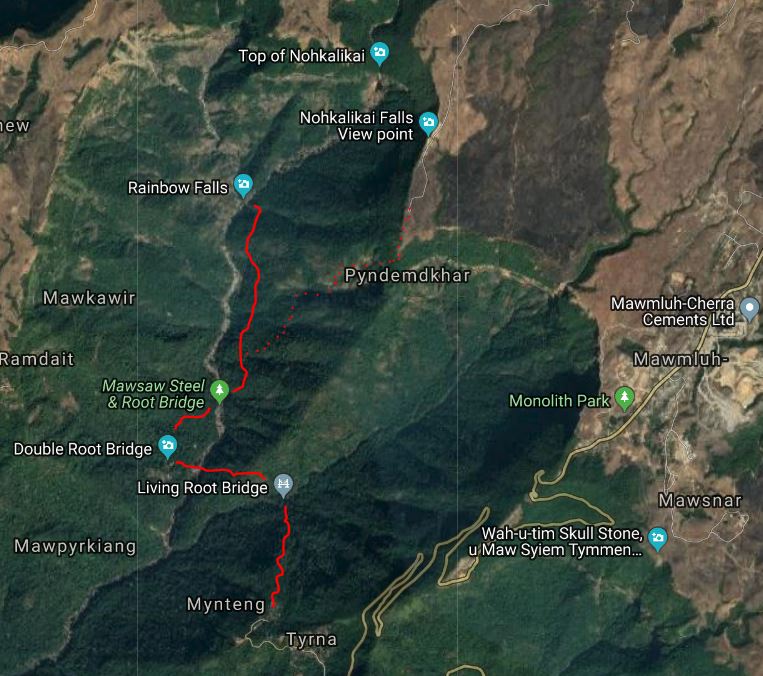 Nongriat Area Map data (C) 2019 Google
Getting there - The usual way.
First by air to Assam or Meghalaya
All Indian airlines connect multiple Indian cities with the capital of Assam, the city of Guwahati. Flight are frequent, competition high and prices low. There is also a "Shillong airport", at the village of Umroi, some 1-hour drive from the Shillong itself. This is a small airport with the less frequent connection. Check the price and timing of flights to Shillong, if nothing reasonable is found, fly to Guwahati. Meghalaya Transport Corporation (M.T.C.) runs a bus from Umroi Airport to town. It costs 100,- RS per person. Make sure you catch it, the taxi cost would be ruinous.
From Guwahati airport to Shillong.
From Guwahati airport, you have multiple options. Best is to ask around the parking lot to see if there are shared taxis, jeeps directly to Shillong. This is your fastest bet, it will take anywhere from 3,5 to 5 hours to reach Shillong.
The second best option is the direct M.T.C. bus between Shillong and Meghalaya Airport. It departs Shillong at 6:30 a.m. and 9 a.m. and departs Guwahati airport at 2 p.m. and 4 p.m. The fare is Rs. 250,-
Alternatively take an airport bus to the Guwahati bus station in the city centre, from where you can take either bus or shared taxi to Shillong. Obviously, the bus will be cheaper and less convenient. For the taxi, prepare to pay 350-500 Rs per person, depending on the car and number of sharing passengers.
One option, which sounds pretty good to me, is using the Meghalaya Helicopter service. Price is acceptable: 1500 Rs per passenger, one way. Choppers land near the Shillong city, e.g. not at the distant airport and the flight duration is 30 minutes only.
Crossing a steel bridge above Mawsaw river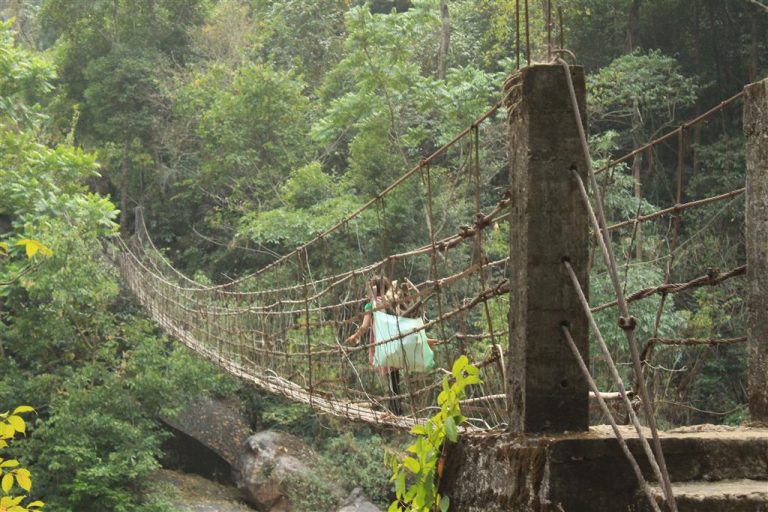 From Shillong to the root bridges.
Next thing you should decide for yourself is what actually you want to see. Shall you just visit the easily accessible root bridge near the so-called "cleanest village" or are you fit for trekking to Double Decker and beyond (Yes, you are! Maybe you just do not know about it.)
From Shillong to the cleanest village, easy root bridge and Dawki.
The most popular day trip from Shillong, suitable even for the laziest ones. You will visit Riwai living root bridge; Mawlynnong, touted as "the cleanest village in Asia" (quite a nonsense, btw.) and Dawki village, with this time "the cleanest river" in India, called Umgnot. I must admit, the river is worth the visit.
Even if public transport heading to Dawki exists, the complete trip can only be done with Taxi or tourist bus. Price for taxi per full day starts at 2000,- Rs for small Maruti. Tourist bus costs 500,- Rs per person.
The only risk of this trip is, that once you realise how amazing the root bridges are, you will want to see more. 😊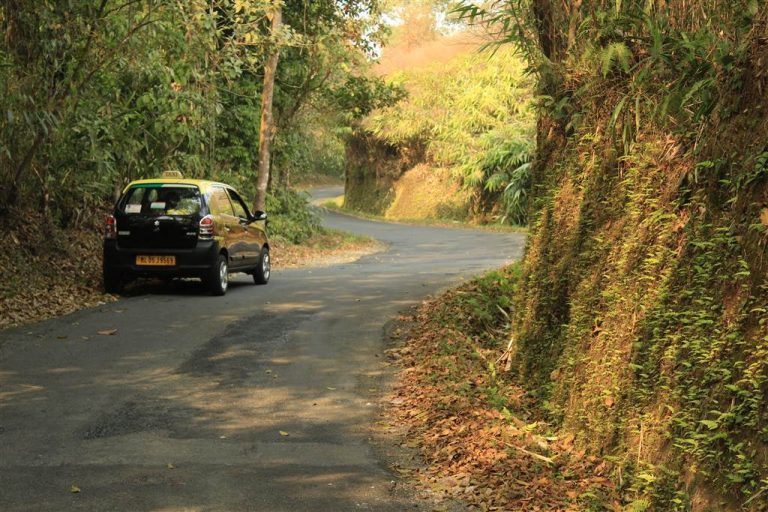 The road from Cherapunjee to Tyrna
From Shillong  via Cherapunjee to Tyrna (for Double Decker) by Bus
Once you got used to the fact, that things like transport are cheap in India, you will face painful truth in Meghalaya. Transport is cheap only if you move between populated places together with other local inhabitants. Meghalaya is mountainous and sparsely populates the state of India and you are heading where mostly tourists and not locals go. You will need a taxi. Prepare a thicker wallet.
Public bus
There should be a bus between Shillong and Cherapunjee (Sohra). This bus is not run by M.T.C. We heard it is cheap, mostly crowded, infrequent and it leaves early morning from the Police Bazar (that is how the city centre is called here). Ask at M.T.C. bus station what the departure times are and check around if any shared taxis may be available. At the time of our visit, they were not. If you travel on a very tight budget or you are alone and a taxi would be out of your budget, take the bus to Cherapunjee.
Tourist bus
The alternative to the local bus would be a tour bus run by Meghalaya Tourism Development Corporation. They run a day trip from Shillong towards Cherapunjee, stopping at main tourist points like caves and waterfall. This tour returns back to Shillong, however you may get off at Cherapunjee and continue further on to Tyrna. Price is 350,- Rs per person which makes a lot of sense compared to a taxi.
Once you reach Cherapunjee, your choices will be similarly limited. There will be a transport once or twice a day going to Tyrna or passing by, that can drop you at Tyrna or at a nearby crossing, from where you could walk. However, it is very likely that you will need a Taxi from Cherapunjee to Tyrna.
From Shillong via Cherapunjee and Tyrna (for Double Decker) by Taxi
Taking a taxi is expensive, but makes a lot of sense. Similar to the tourist bus, a taxi driver will stop for you at most of the interesting points en route. A taxi will also cost from 2000,- Rs per day. Saying that, please think twice before you decide to do Double Decker as a one day trip from Shillong. Count on a minimum of 2.5 hours nonstop driving time there and another 2.5 hours back. Then you need time to descend those 3700 steps from Tyrna to Nongriat (where the Double Decker is) and time to climb them back. When will you enjoy the bridges and scenery? Do not do it and read on: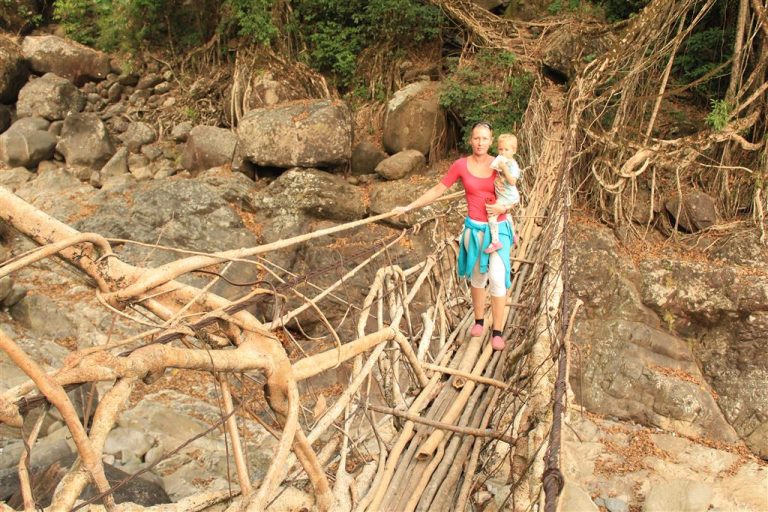 Crossing a root bridge
Planning and timing your visit to Double Decker living root bridge
Let me offer you 2-3 reasonable alternatives on how not to exhaust yourself and enjoy what you came for to the fullest.
Option 1. We did it this way.
Day 1. Take a taxi from Shillong to Tyrna, making a stop or two on the way. Reaching Tyrna, get something to eat and start descending to the valley. Stop at the amazing "Long bridge" en route. You will reach Nongriat later in the afternoon, check the Double Decker and overnight in Nongriat.
Day 2. Do not go back! Spend the next day fully in Khasi hills. Trek from Nongriat to the Rainbow Falls. This trek is even more amazing than the one you did a day before. Return to Nongriat to spend the second night there.
Day 3. Climb up back to Tyrna. You'll already know how amazing the Long bridge is, thus you will visit it again. Arrange your taxi driver to wait for you in Tyrna around 2 pm and return to Shillong by evening, making a stop or two if you have any energy left.
The only disadvantage of this option is the high cost of paying 2 x 2000 Rs for the taxi.
Option 2.
If you want and can reach Cherapunjee cheaply by bus from Shillong, then do so. If there is a chance to also reach Tyrna on the same day, do so. Tyrna is only 30 minutes by car from Cherapunjee, however, transport is very infrequent. If you overnight in Cherapunjee or Tyrna you will have more time to spend in the hills, compared to starting your day in Shillong. For the rest of the plan, follow the option 1.
My suggestion here is to contact one or two accommodations in both Cherapunjee and Tyrna and check what the latest transport options are on the Tyrna - Cherapunjee - Shillong route.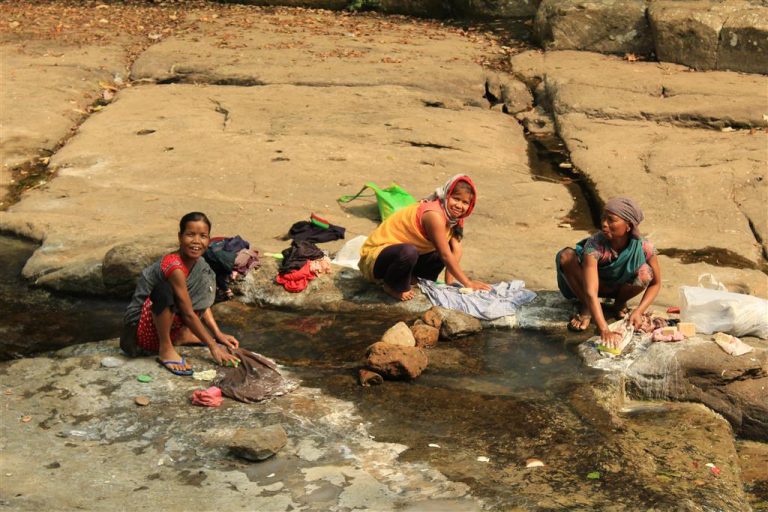 Dry season by Riwai village
From Tyrna to Nongriat (Double Decker) via the Long Bridge
Once you set foot in Tyrna, the journey continues on foot from here. It is said to be 3700 steps down to reach Nongriat. Plus or minus, it can be so. The first part of the hike is literally stairs only. Just down, down, down. When you reach the crossing with a detour to the long bridge, you are half way thru and the worst is over. On the way back it is a stairway to heaven.
Meet the Ritimmen.
Ritimmen is the name of the famous long bridge, that you should visit on the way to Double Decker. Some sources claim this is the longest living root bridge on Earth. In fact the longest one is near the small Khasi town of Pynursla. To me, the Ritimmen is more spectacular than the Double Decker. Make sure you do not miss it. There is a nominal fee to enter the Ritimmen area: 10Rs per head plus 20Rs for the camera.
Double Decker.
It may take you 1-1,5 hour to descend to Ritimmen and another 1-1,5 hour to reach the Double Decker. Take it slowly and enjoy the scenery. You will reach Nongriat settlement after crossing the long metal bridge over an amazing river valley. There is also a nominal fee to enter the Double Decker, slightly more than the Ritimmen.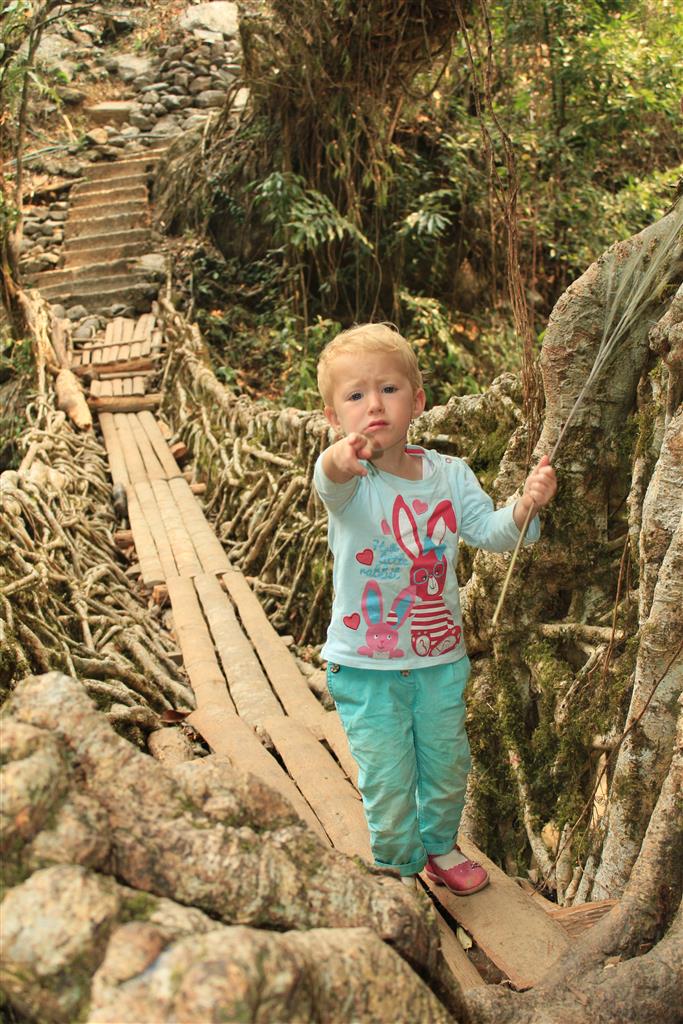 You can do it!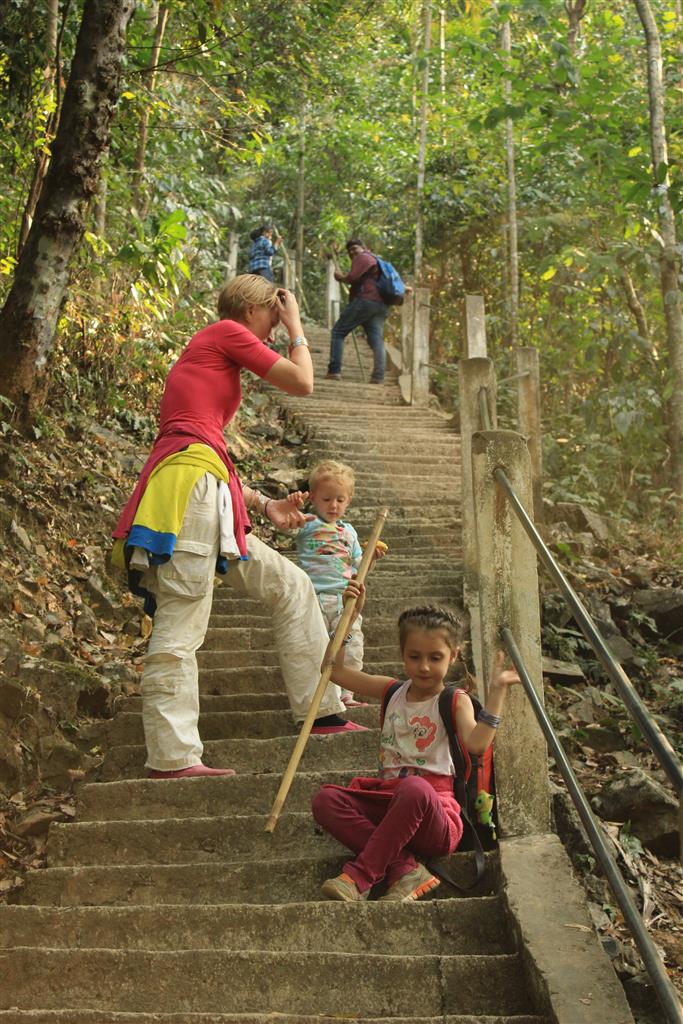 Stairway to heaven
Nongriat to Rainbow Falls and back
After reaching Nongriat, you have a choice of going back to Tyrna (which would be a pity) or going to rainbow falls and back (which for most people maybe be too much for one day) or staying for the night (which is the right thing to do). Sleep well and with energy recharged, head to Rainbow Falls. Journey to Rainbow Falls is amazing, beautiful and thrilling in some parts. You will need to overcome Mawsaw steel bridge, hanging over the river valley, encounter a few root bridges on the way and splash in the natural pool before you hit the scenic waterfall.
Trek from Nongriat to Rainbow falls and back is different and somehow more difficult then the Tyrna - Nongriat part. The first thing, that makes the trek more difficult is, that the path is not "paved" by firm stairs, as the patch from Tyrna was. While the path is clearly visible and there is no need for a guide, it may be muddy and slippery in parts, especially after the rain. The second thing makes it easier. To get to Rainbow falls, you do not need to overcome huge elevation differences. The trek is slightly uphill, but not steep.
If you do not have the full day to go to Rainbow Falls, but you have some spare hour or two, just walk some 30 minutes from Nongriat to Mawsaw steel bridge and enjoy the thrill and scenery crossing it.
On more option for those with real mountaineering strength
There is a detour you can see on the map at the beginning of this article. Halfway to Rainbow Falls, you can locate a very steep path that will lead you to the Nokhalikhai Falls viewpoint. This way may seem like a shortcut to be used for the journey back. Sure you can use Nokhalikhai Falls viewpoint a starting or ending point of your Rainbow falls - Double Decker - Ritimmen hike. However please be aware the steps here are very very steep (steeper than steps from Tyrna) and you must be strong and fit to take that path. An advantage would be that the viewpoint is easy to reach from Shillong on the tourist bus, that could save you time and effort of getting to or from Tyrna.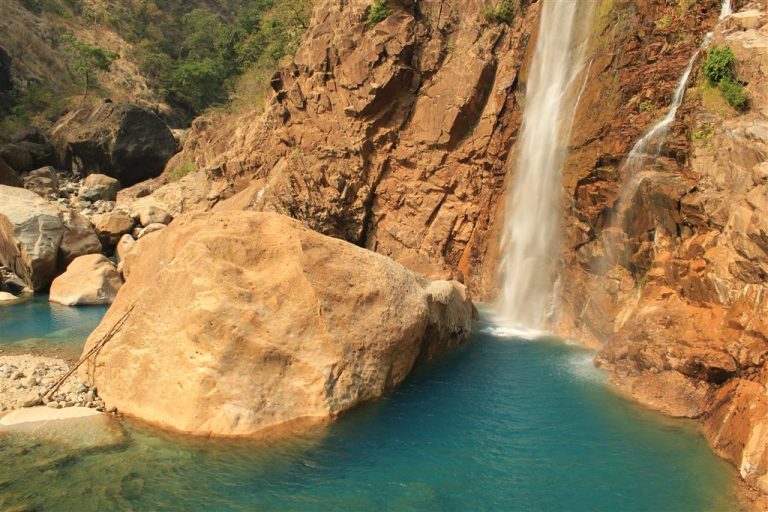 Rainbow Falls Meghalaya