Which is the best Andaman Beach?
As an author of the Andaman Islands Travel Guide I have been thinking to answer the question "Which is the best Andaman Beach?" for a while. Recently I have finished  my homework and compared 13 Andaman beaches according to different criteria. And you know what? Radha Nagar Beach in Havelock Island is not the best Andaman beach.
What?
Yes, I know. That's a shocking result. I'm shocked myself. Want to know who the winner is? Read on.
The best Andaman beach contest methodology
What does it take for the beach to be "the best"? First let me describe the methodology. I have chosen five criteria on which to compare and rank Andaman beaches. These criteria and their respective weights are: The visual beauty 50%, the ease of swimming 20%, beauty of the underwater world for snorkelling 15%, the freedom of snorkelling 5% and the facilities available at the beach or nearby 15%. A beach can score between zero and one hundred points in each criteria.
Top weighting factor
The visual beauty has a 50% weight as a ranking factor. You may agree or disagree with my ranking of different factors. I tried to be fair to everyone. Some people simply don't know how to swim and they only come to the beach to make a selfie and post it on Facebook. For them, the visual charm could weight more than 50%. Some people care about the attraction of the underworld  and they would attach bigger weight to this factor. Some people need facilities. I will describe all the beaches in more details to let all the people know which Andaman beach is the best for them.
Please see the complete table with all the beaches, criteria and scores at the end of this article.
And the winner of The best beach in Andaman islands is: Lalaji Bay Beach, Long Island!
1. Lalaji Bay Beach, Long Island
Lalaji Bay Beach, Long Island, is visually pretty, scores 100 points in terms of swimming, it has fair underwater world and it's snorkelling freedom together with facilities scored 100%. This makes Lalaji bay the beach for everyone: swimmers, snorkelling fans, those in need for facilities, everything is present there and in good quality. Lalaji bay versality lies in the sandy beach and sandy bottom at the centre of the beach combined with rocky shores, attractive for snorkelling at the edges. While remote and little visited, Lalaji Bay offer surprisingly good facilities. There is a wooden hut providing welcome shade, toilets and even a shower! The nearby Sea Mohwa Grove resort's restaurant offers reasonable cooked food and drinks. And guess what? This beach is totally empty and chances are very high, that you will enjoy it on your own. What else do you need?
Lalaji Bay Beach scored 90.5 total weighted average points.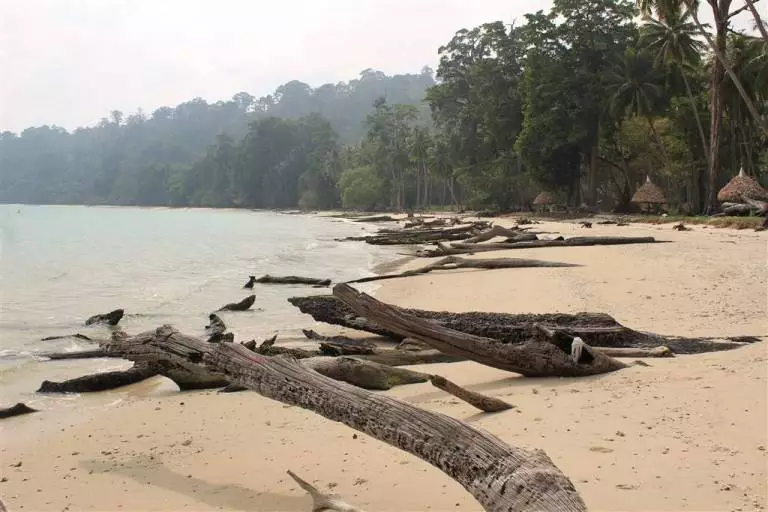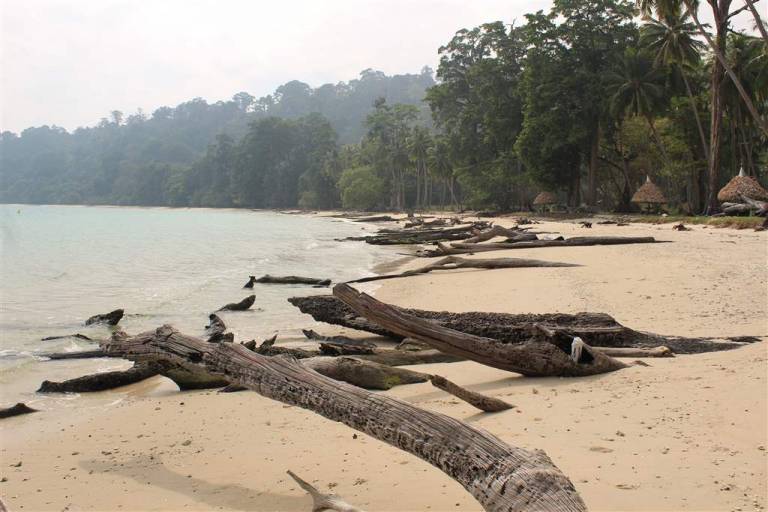 Lalaji Bay Beach, Long Island
2. Radhanagar beach, Havelock 
Before I started this exercise I really thought Radhanagar beach, Havelock, will be the winner. But numbers don't lie. Radhanagar beach is the most visually beautiful beach in Andaman Islands and it's also fantastic for swimming, however its sandy bottom is pretty useless in terms of snorkelling.
Radhanagar beach scored 81.5 total weighted average points.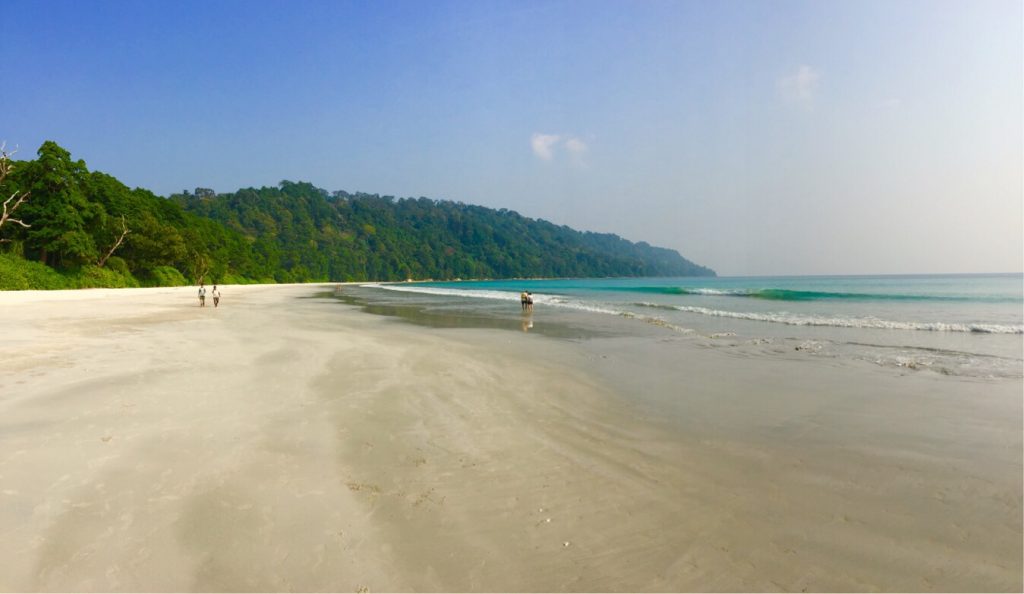 Radha Nagar Beach, Havelock Island. Not the best beach in Andaman Islands, but the most beautiful for sure.
3. Elephanta beach, Havelock.
While Elephanta beach did not win any of the sub categories, it still comes third in total. Elephanta is visually beautiful and bodes well for both swimmers and snorkelers alike. While there is no much in terms of facilities, no showers or proper toilets, there is a small food market organised by local residents, that offers snacks to visitors of this busy beach, so you will not die from hunger there. Actually Elephanta could grab the silver medal, overcoming even the Radhanagar, however it failed on one tiny factor. The freedom of snorkelling. (I will describe and discuss it in details later.)
Elephanta beach scored 78.5 total weighted average points.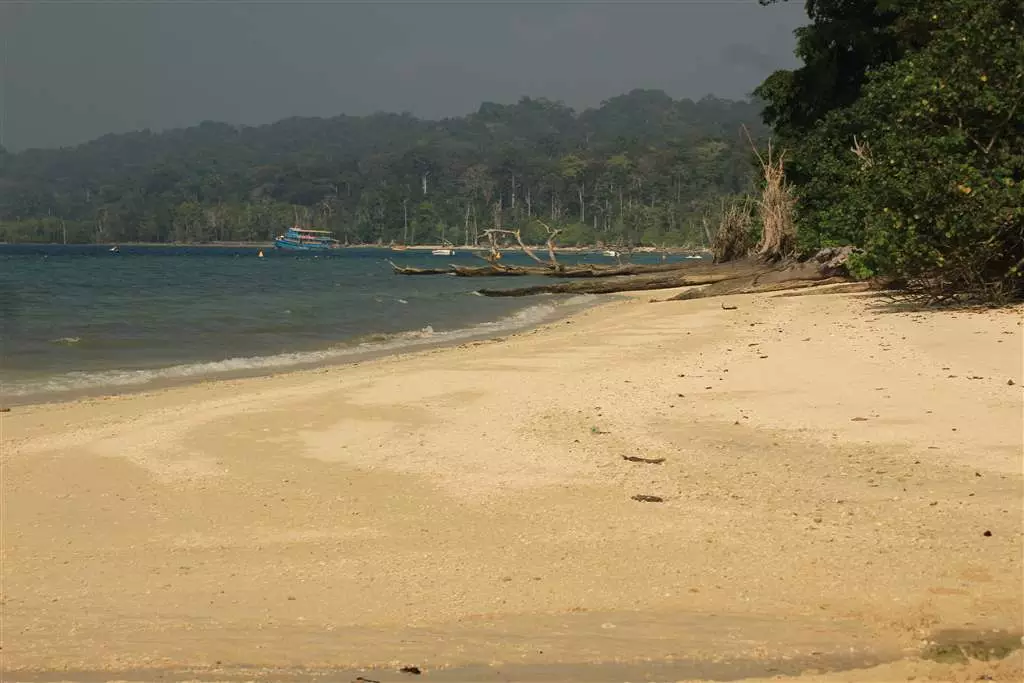 Elephanta beach, Havelock.
4. Beaches at Ross and Smith
The pretty beaches at Ross and Smith islands duo in the north of the archipelago are the obvious candidate for top Andaman beach ranking. And they score high. Ross and Smith is the second most visually beautiful beach and it is also scores 100 points on the ease of swimming. Similarly to Radhanagar, its sandy bottom is pretty useless in terms of snorkelling. Moreover, your snorkelling gear will be confiscated by police control at Aerial Bay jetty passenger hall, thus scoring zero on snorkelling freedom. Ross and Smith facilities are fairly good. There are shades, benches, toilets and even a well water bucket as fair shower alternative. Excellent. The last piece missing in the facilities puzzle is lack of any available food, snacks or water here. This is BYOF&W Islands. (Bring your own food and water)
Ross and Smith beaches scored 74 total weighted average points.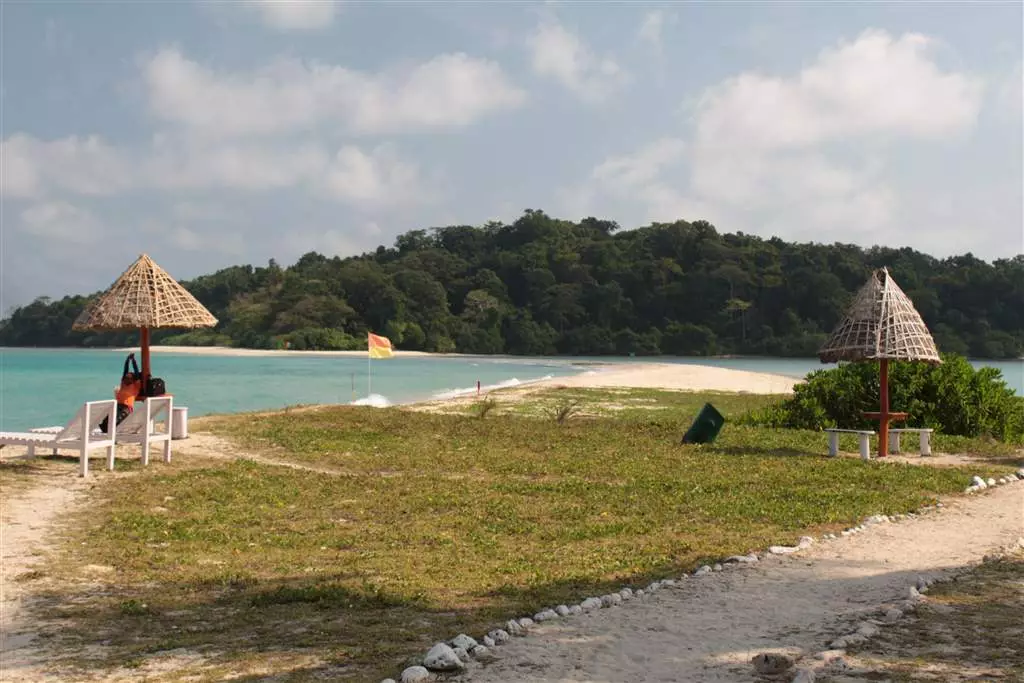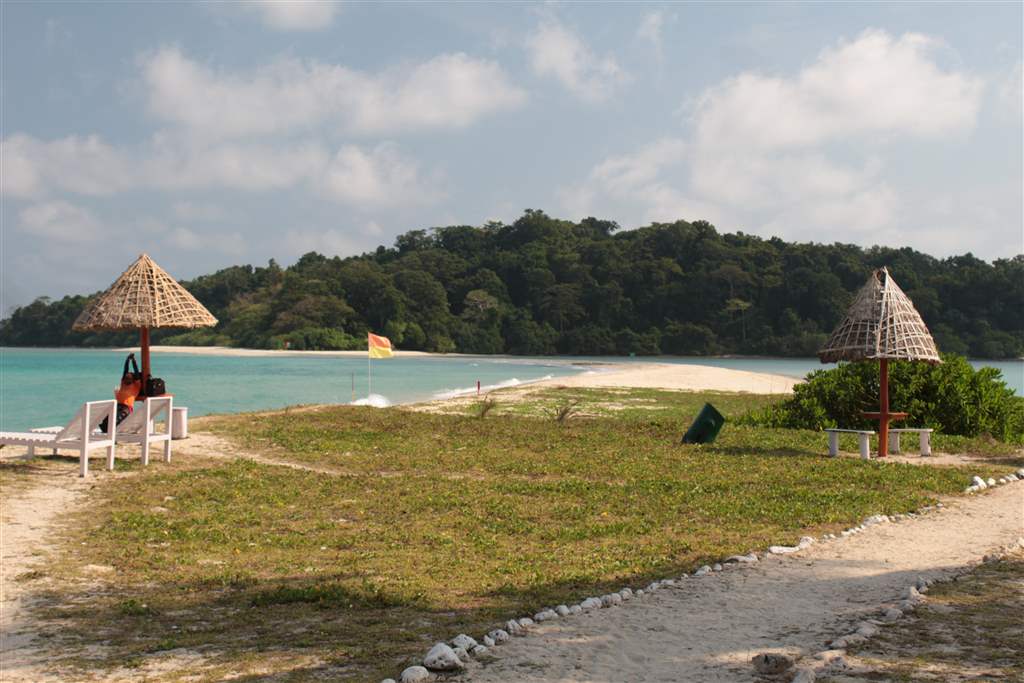 Beaches at Ross and Smith
5. Craggy Island beach
Craggy Island has been touted by Tourist Department as "just a swim away from Kalipur beach". We have an article with strong wording advising people against trying to swim there or be very careful when doing so. Good still we are a great fans of Craggy. Snorkelling here is excellent, Craggy Island ranks into top 3 in terms of snorkelling and snorkelling freedom is excellent here. Swimming is equally great here. The one and only minus of craggy is that there is nothing in terms of facilities. But what to expect from small uninhabited island? Bring your own everything and enjoy.
Craggy Island beach scored 71,5 total weighted average points.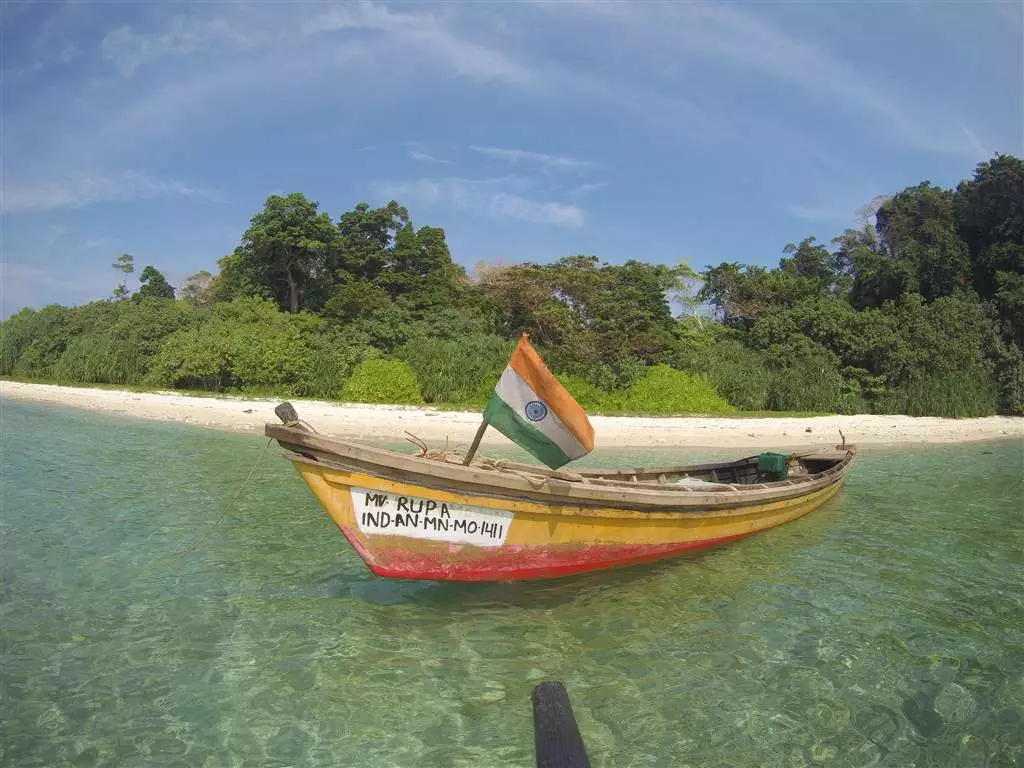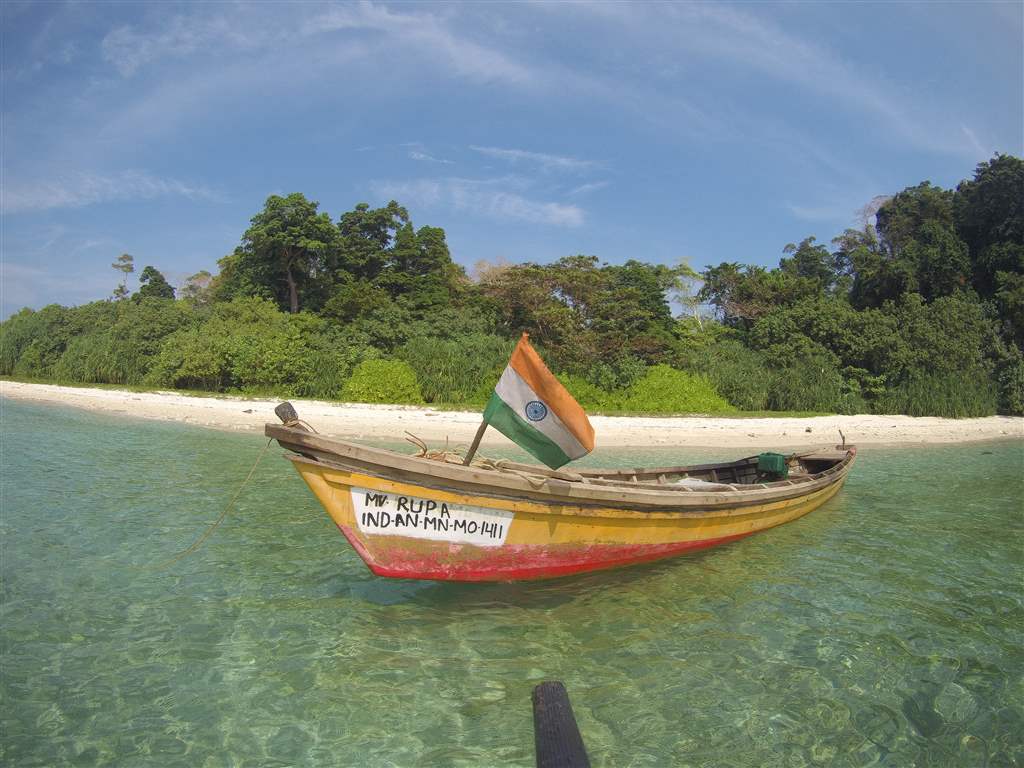 Craggy Island
6. Jolly Buoy (MG Marine NP)
Jolly Buoy is kind of binary island. It is the best of Andaman islands in terms of beauty of the underwater world for snorkelling. Jolly Buoy also scores high points in terms of facilities. In addition to shades and toilets there is an impromptu arranged snacks and drinks stall, offering these at very fair prices. However Jolly buoy is a total failure in terms of swimming and snorkelling freedom. Swimming at Jolly Buoy is an annoying, laughable and only suitable for non-swimmers. Overprotecting bureaucracy built a nest around small stretch of beach, packed 200 non-swimmers, who dip into the water here for a selfie, but proper swimming is a no-go inside nor outside of the fence. Awkward. The most annoying thing is snorkelling. You cannot go snorkelling anywhere you want, just to one place. Fine, I am OK with that. But the fact, that you can only snorkel holding hands with a "specially trained snorkelling instructor", will drive any foreigner crazy, especially if he or she is a certified diver. Moreover, one must snorkel in the extremely annoying life west, taken from the boat. Did I say that the annoying life west and certified guide, that you neither want, nor need, costs 1000Rs per some 25 minutes swim? Jolly Buoy is a place from which you may leave with ruined experience, thanks to local bureaucracy, nothing else. Allow for free swim and free snorkel and Jolly Buoy will top the list next time.
Jolly Buoy beach scored 70 total weighted average points.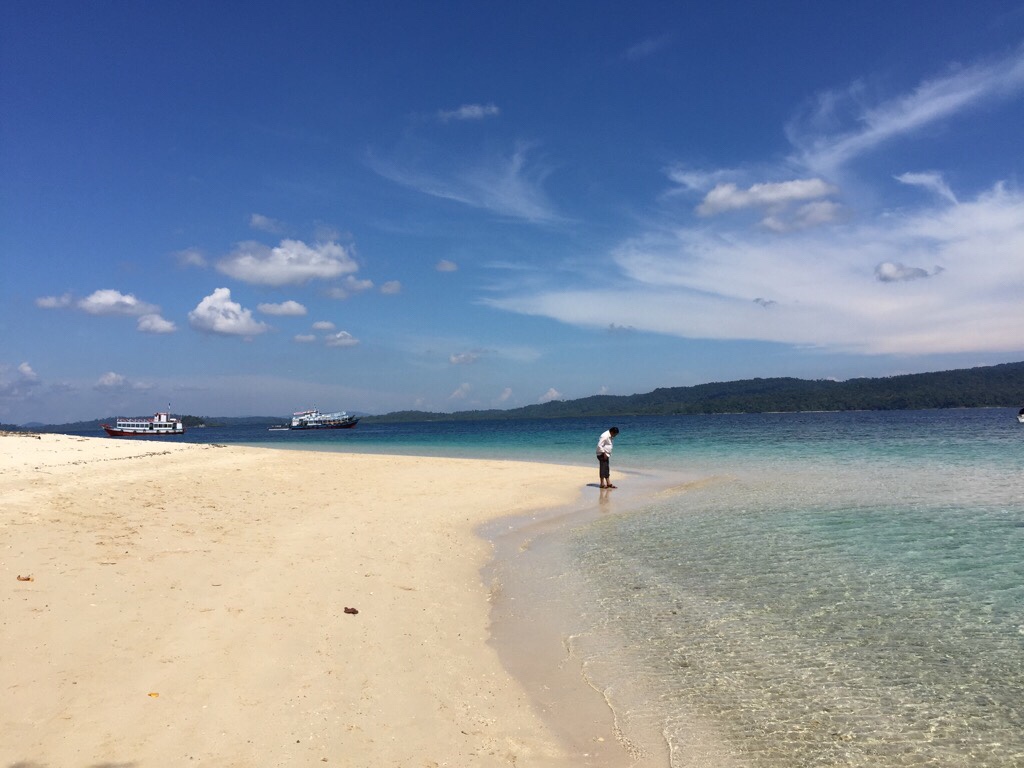 Jolly Buoy
7. Laxmanpur aka Sunset beach Nr. 1, Neil
Scored 69,5 total weighted average points.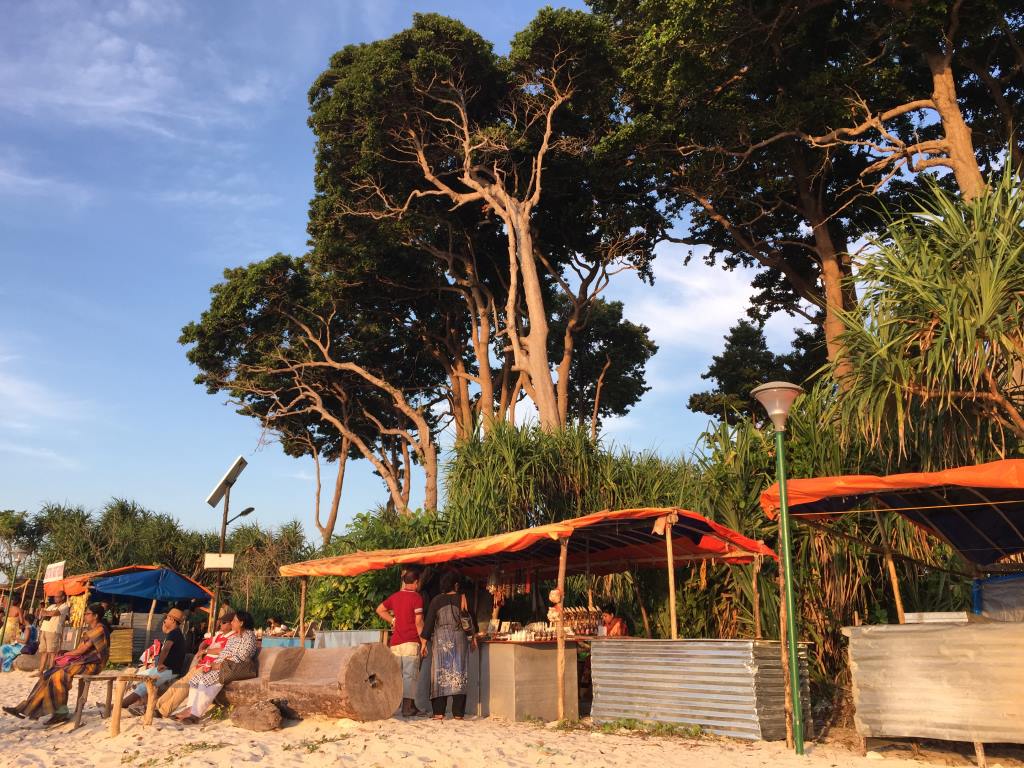 8. Kala Pathar Beach, Little Andaman
Scored 68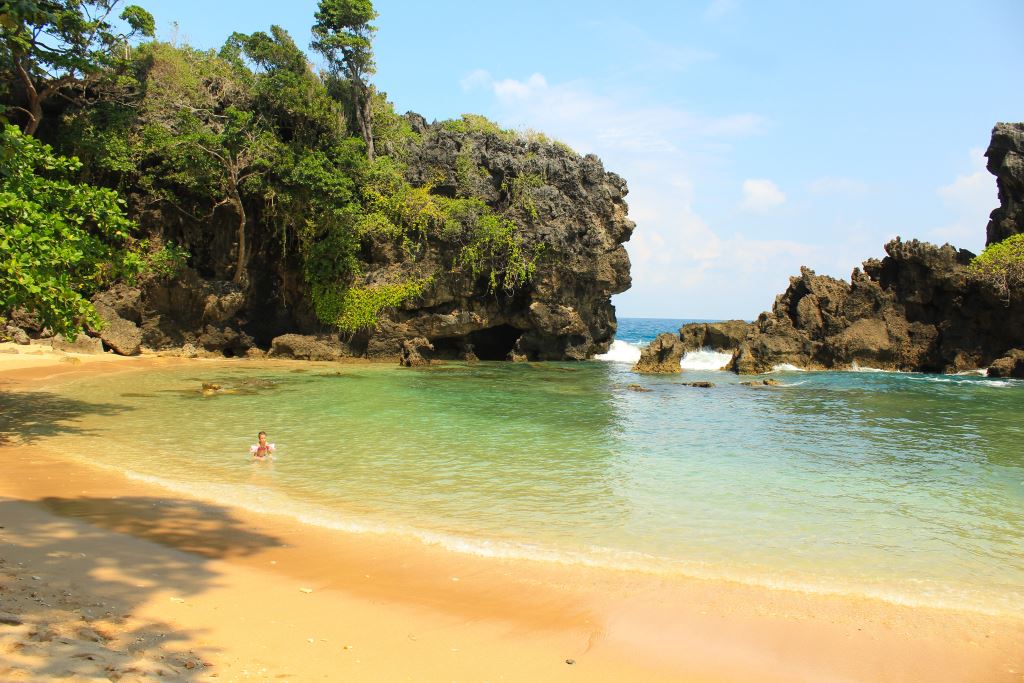 9. Corbins' Cove, Port Blair
Scored 66,5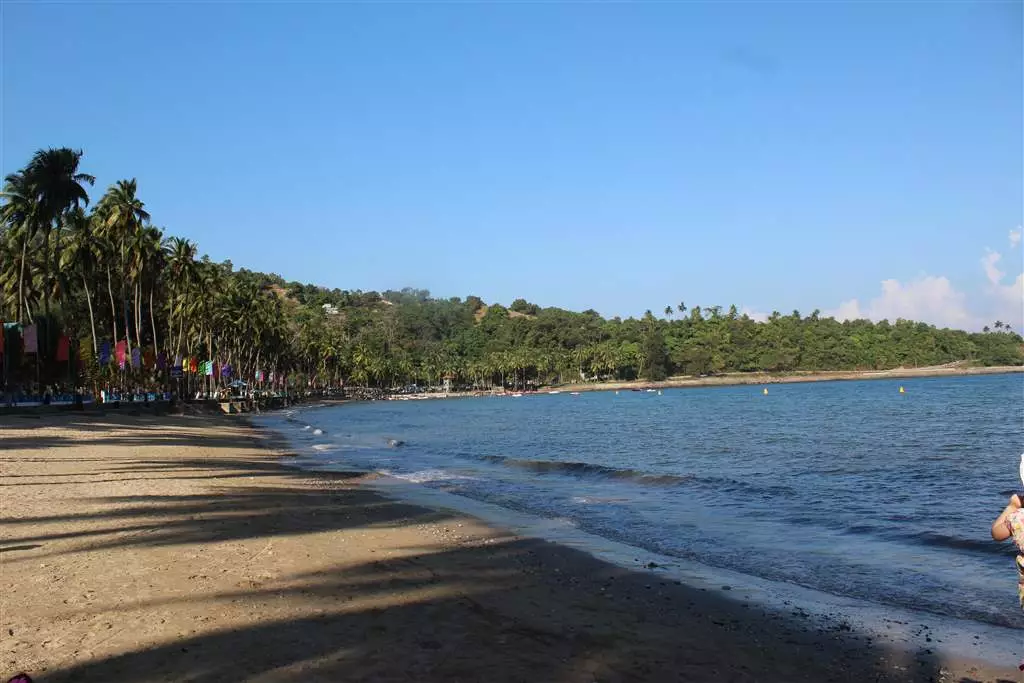 10. Sitapur aka Sunrise beach Nr. 5, Neil
Scored 63,5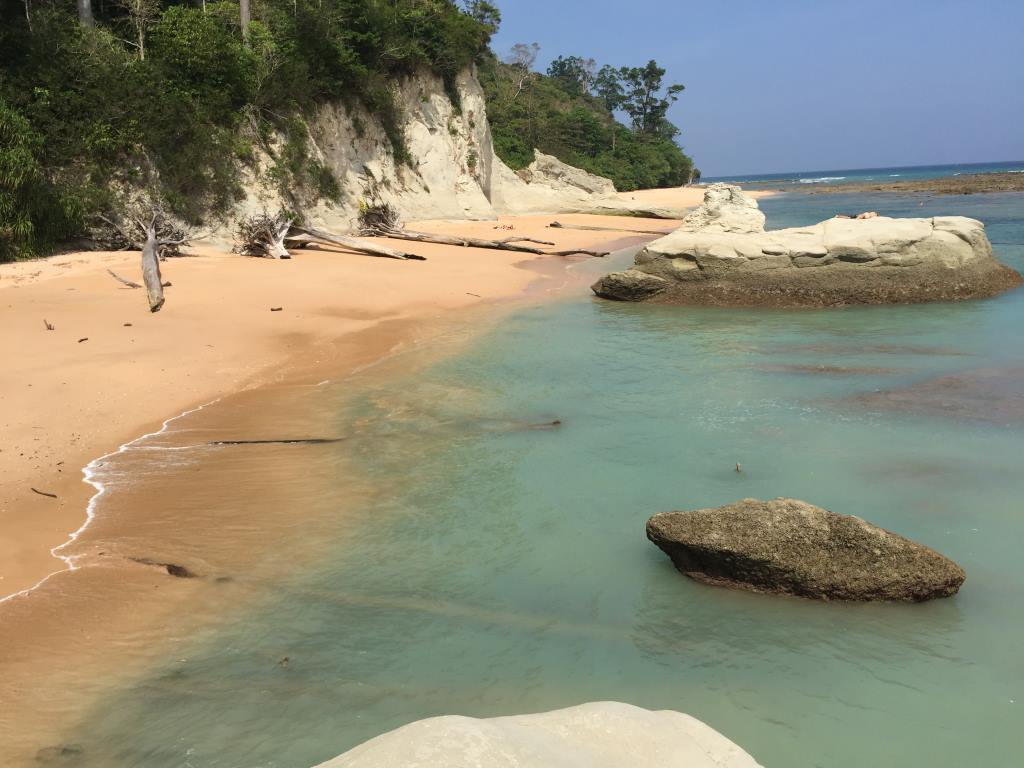 11. Bharatpur, Beach Nr. 3, Neil
Scored 62,5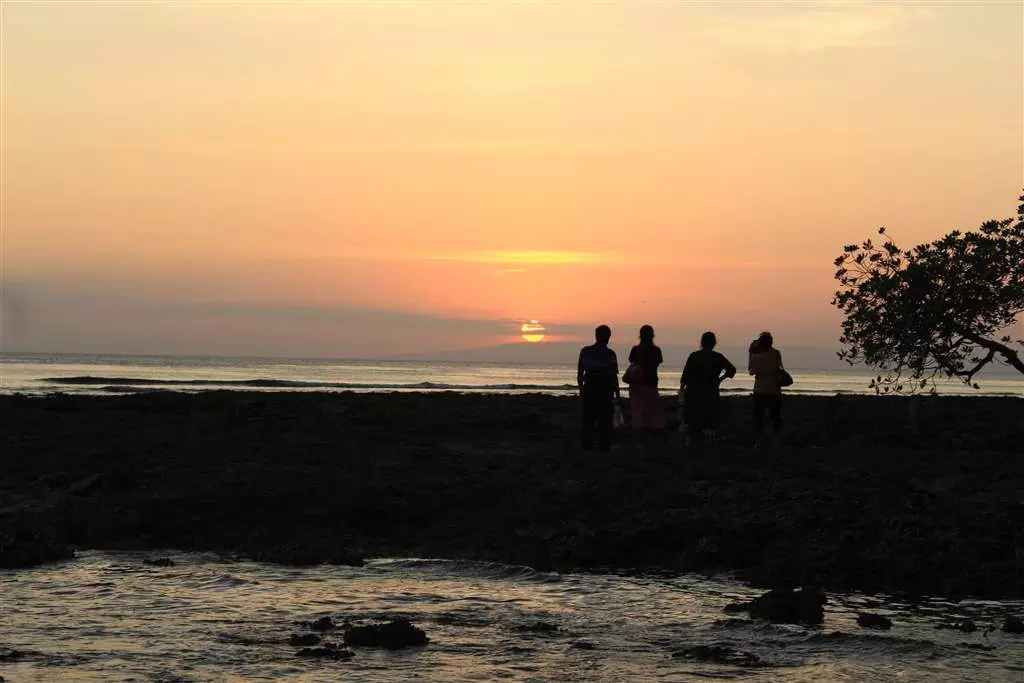 12. Kalipur Beach, North Andaman
Scored 53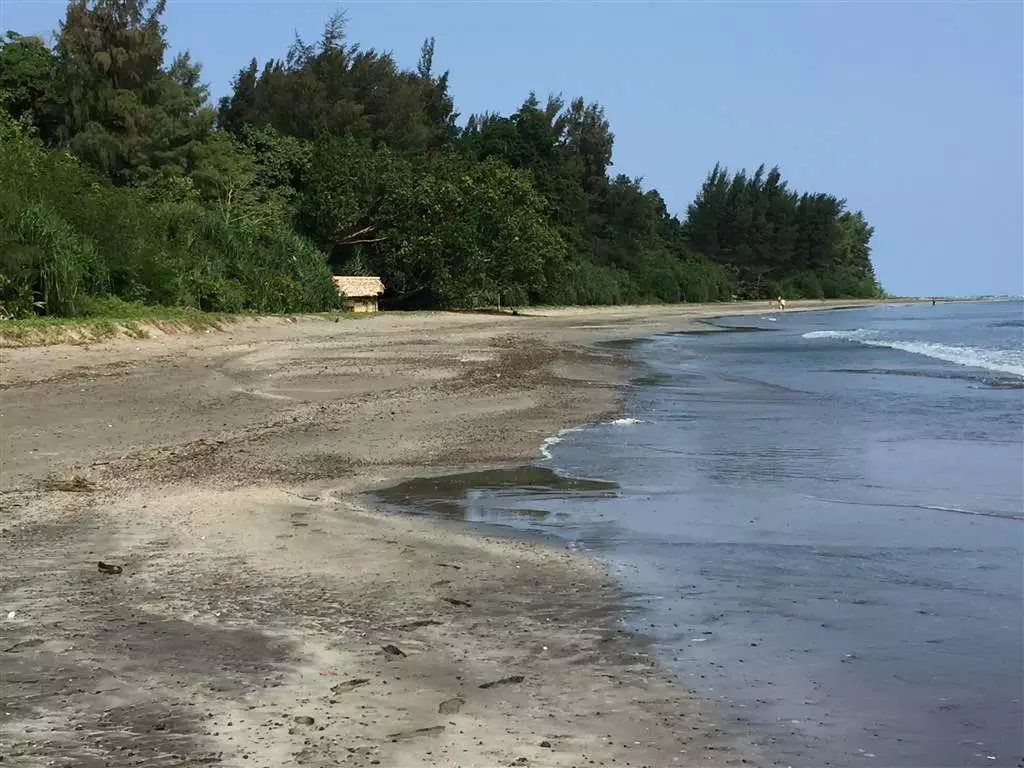 13. Butler Bay Beach, Little Andaman
Butler Bay Beach is visually very pretty. In total it scored 52.5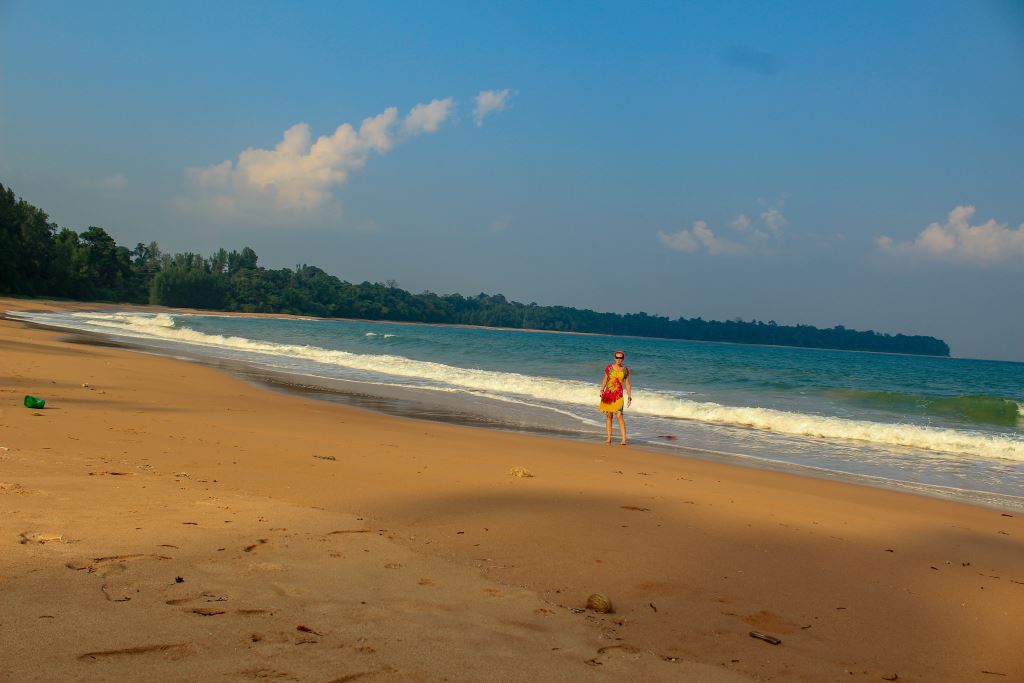 13. Jetty beach, Havelock
Scored 36,25 total weighted average points only. Sorry, we did not take a picture of that beach.
Which are the 5 most beautiful Andaman Beaches?
The winner in the category of The 5 most beautiful Andaman Beach is Radhanagar Beach.
The visual beauty surely is hard to measure and this criteria is down to authors personal perception of beauty. Radhanagar is truly breath-taking, white sand, turquoise ocean and green jungle beach. It is the most visually beautiful beach in Andaman Islands, scoring 100% in this criteria. Ross and Smith duo Island beaches in North Andaman come second for their unique dou character, white sand and shades of blue. Elephanta beach, Havelock, comes third as it is vast and dotted with uprooted trees, that add strange beauty element into the beach. Lalaji bay, Long Island, beach shares 4th-5th place together with Jolly Buoy.
Which are the 6 Andaman Beaches best for swimming?
To score high in terms of the ease of swimming a beach needs to be shallow, slowly sloping and without large waves or dangerous underwater stones, you may get hurt with. There are actually 3 winners as 3 beaches are just perfect and the all scored 100 points in this category: Lalaji bay beach, Radhanagar beach plus Ross and Smith are just swim perfect. Elephanta beach and Craggy Island follow the leaders with 90 points in terms the ease of swimming.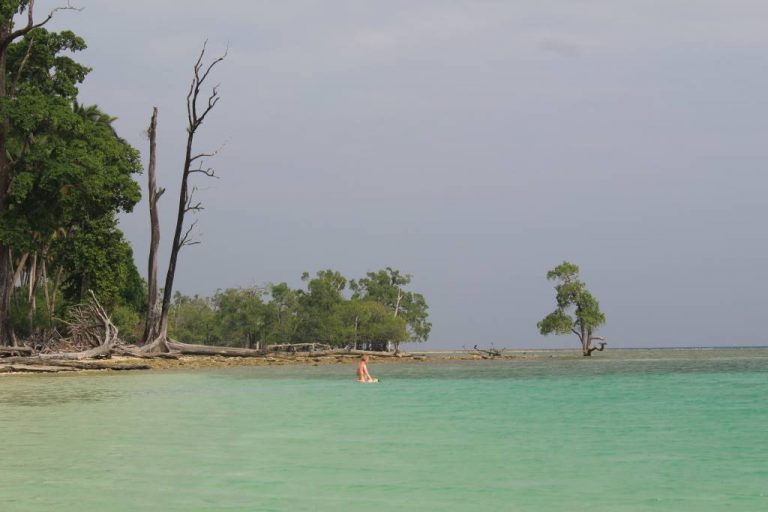 Lalaji Bay Beach, Long Island
Which are the 4 Andaman Beaches best for snorkelling?
The best Andaman beach in terms of the beauty of the underwater world for snorkelling is without a doubt the Jolly Buoy. Craggy Island comes second, followed by Elephanta beach. Lalaji bay beach is the last Andaman beach worth mentioning as beach good for snorkelling. The other beaches are rather disappointing in terms of the beauty of the underwater world for snorkelling. Combining factor of beauty with factor of freedom, Craggy would be the best, followed by Lalaji.
Snorkelling freedom
However, before we shake hands to the winner in this sub category, it is worth looking not only at the beauty itself, but also at the freedom of snorkelling.
The regulation says, that you are only allowed to snorkel with certified snorkelling instructor. Foreigners will find it unacceptable piece of regulation. Let us be clear here. Snorkeling is FREE anywhere and everywhere I happened to be in 25 years of my travels, be it Thailand, Indonesia, Maldives, Vietnam, Egypt, Oman, to name a few. This regulation is twice unacceptable if the person is actually a certified diver, as me and my wife are.
While we praise the Jolly buoy's marine beauty, this is one of two beaches that is not free. You need to pay the entry fee. Moreover, the permit costs Rs 500 for foreigners, but only Rs 50 for Indian residents. While I understand and partially support the idea of subsidized items for poor, subsidizing luxury goods for rich is pure nonsense. Cost should be equal for any non-islanders and only islanders should be subsidized. On a top of that, you need to actually pay Rs 1000 for the instructor that will go snorkeling with you.
The regulation is also enforced at Elephanta beach, where we were informed by Forest department officers, that snorkeling is not allowed. On the way to Ross and Smith, your bags will be searches and your snorkeling gear will be held by police until you return.
A gentle note to Andaman Administration. If you want to compete regionally for foreign tourists, this is the first regulation to cancel.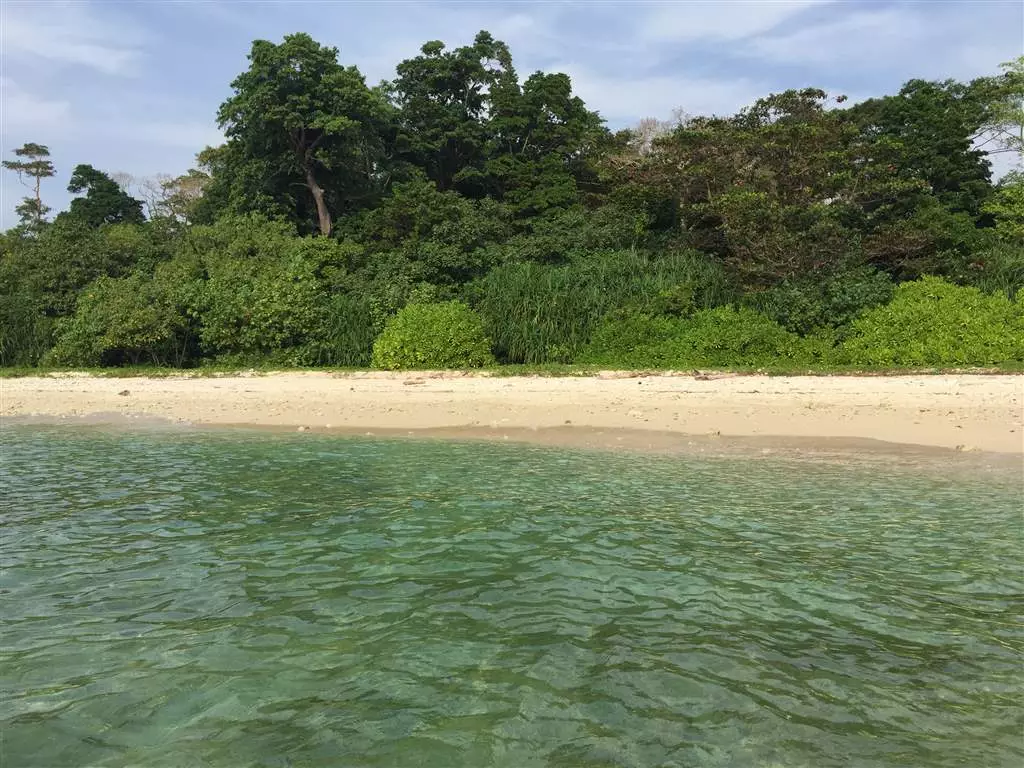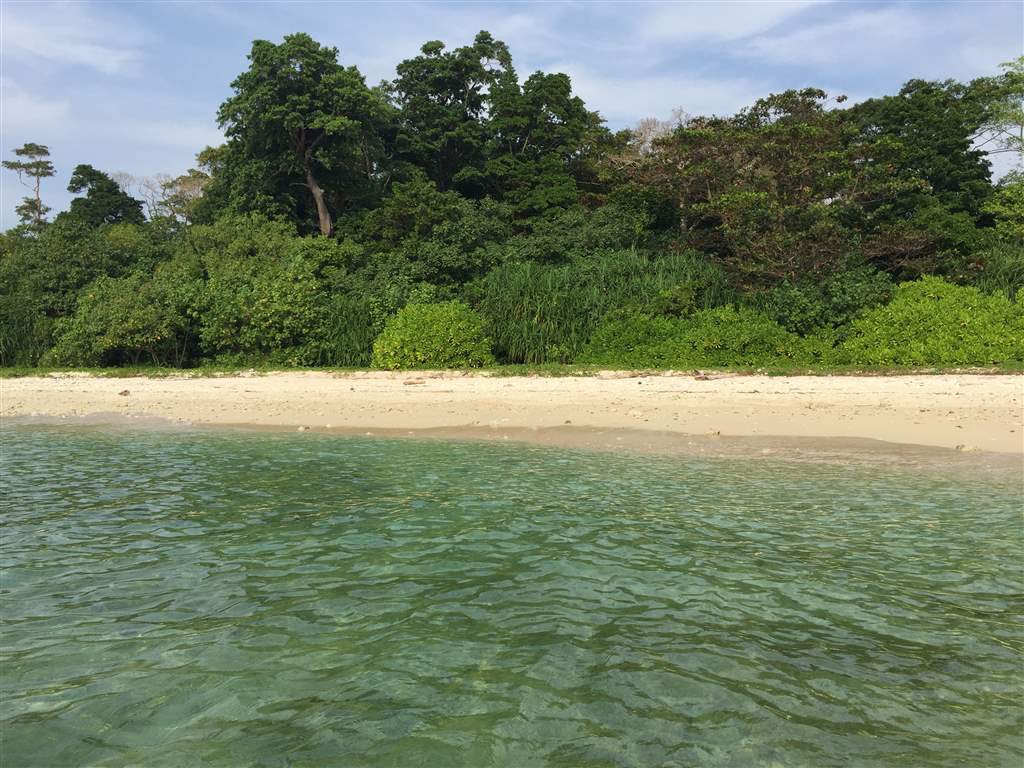 Craggy Island, the best combination of underwater life and freedom to snorkell
5 Andaman beaches with best facilities
 These four beaches top the list of Andaman beaches with best facilities: Jolly Buoy,  Lalaji bay, Jetty beach (Havelock) and Corbins' Cove in Port Blair. Fifth place grabbed Laxmanpur aka Sunset beach Nr. 1, Neil Island.
Andaman islands are attractive and should be visited exactly because they are remote, pristine and lack of facilities is to be expected. Even though, having possibility to hide in the shade, sit on a bench, get a drink or simple food is welcome quality even at the remote place. Some beaches can even offer toilets and only two of  those very best provide a shower.
I have mentioned Jolly Buoy and Lalaji's facilities before. Jetty beach (Havelock) benefits from its proximity to Havelock Jetty, where food and shops are abundant all day long and the same can be said about Corbins' Cove beach in Port Blair. Neil's Sunset beach get busy as sunset approaches and otherwise empty beach lives up with stalls offering, food, drinks and souvenirs.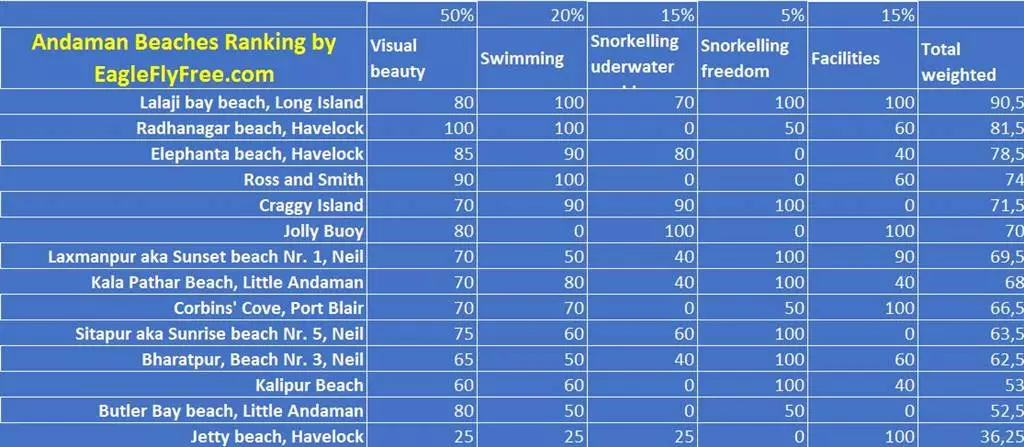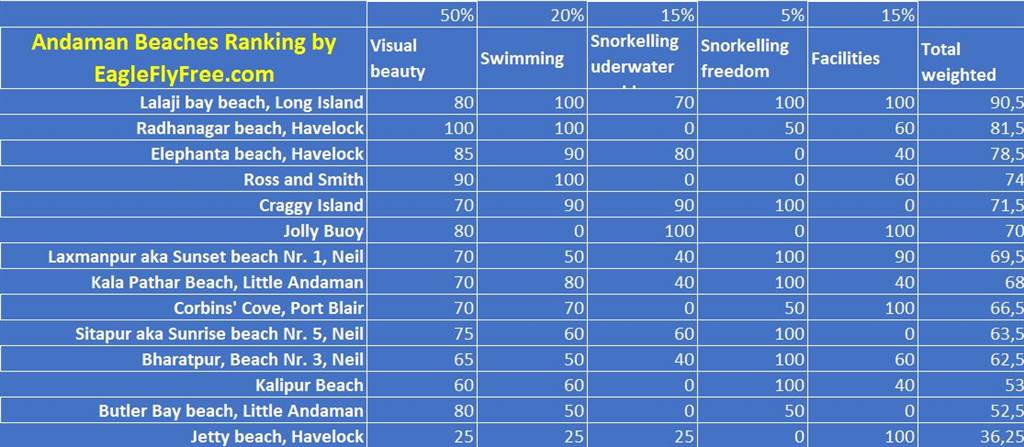 Andaman beach ranking table
Is this ranking helpful for you to decide which beach to choose next time?
Let me hope this ranking will serve as useful guide for people to prepare their Andaman trip and the daytrips while visiting this great Archipelago. If you have an experience of your own, whether you agree or disagree with our ranking, let us know thru comments at the bottom of this page,
Thank you,