Useful guide to Port Blair
Port Blair is the place where your plane will land and depart from during your Andaman adventure.  I could write here, that it is a capital of Andaman and Nicobar Islands, number of inhabitants and museums, but I will keep this general info to the minimum and focus on info real individual traveller's needs. Enjoy our 2020 update of this popular, no-nonsense guide to Port Blair.
Why visit - Port Blair Highlights
Port Blair is your point of arrival and departure. You got to visit it, whether you want or not. Many people just do their best to pass thru as quickly as possible, trying to catch the first possible ship to Havelock or Neil. It is understandable, they came for the beach, not the city.
Port Blair is a pleasant city to live and walk around and will provide you with all the needs: banks, doctors, shops and transport connections. There are also a handful of attractions in Port Blair and two of them I can call spectacular. These are worth budgeting an extra day:
- One thing really worth spending half a day here is Ross Island.
- Indian nationals will surely like the Cellular jail as historical monument full of freedom fighting and resistance spirit.
Orientation
Streets of Port Blair are somehow chaotic and if you just spend here a day or two between trips to Islands, the best thing is to stick to auto rickshaws to get around and reach places.
Key orientation points in the center are the Clock tower, the Gandhi statue and the Tourism office. Main shopping street is between the the Clock tower, the Gandhi statue. SBI branch is at the Gandhi statue roundabout and the bus station is at the other end. Road from the Clock tower to the north-west will lead you to the Food court, Marina park and Cellular Jail. Tourism office is just next to the Police station's immigration department, nearby Anthropological museum, BSNL tower (for SIM cards), Post office (post cards) and Mubarak Supermarket. All these key points are within 10-15 minutes walk from each other (see map below).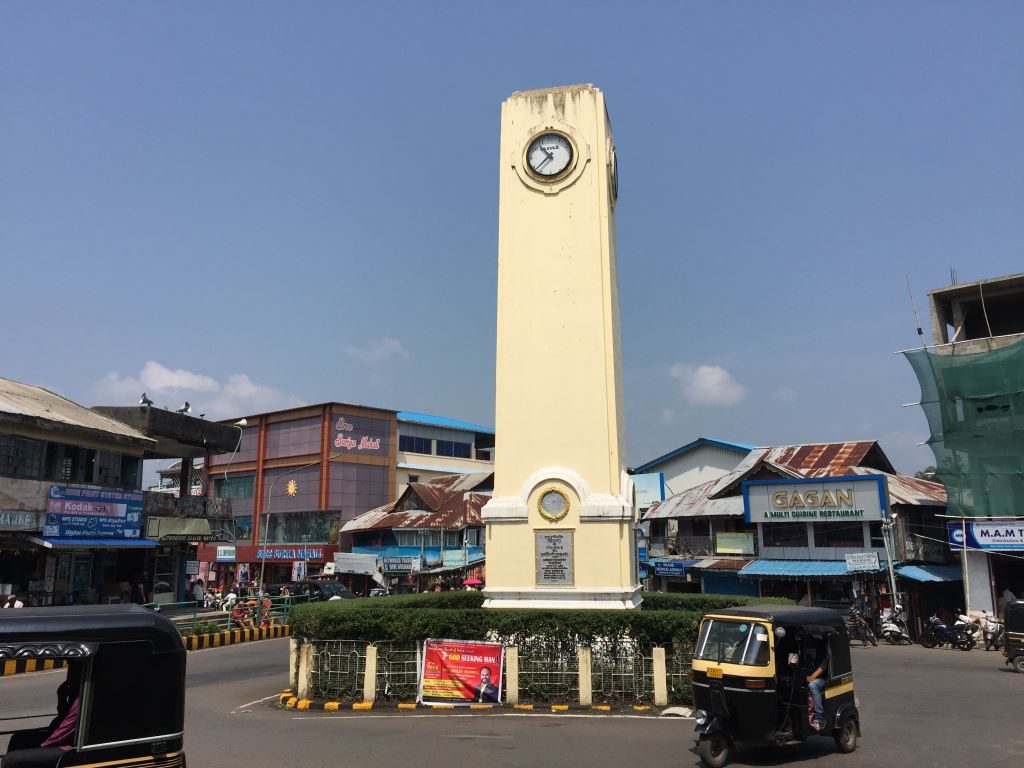 The Clock Tower, Port Blair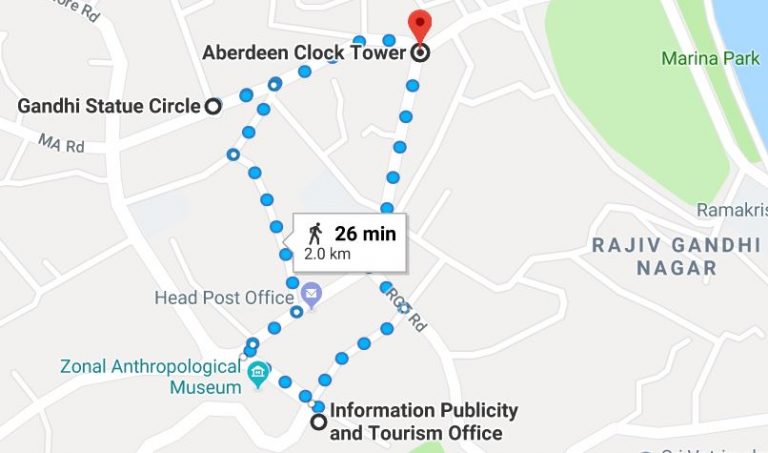 Map data ©2018 Google
Ross Island (The one offshore Port Blair)

Two islands in Andaman and Nicobar archipelago bear the name "Ross", one just a spit away from Port Blair and the other is connected by a sand bridge to Smith island, near North Andaman. Both are perfectly worth a visit.
The Ross island opposite the Aberdeen Jetty is an excellent place. Ross island served as a seat of British administration. Brits ruled Andamans from here until an earthquake destroyed the small town on the island handful in the first half of the 20th century. Ruins of the desalination plant, the cathedral, officers' quarters and even a swimming pool were taken by nature since then, creating a picture-perfect world in the Angkor Wat style. Do not miss!
Take a boat from Aberdeen Jetty, near Marina park. Boats leave when full and full means that 4 or 5 passengers share the cost. It is 5-7 minutes sail, which can get pretty rocky in the small boat. Boatmen will try to tell you, that one hour or 90 minutes is maximum that you need. Do not buy that one. Two and better three hours you need to enjoy the strange beauty of the place. Arrange the late pickup with your boatmen beforehand.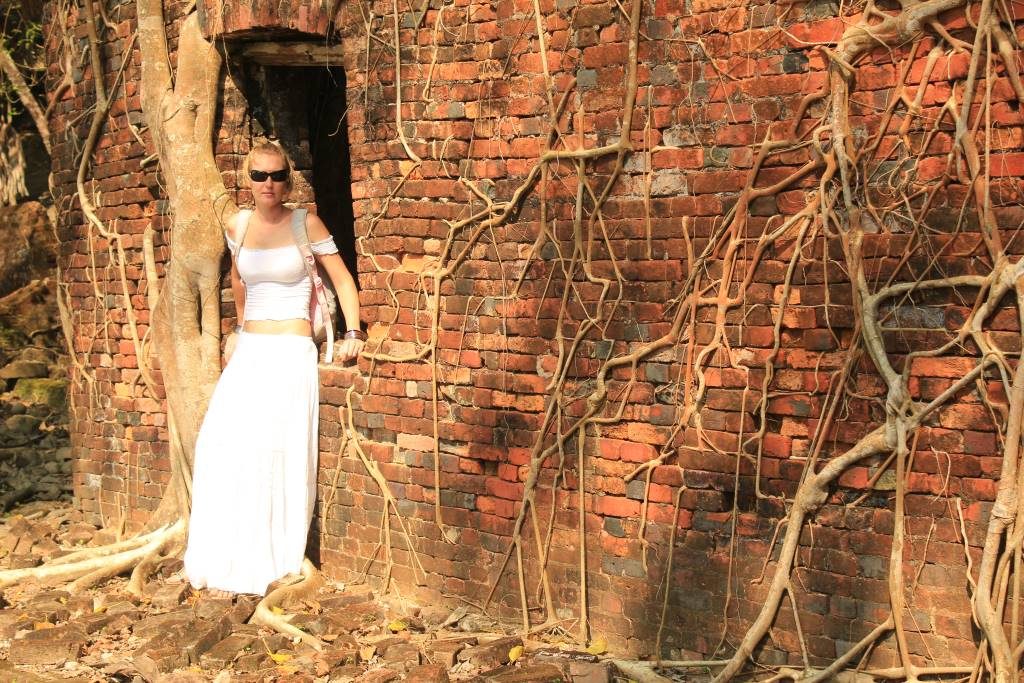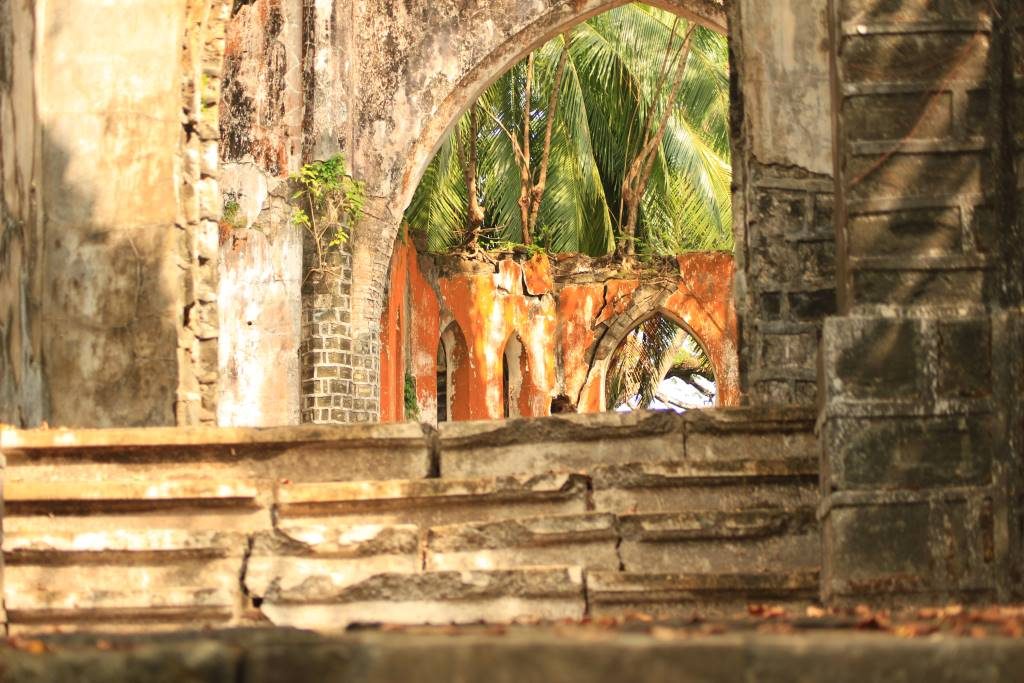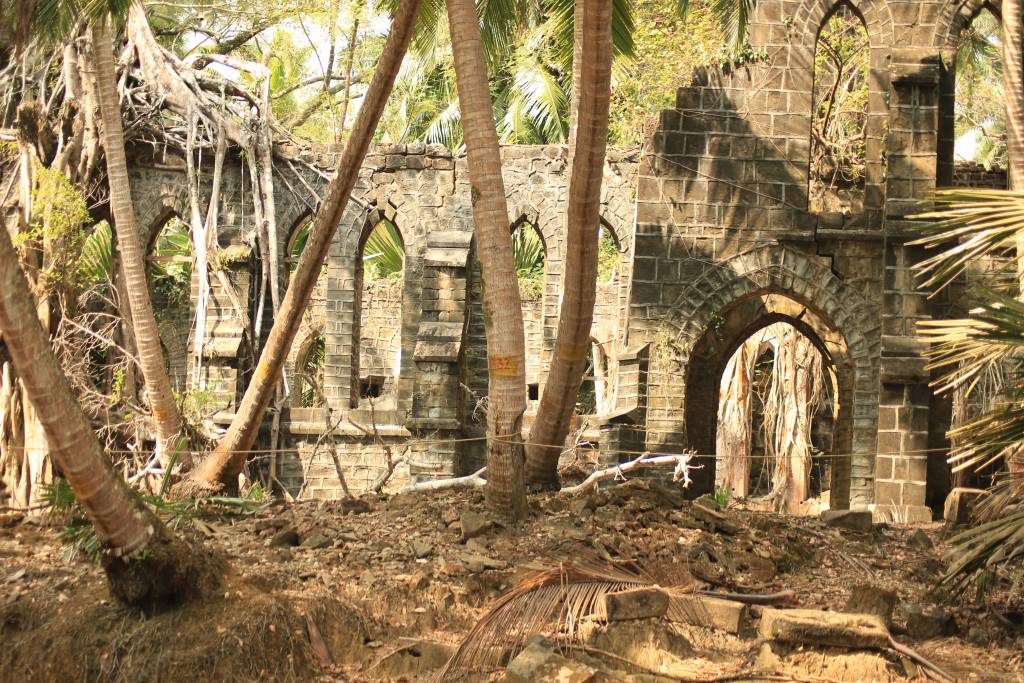 Ross Island, near Port Blair
Other places to kill spare time in Port Blair

Joggers park is locates at the top of the hill overlooking the landing strip. Come here to watch planes landing and taking off.
MG park is located around a small water reservoir, called Dilthaman Tank. It is mainly children focused park with a few attractions for kids, some run down, some well-kept. Take mosquito repellent, especially in the evening. MG park Port Blair is walking distance or Rs30 tuk-tuk ride from the center.
Corbyn's cove beach. As you are heading for much better beaches on the islands, you may not be sorry for skipping this one. The bay and the beach is nice, however the water is dark due to the dark grey sand that creates the beach here. Water in the bay is very hot, probably due to black color sand particles in the water attracting more then normal share of the sunshine's heat. If you come, have biryani at food stall within The Waves restaurant garden. Prepare to pay Rs 150-200 one way transport and better arrange a pickup or at least get driver's phone number to be rescued from this place with very little traffic.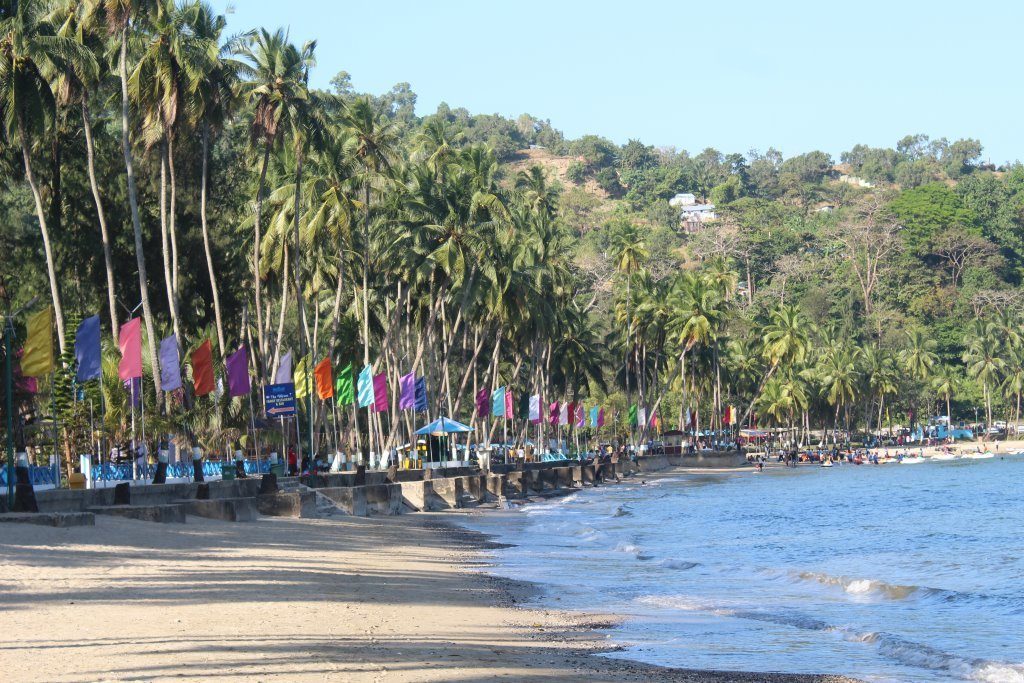 Corbyn's Cove Beach, Port Blair
Banks, money ex-change in Port Blair
State bank of India, branch in Port Blair, is the only place to change money at reasonable rate in the whole archipelago. This is your last chance, thus do stock up with rupees for all of your Andaman journey here.
Getting around Port Blair
Buses crisscross this city and if you learn to navigate them, you may save a penny or two. However, tuk-tuks (auto-rickshaws) are so cheap and readily available, that it makes a little sense to use bus within the city.
Tuk-tuk drivers are not only fairly priced but also quite honest. A short trip within the city costs 30 rupees, max Rs 40. Longer trips will cost Rs 60, airport 100, Haddo wharf (for deep-sea ships to Little or North Andaman) also Rs 100.
The only 2-3 places, where you will get overcharged, are the arrivals at the airport and ports. When a plane of ship belches bunch of travellers out, demand is high and supply limited. Walk those few meters out of the airport and catch the traffic passing by. There is the main road right in front of the airport. You can do the same at Phoenix Bay Jetty. Unfortunately, you are damned at Haddo jetty. While you can get there for 100, getting back will cost those lucky ones 200. Befriend a tuk-tuk driver and arrange to be picked up.
Getting to Corbyn's cove beach, however, will cost you Rs 150-200, since this is a little-visited place away from main traffic routes and the driver will have to go back empty.
You may think of Chidia Tapu or Wandoor as tuk-tuk-able destinations, however, this makes little commercial sense. A bus will be cheaper and a rented car probably similarly price as tuk-tuk. Count on Rs 500-600 to Chidia Tapu and back with some 2 hours waiting, while the budget for 1500 to Wandoor with all day waiting.
Motobike or scooter will be a much better way of getting around to more distant places. 350-400 is a fair price per day, excluding petrol, of course. E.g. Wandoor is some 20km or 40 minutes by car/motorbike from Port Blair, 1hour by bus see our special page for Wandoor and MG marine national park.
Corbyn's Cove Beach, Port Blair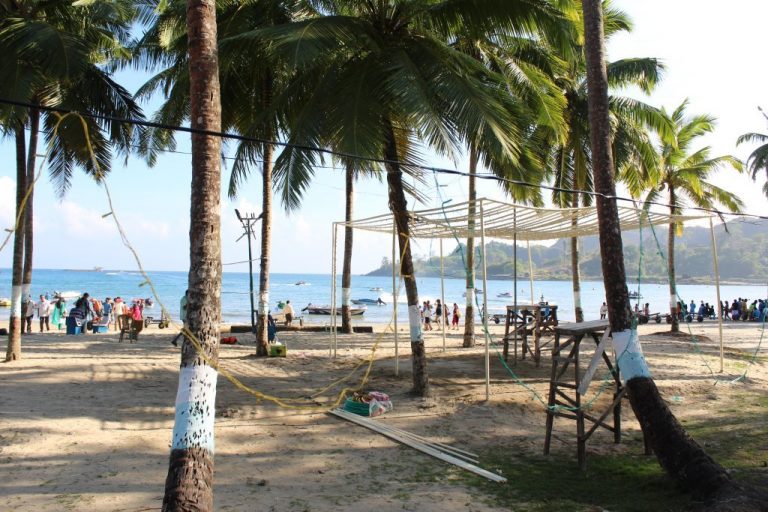 Getting away from Port Blair by bus
We have dedicated chapter about transport and getting around the Andaman Islands by bus here.
Port Blair has two bus stations, one for state service buses, near the Gandhi statue and State bank of India branch also called "Central bus stand" and the other for private buses some 200 meters further down the road. Tickets for the government buses you ca buy at the buss station, but tickets for private buses are sold by "one guy sitting on a chair" within Gandhi Market, across the road from the Central bus stand.
Google maps link to Central (government) bus stand provided here.
Google maps link to Private bus stand provided here.
Getting away from Port Blair by ship
We have dedicated chapter about transport and getting around the Andaman Islands by ships here. See also our section on ticket purchasing: buying tickets for ships and ferries around the archipelago.
There are two main ports in Port Blair, that you need to be aware of, if travelling around the Andaman and Nicobar Archipelago.
Haddo Wharf - is from where deep sea ships depart to distant islands, like Little Andaman or North Andaman and to the mainland. As of 2020 all private operators, e.g. Green Ocean, Makruzz and the new kid on the block ITT Majestic now depart from Haddo Wharf for Neil and Havelock Islands. Google maps link to Haddo wharf provided here. While you can get there by auto rikshaw for RS 100, getting back will cost those lucky ones 200. Befriend a tuk-tuk driver and arrange to be picked up.
Phoenix Bay Jetty - government ships heading for Neil, Havelock or Rangat depart from and arrive to Phoenix bay . Google maps link to Phoenix Bay Jetty provided here.
One small boat landing useful for exploring Ross Island is Aberdeen Jetty. You will find Aberdeen Jetty near Marina park. Google maps link to Aberdeen Jetty provided here.
Accommodation
Port Blair offer pretty wide choice of accommodation options. Ever-growing demand is shifting prices up and keeping quality low. Do not expect much for 30-40$ a night hotel stay. We can recommend one or two places, our best advice is to follow the feedback provided on online booking sites to pick other good value places.
Accommodation tip #1 in Port Blair is  Dutta's Residency covered in more details here: Dutta's Residency
Accommodation tip #2 in Port Blair is Lalaji Bayview also mentioned in the food section below.
Food in Port Blair
In our Andaman Islands Travel Guide 2018 and 2019 editions I wrote that "to my surprise, restaurant scene in Port Blair and Andamans in general is very poor. If you stay here for a day or two, fine, but we lived here for a few weeks and food was a struggle". After our repeated visit in 2020, I am happy to say, that at least restaurant scene has improved in Port Blair. We are really glad that 2 good restaurants has opened in Port Blair recently.
First disappointment is almost a complete lack of fruits and vegetables here. Anywhere you arrive on planet Earth, between Tropic of Cancer and Tropic of Capricorn, there will be plenty of exotic fruits and vegetables available. Not here. I do not know why. Are the people who moved here not skill to grow fruits and vegetables? Is the trade not free and over-regulated? Whatever the reason is, the food outsibe Port Blair and Havelock is poor.
What are Good restaurants in Port Blair?
Anjou Coco Resto, Port Blair and Havelock
We rank this Anjou Coco instantly as number one restaurant in Port Blair. Actually, this place run by two Israeli Brothers, is one of only a few places, that deserves a name "restaurant". We are very much pleased with their selection of continental food, Especially enjoyed their chicken schnitzel, tuna schnitzel, pasta and chicken afghani. Same menu and same or better quality food you will also get at their Havelock Restaurant. Anjou Coco is located very centrally in front of the snow white Police Gurudwara, near the central Clock tower.
Sea Food Delight
Sea Food Deligh Restaurant in Port Blair also deserves a name "restaurant". As the name suggest, restaurant specializes in the sea food and it is the place where you can enjoy your $20 lobster. But do not get put off by this. there are reasonably priced items on the menu too. Lobster is fine for the selfie, but everything else was tasty too. Again, we tried chicken afghani (it is made in tandori and is not spicy) and chicken schnitzel here. Sea Food Deligh Restaurant is located in Phoenix Bay, a short tuk-tuk trip from the centre. However tuk-tuk drivers do not know the place yet (as of Feb. 2020), you need to tel them it is next to "Lakme Salon". Enjoy.
Food court
Tibetan food market near Marina park - maps link here - everybody knows this place. It is also referred to as "food court". Fried and steamed momo is the main fare here and it is honestly pretty good. Food court only works on evenings with food sellers ready to serve around 4-5pm. Do not miss, great value for money.
Marina De-Café
A place called "Marina De-Café" is located at the tip of the Marina park, near Aquarium, near Aberdeen Jetty. It serves reasonably good food at reasonable prices. Kids can play at nearby playground. Stop at Marina De-Café on the wat to or from Ross Island. (As of Feb. 2020 Marina De-Café was undergoing reconstruction.)
Hotel Lalaji Bayview
This hotel is favorite place to stay with foreigners and probably the only place where you can experience anything near to a backpackers scene in Port Blair. Its rooftop restaurant can master a pizza. Well Indian style and quality pizza it is, so keep your expectations low, but the view is great and prices are pretty high here. Other western fares can be also ordered.
The Waves at Corbyn's cove beach
At the corner of The Waves a food stall, which may or may not belong to The Waves itself, serves great biryani  and tandoori chicken at reasonable prices. The view and the food is worth a visit. I am by no means a biryani expert, but this one even kids could eat.
We tried other places without hitting any other recommendable even for modest stomachs. If you know one, please let us know.
Markets and shops.
The main "shopping street" is located on the way from Gandhi Statue Circle to Aberdeen clock tower. On the right side of this road a covered market is locates. Peek in for an interesting visit. Another meat and vegetable market is nearby Mohanpura market, roughly behind the Central bus stop.
Near Mohanpura you can find one of very few Beer and wine shops. We have never seen beer there though, hard drinks and a few drunks only. Sad place. For a proper, well stocked Beer and wine shops, head to Delanipur. Your tuk-tuk driver will know the place.
The only place somehow resembling a supermarket is the Mubarak "hyper" market. While it is fairly well stocked, calling this 90 m2 shop a "hyper market" is a hyper exaggeration. Mubarak is conveniently located in front of BSNL building, near Anthropological museum and Tourism office.
Been to Port Blair recently? Please suggest an edit to this page, share your thoughts, comments and suggestions with us.