Rainbow Falls
Have you heard of Rainbow Falls, in Meghalaya, India? If not, let pictures tell you more than words. Rainbow Falls make a nice day-trip from Nongriat, extending your Double Decker living root bridge adventure.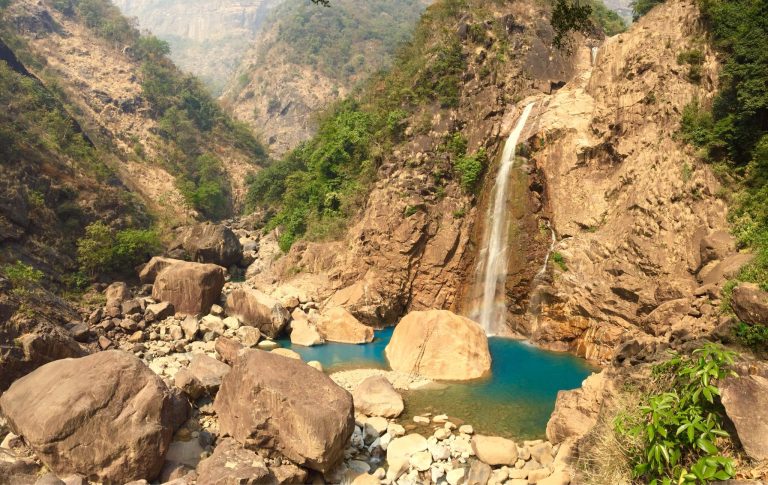 Rainbow falls, Meghalaya
How to get to Rainbow falls.
After reaching Nongriat, you have a choice of going back to Tyrna (which would be a pity) or going to Rainbow Falls and back (which for most people maybe be too much for one day) or staying for the night (which is the right thing to do). Sleep well and with energy recharged, head to Rainbow falls. Journey to Rainbow Falls is amazing, beautiful and thrilling in some parts. You will need to overcome Mawsaw steel bridge, hanging over the river valley, encounter a few root bridges on the way and splash in the natural pool before you hit the scenic waterfall.
[ For facts and figures on how to reach Nongriat, please check our Meghalaya Guide Book here]
Trek from Nongriat to Rainbow falls and back is different and somehow more difficult than the Tyrna – Nongriat part. The first thing, that makes the trek more difficult is, that the path is not "paved" by firm stairs, as the Tyrna – Nongiat sidewalk is. While the path is clearly visible and there is no need for a guide, it may be muddy and slippery in parts, especially after the rain. The second thing makes it easier. To get to Rainbow falls, you do not need to overcome huge elevation differences. The trek is slightly uphill, but not steep.
If you do not have the full day to go to Rainbow Falls, but you have some spare hour or two, just walk some 30 minutes from Nongriat to Mawsaw steel bridge and enjoy the thrill and scenery crossing it.
SUPPORT US. CLICK THE ADD IF YOU LIKE IT. Thank you.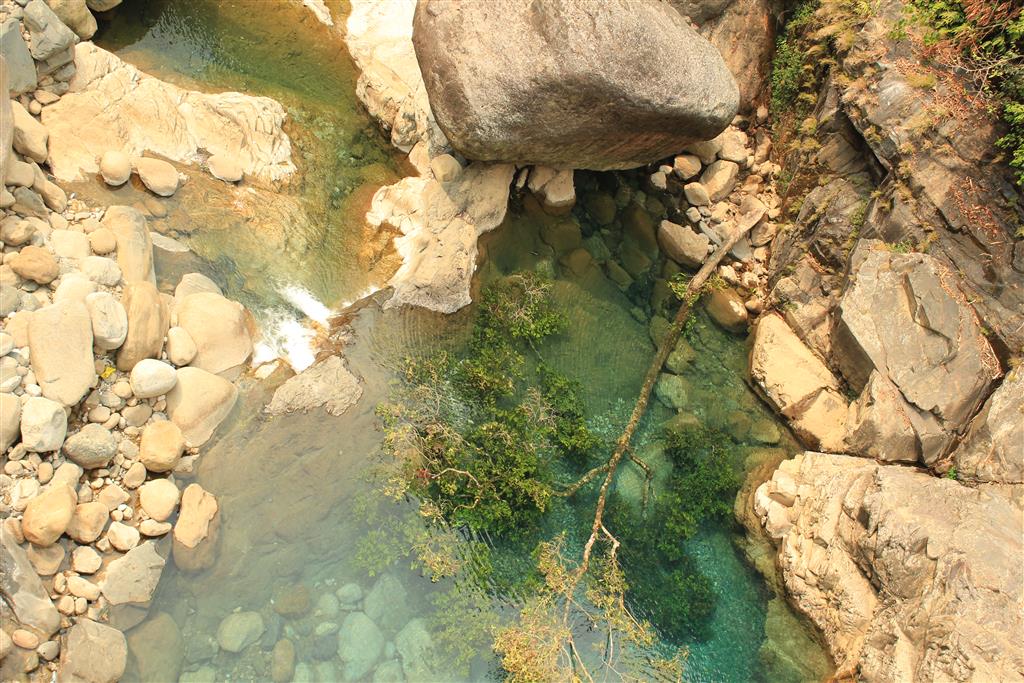 On the way to Rainbow Falls
Accommodation and food
Tyrna is the last point where cars and small trucks can reach. Therefore it is the last point to grab a few snacks or water bottles. However, Tyrna itself is pretty small and remote village. You better take supplies from Cherapunjee or Shillong.
There a few snack stalls along the stairway, selling tea, biscuits and occasionally a pineapple. Some of the tea shacks offer a million dollar view down the valley. The only place to get any warm, cooked food, is in your accommodation. Be prepared for the food to be simple. Best food is served at Serene Home-stay.
Nongriat
Nongriat is the only village with any accommodation options on this trek. There are only 4 or 5 small home-stays in the village. The capacity of those 4-5 places is limited. The worst thing that can happen to you is that all are full and you need to climb back the same day, to sleep in Tyrna. I do not think this happens often and I strongly believe locals will go out of their way to accommodate you, but still, it can happen. Please be realistic in expectations and book your home-stay ahead.
[If you like this article, check also 3 Things To Know Before You Visit Meghalaya Root Bridges]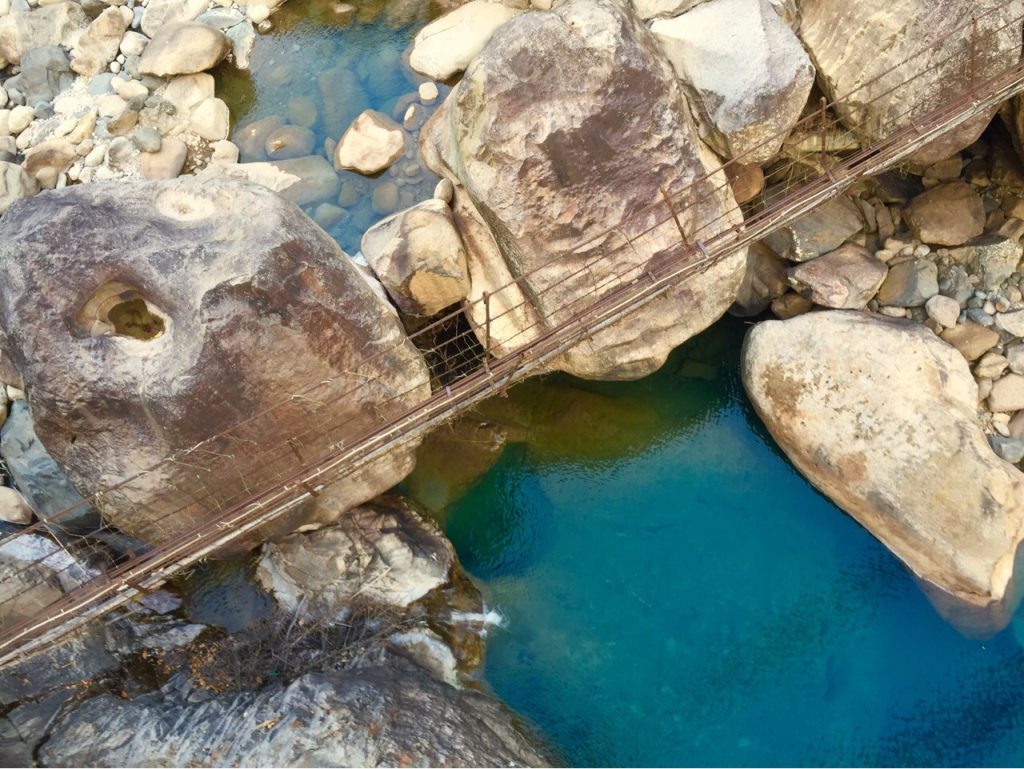 Steel bridge in Khasi hills
Check our Meghalaya Root Bridges Trailer Video
How fit do I need to be to trek to Rainbow falls?
We have managed the trek with 2 children, 2 and 6 years old! That is the best way to answer this question. Saying so, I must admit that the trek is quite difficult. Take your time and do not rush it.
Budget for 2 nights in Nongriat, that will give you time for the rest and you will be fine. Day 1 you arrive from Shillong, trek down to Nongriat to stay there. On the second day you trek to Rainbow falls and back to Nongriat for your second night. On the third day, climb back to Tyrna and head back to Shillong or wherever you might be heading next.
If you have a problem with your knees, I would advise against trekking in this steep area. Visit a tall building and try to walk to 20th floor and back by stairs 10 times and see how your knee reacts.
What is the best time to visit Rainbow falls in Meghalaya?
Meghalaya is one of few place, where visiting in rainy season makes a lot of sense. My opinion is that you can visit anytime, rainy or dry season, each has advantages and disadvantages. The ideal time is just as the monsoon ended. Rivers are still full of water but it is not raining that much.
We have visited Rainbow falls in dry season. The advantage of the dry season is, obviously, dry terrain and easier trekking. However the disadvantage is that rivers go almost dry and waterfalls shrink to a trickle. Obviously the advantage of visiting during or shortly after rains is that the waterfalls will be majestic and river crossing thrilling. However, trekking to places like Rainbow Waterfall will be very muddy and slippery.
Take care ?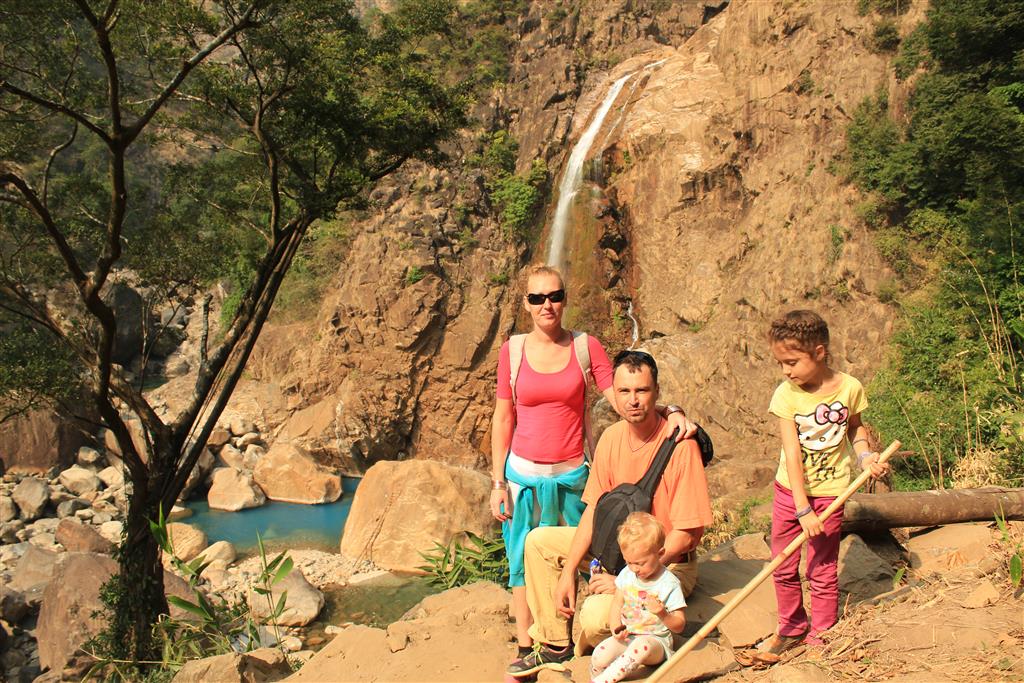 EagleFlyFree team at Rainbow Falls 🙂
SUPPORT US 🙂 CLICK THE ADD IF YOU LIKE IT. Thank you.