Little Andaman
Not many people make their way to this Little Andaman. This remote island has since ever been the southernmost point of Andaman and Nicobar islands you could get to. Further south, direction to the Nicobar Islands, the "road" has been closed. Even with the news, that came out in August 2018, that Nicobar islands will be open to foreigners, Little Andaman will remain a remote, attractive and little-visited island.
As exciting as it can be, an only tiny strip of land at the eastern shore is cultivated and inhabited. Most of the Andaman Island is a dense jungle and tribal reserve, where stone age is still present.
Why visit -Little Andaman Highlights
Little Andaman has that sensational feel of the end of the world. Kilometres of Beaches are completely free of any humans, jungle waterfalls and water reservoirs wait just for you. You probably meet no tourist during the day, maybe a few in your accommodation exchanging stories around dinner. Enjoy a motorbike ride along the island's road and feel the complete freedom to discover the beauty of this island. And the best thing about Little Andaman: it is surprisingly inexpensive!
Kalapathar Beach, Little Andaman
You will meet all the tourists at Kala Pathar beach. I mean all five or six, that currently dwell on the island. Kalapathar Beach is amazing, the green lagoon with white sand on one side and black rocky formation on the other. Thus its name: "kala pathar" means black rock. The rock effectively separates Butler Bay from Hut Bay and even google maps know and have it correctly, so you will not get lost. (Just save your maps off-line. No internet here.)
Map of Little Andaman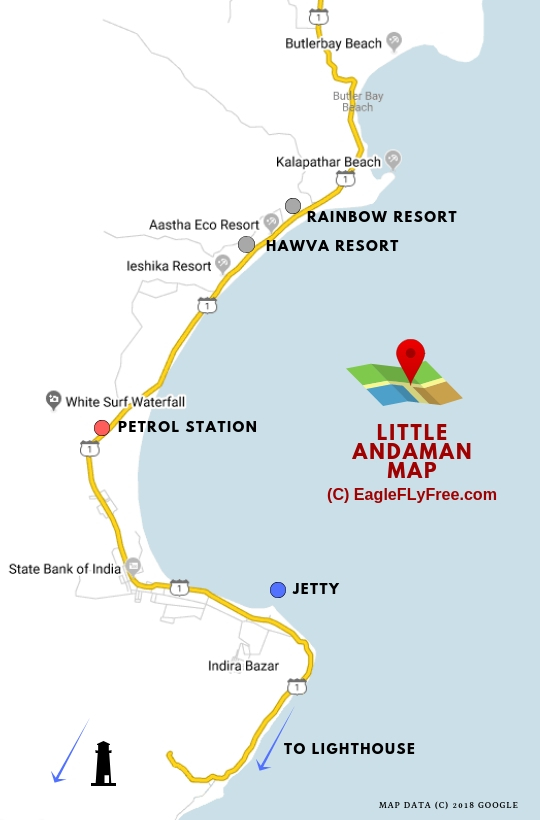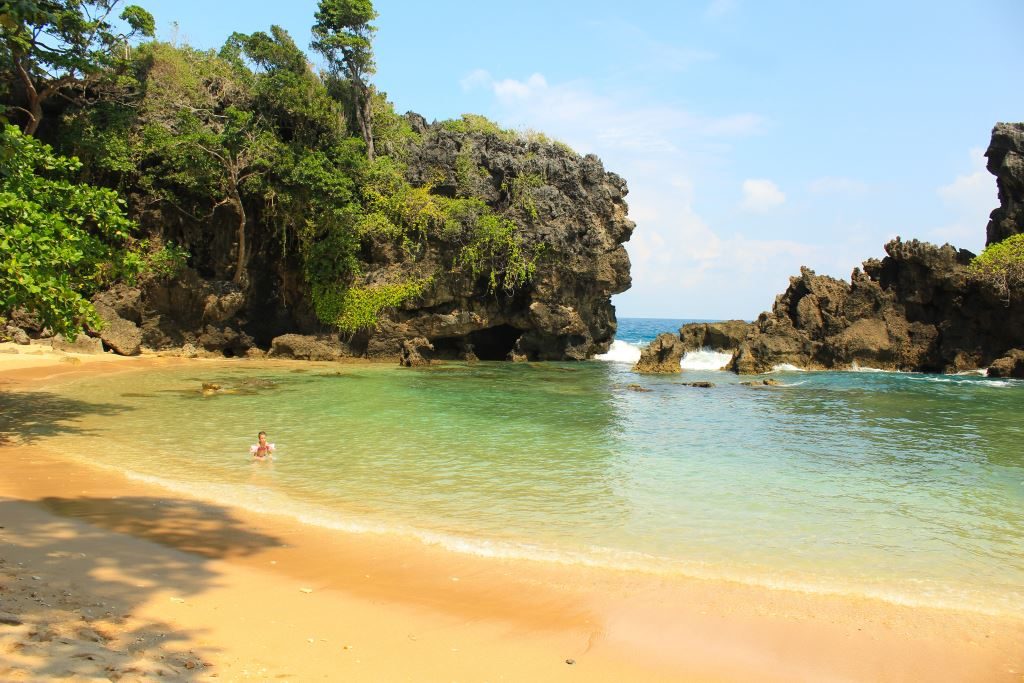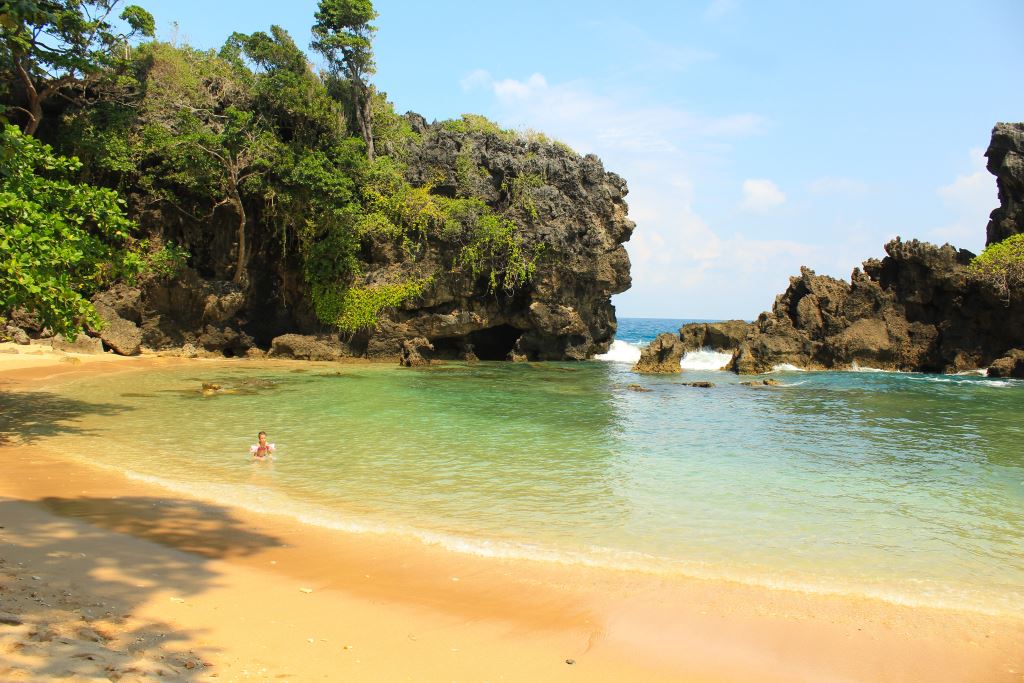 White Surf waterfall
White Surf is an easily accessible waterfall. Right before you reach the petrol pump arriving from Hut Bay, you will see an arch, marking the entrance to the road, leading to the White Surf. If you like swimming in the waterfalls' lagoons, count on half a day here. There is a deteriorating shelter, that you can use to hide, in case of the rain. You may also trek up the top of the waterfall, where a small pool is located.
It is a bit more than a kilometre to where you park your motorbike and then 5 minutes' walk to the waterfall. I would guess 20-25 minutes' walk from the road if you are not a moto driver.
Whisper Wave waterfall
Whisper Wave is located in the midst of the jungle, some 25 kilometres from the Hutbay Jetty. Take a motorbike north and turn left  at Krishnanagar. Follow the road through for 8 km in the jungle. While visiting White Surf is a breeze even with 2 years old child, the journey to this Whisper Wave includes 4 kilometres trekking through the rain forest. Guys at your resort will be happy to explain to you, how to get there and you should think of taking one of them with you, as a guide. Trek first leads to the bottom of the largest waterfall. The pool below the fall is said to have crocodiles. Climb by the side of the waterfall to reach the next waterfall. Crocodiles can not climb, so the upper pools should not have crocodiles and you can refresh yourself in cold water. You can continue to climb up several waterfalls.
Get ready for a lot of blood-sucking animals, take long trousers, a lot of water and do not get lost! Leave the waterfalls before 3:00 pm as it gets dark early in the forest. Good luck.
Butler Bay Beach
Butler bay is one of those beaches, that will just take your breath away. Long stretch of sand ideally shaped into a C shape. Butler Bay Beach was formerly popular with surfers, but not anymore.
Little Andaman Lighthouse
10km south of Hut Bay, at the southern end of Little Andaman the 41m-tall lighthouse makes for an exciting excursion. Climb its 200 or so steps spiral up to admire magnificent views over the ocean and jungle. The way there is possible by a motorcycle, but prepare to push the bike, especially at the second part of the journey.
Freedom
I can not describe freedom for you. Tak a bike ride along Little Andaman's only the lonely road. Feel it, enjoy it!
White Surf Waterfall, Little Andaman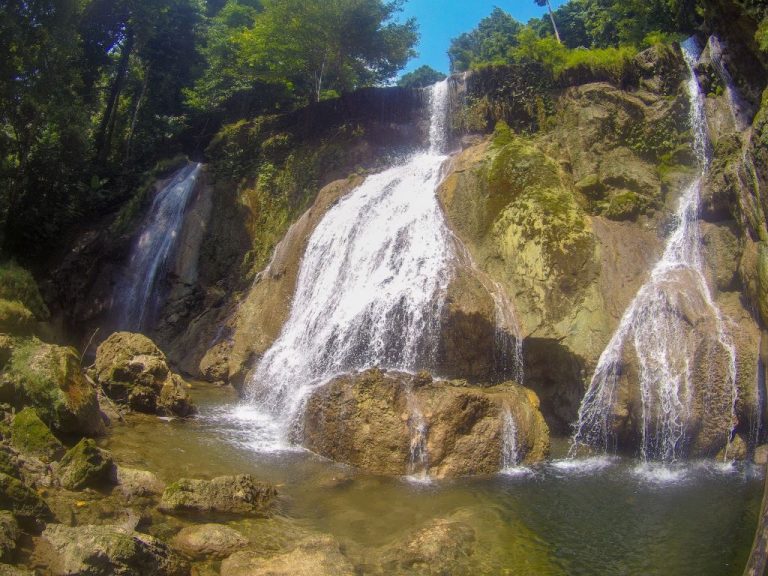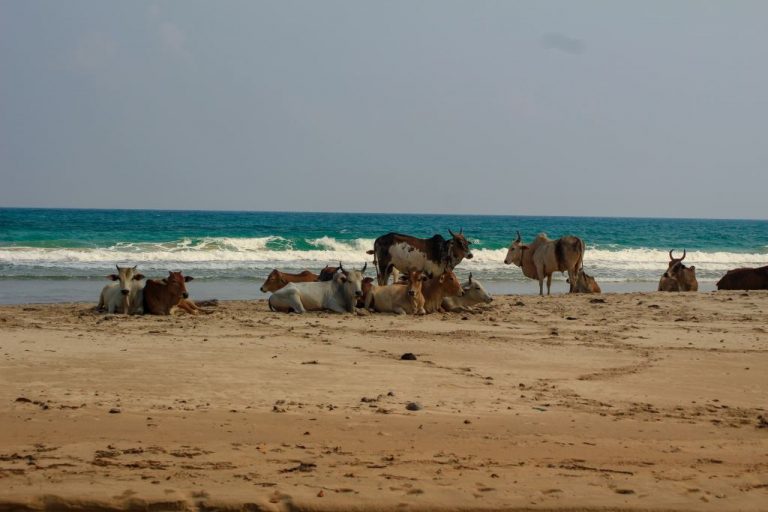 Beware of cows 🙂
White Surf Waterfall, Little Andaman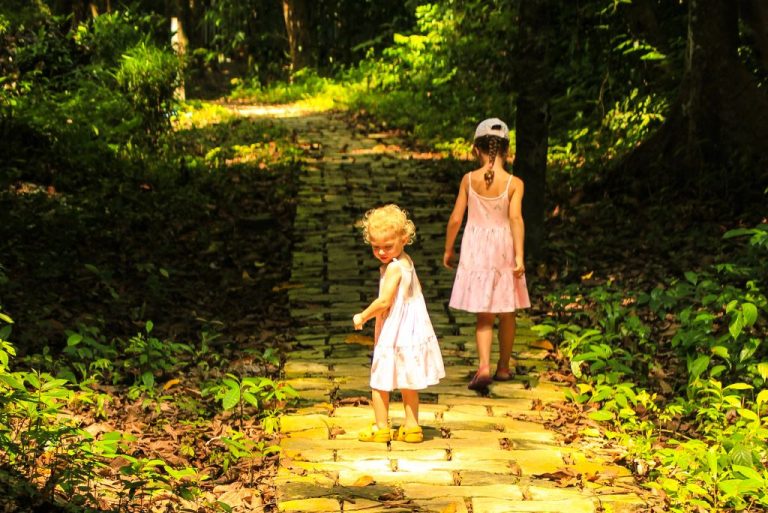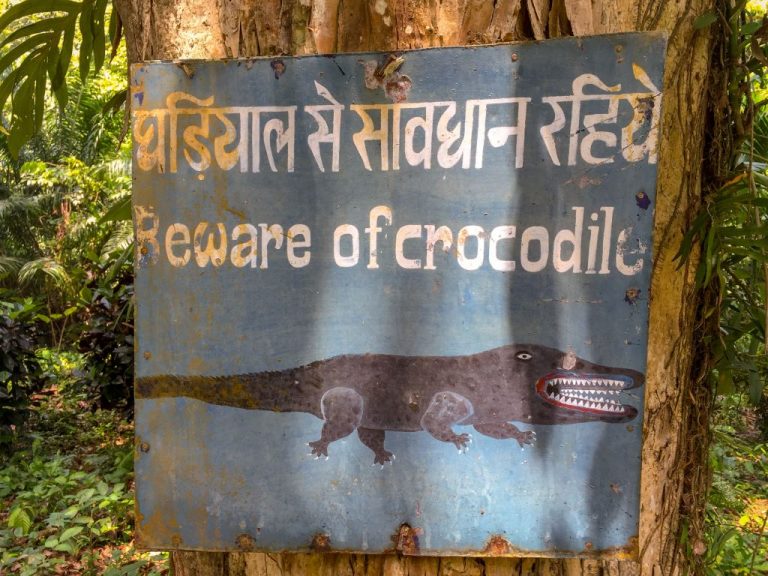 Beware
Getting to Little Andaman island
Board the ocean vessel heading south in the evening and at six in the morning you are there. Connection to Port Blair is 3 to 6 times a week. Whenever possible try to travel by clean and tidy Coral Queen. Do avoid cockroaches infested Bharat Seema. Boats from Port Blair for Little Andaman leave from Hadoo Jetty.
With Andamans having so much to offer, you will need to make choices. If you have 2 weeks or less, you will have to decide between North Andaman and Little Andaman. Both are an overnight journey from Port Blair. Or you would have to skip the touristy Havelock and Neil island.  If you have 3 weeks or more, I would certainly visit Little Andaman.
How much is ferry ticket to Little Andaman from Port Blair?
Prices are for non-islanders from Port Blair to Hut Bay start from Rs. 525 (deck), 1155 (first class) up to 1575 (de-luxe). Ship prices depend on the kind of ticket you buy as well as on which ship you travel.
Ship schedule Little Andaman
Following links used to be good up until middle of 2019 for online schedules. At the moment however (September 2019), these links stopped working. andaman.gov.in/web/guest/nicobarhutbay and https://www.andaman.gov.in/interisland-shipping-schedule however one is broken and the other is often not up to date.
At the moment, the answer to "where can I see ship schedule" is "in the local newspaper".
Getting around Little Andaman
There is a bus running the length of the Little Andaman north to south road, from Hut Bay in the south to Ram Krishna Pur and Chetamale in the north. The bus runs here and there, I would say once in an hour but be flexible. There are jeeps, scooping the passengers along the road, that tend to depart slightly before the bus. Jeeps are cram-packed and even if you are told they cost Rs 10 or 20, as a foreigner with a backpack, prepare to pay more. Jeeps can also be ordered as taxis for private hire, usually a drop to or pickup from the jetty. Expect Rs 200-300 one way from Hut Bay to the area where bungalows are.
In any case, your preferred mode of transport will have two wheels only. On a bike, you can get freely anywhere, anytime. Prices in 2008, Rs 350-400 per day, were cheaper than Havelock or Neil, despite the remoteness of the place. (People are more modest here.)
There is a petrol station north of Hut Bay and another around Ram Krishna Pur. A litre per day will be more than enough for your bike and distances. Price is you typical regulated Indian cheap price: around Rs 60 per litre.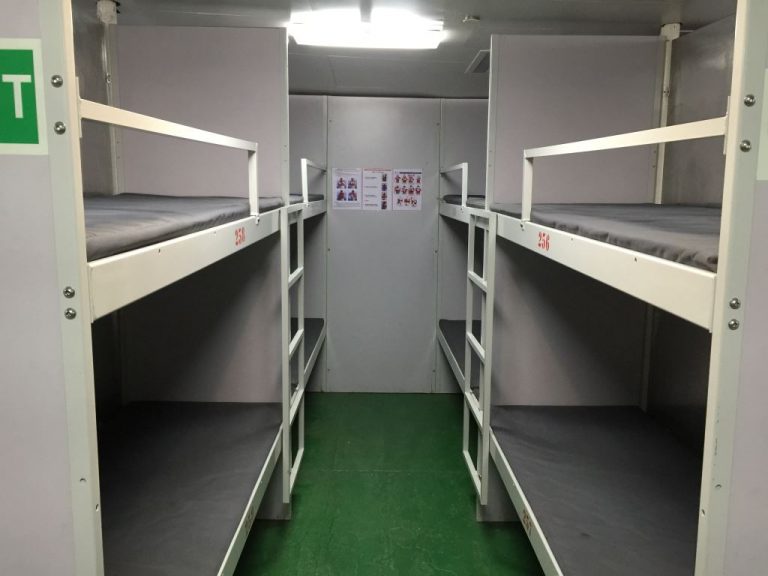 Inside Coral Queen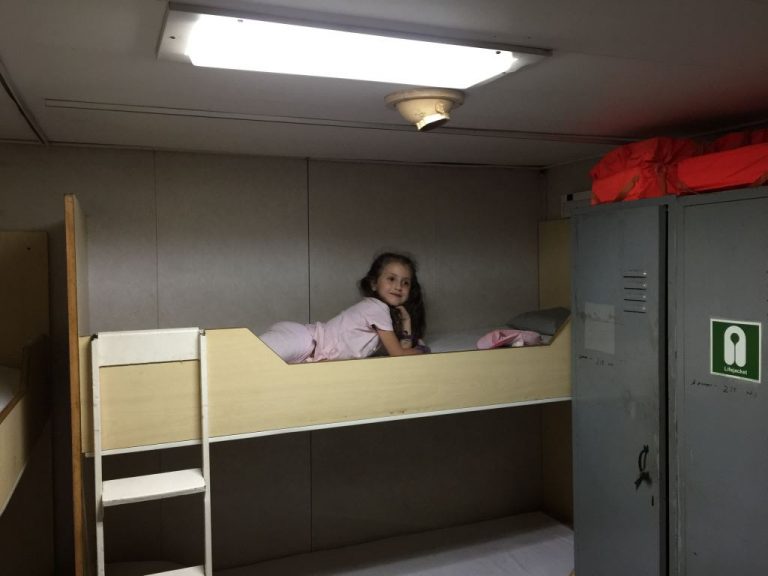 Bharat Seema cabin
Little Andaman Accommodation
There are 4-5 places that proudly added the word "resort" to their good name. The picture says more than 1000 words, thus check the pictures. They all look roughly the same, none standing above the other in design or comfort.
People from those resorts (I am laughing loud, as I am typing this word here) will be meeting arriving ships and offer you their business card as you disembark. As of 2018, you can't book those places online and even calling is between tricky and impossible. Thus the good old hustling takes place a few times a week in Hut Bay, as the ship arrives from Port Blair. Enjoy this disappearing art, so widely spread around Asia and Africa before the internet arrived.
There were us and some 3-4 more foreigners on the ship. The whole jackpot grabbed a guy from one resort, by simply offering us a free ride if we stay with him. Others were asking for Rs 200-300 for transport. For the next 3 days, till next ship arrived, his place was the only one that had guests, leaving other empty. Dire is the hoteliers' destiny on Little Andaman.
A hut with double bed, mosquito net, running water, European toilet and cold shower will cost Rs 500 here, making Little Andaman the best value for money place I have seen since the Asian crisis in the nineties of last century.
Government guesthouses in Little Andaman

APWD, ANIFPDCL and Forest Dept. guest houses are also located on Little Andaman. These cater to government employees, working for respective departments and official delegations. If you are lucky and they have a vacancy, will rent out the room for tourists. We tried APWD in a couple of locations and they were always busy. However, you may try them for your lunch or dinner. Just ask.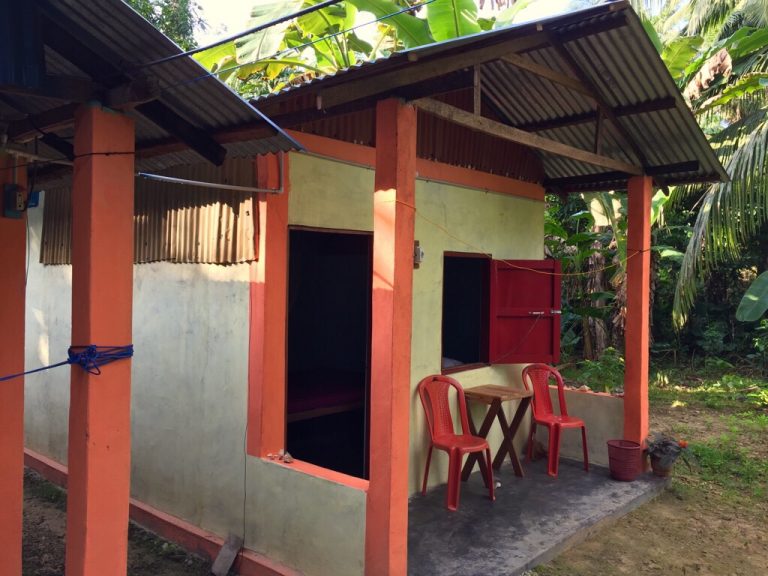 One of the best places to stay at Little Andaman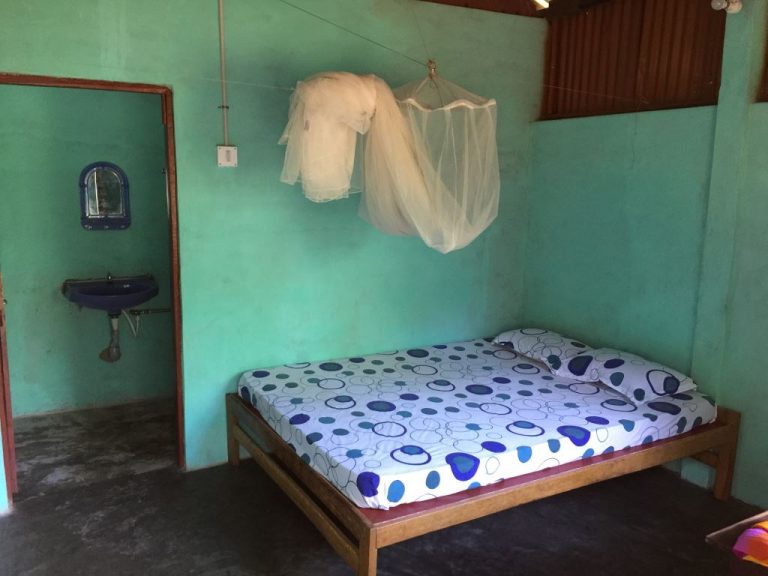 Inside your Andaman Island hut
Food and restaurants in Little Andaman
In Hut Bay village, if we can call that place a village, there is a little market with fruits and vegetables, some local dhaba and pretty well-stocked shop and even beer'n'wine shop nearby. However, count on nothing and bring the maximum of things you may need with you.
Your accommodation will provide you with decent food 3x time a day. Prices are very reasonable and still the food bill will be higher than the accommodation's bill. No surprise if the accommodation is so cheap. We stayed at Rainbow resort and food was very good, given the remoteness of the island. Coconut fish is the one to recommend.
Fish is very cheap at the fish market if you could grill or cook it yourself. Ask your accommodation if they are willing to prepare and for what price.