Root Bridges - 3 things to know before you go
Probably you have read 2 of our articles about Root Bridges: "Reaching Meghalaya Root Bridges" about travel, transport and trek to the bridges and descriptive post labelled "Living Root Bridges". Here we would like to add 3 more things important for your journey:
Best time to visit living root bridges in Meghalaya
How fit do I need to be to trek to Double Decker root bridge
Accommodation and food in Khasi Hills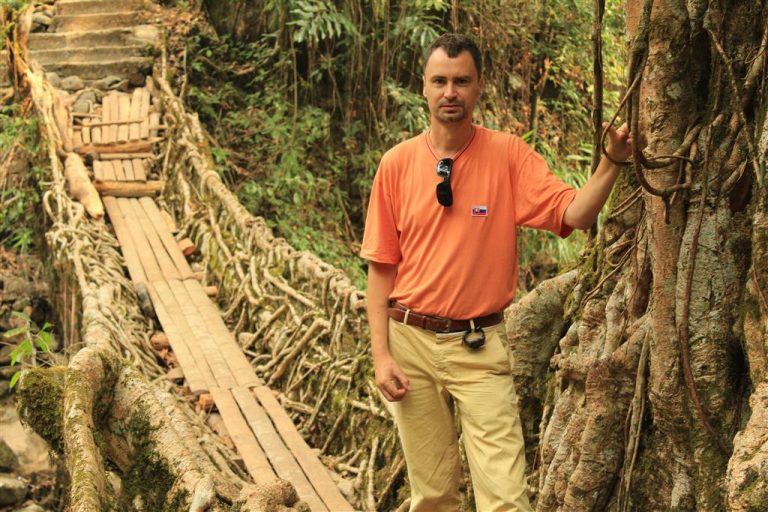 @ Double Decker
The best time to visit living root bridges in Meghalaya
Meghalaya is probably the only place I know, where visiting in the rainy season makes a lot of sense. My opinion is that you can visit anytime, rainy or dry season, each has advantages and disadvantages. The ideal time is just as the monsoon ended. We have visited in the dry season. The advantage of the dry season is, obviously, dry terrain and easier trekking. However, the disadvantage is the dry rivers. If you want to take amazing pictures of the bridges, it would be nice to have some rivers flowing under them. At the mid to end of February, the rivers were mostly dry and the waterfalls shrunk to a trickle.
Obviously, the advantage of visiting during or shortly after rains is that the waterfalls will be majestic and river crossing thrilling. However, trekking to places like Rainbow Waterfall may be very muddy and slippery.
Bridge above Mawsaw river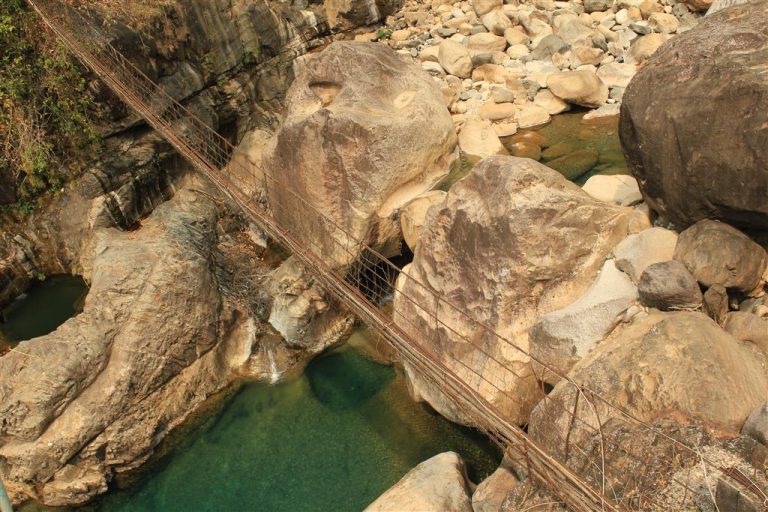 Accommodation and food
Tyrna is the last point where cars and small trucks can reach. Therefore it is the last point to grab any last minute supplies. Tyrna itself is a pretty small and remote village, therefore you are better off to take supplies from Shillong or Cherapunjee.
There a few snack stalls along the way, selling tea, biscuits and occasionally a pineapple. Cooked food you can get in your accommodation and be prepared for the food to be simple. The best food is served at Serene Homestay.
Nongriat is the only village with any accommodation options on this trek. There are 4 or 5 small homestays in the village. Please be realistic in expectations and book your homestay ahead. The capacity of those 4-5 places is limited. The worst thing that can happen to you is that all are full and you need to climb back the same day, to sleep in Tyrna. I do not think this happens often and I strongly believe locals will go out of their way to accommodate you, but still, it can happen.
On the other hand, some accommodations we have seen, do not have a permanent "reception", just a phone number hanging on the doors. The owner may not be nearby, thus calling ahead makes a lot of sense.
How fit do I need to be to trek to Double Decker root bridge?
The best way to answer this question is to tell you that we managed the trek with 2 children, aged 2 and 6! Saying so, I must admit that the trek is difficult. You are descending and climbing back a few hundred meters elevation. Take your time and do not rush it. As I mentioned above, budget for 2 nights in Nongriat, that will give you time for the rest and you will be fine.
There is only one case, where I would advice against trekking to Nongriat. If you have a problem with your knees, think twice before you go. Visit a tall building and try to walk to 20th floor and back by stairs 10 times and see how your knee reacts.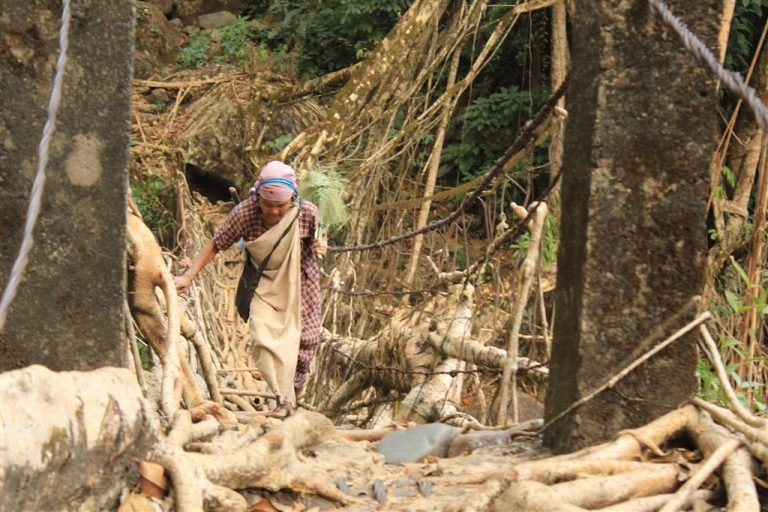 Root bridges are essential for locals