Guide to Neil Island (Shaheed Dweep)
Neil Island, together with its bigger neighbour Havelock are two most visited Andaman islands and thus two most touristy ones. Visitors mostly tend to think of Neil's island as being a more quiet alternative to Havelock. Having visited 12 Andaman islands, I have difficulties to agree with that. Neil is the second most touristy of all Andaman islands.
Neil Island is locally known as Shaheed Dweep and sometimes mentioned as "Neil's".
Why visit - Neil Island Highlights
Other than beaches there are no specific highlights on Neil's island. Ah well, OK, there is a "natural bridge" if you wanna count that one. Beches are why you want to visit.
Beaches and snorkelling on Neil Island 
As it goes around these small Indian islands, there is a sunrise, sunset and some "other" beaches. If you intend swimming and/or snorkeling around Niel's beaches, these are a bit annoying here, as they are tide dependent. More details below.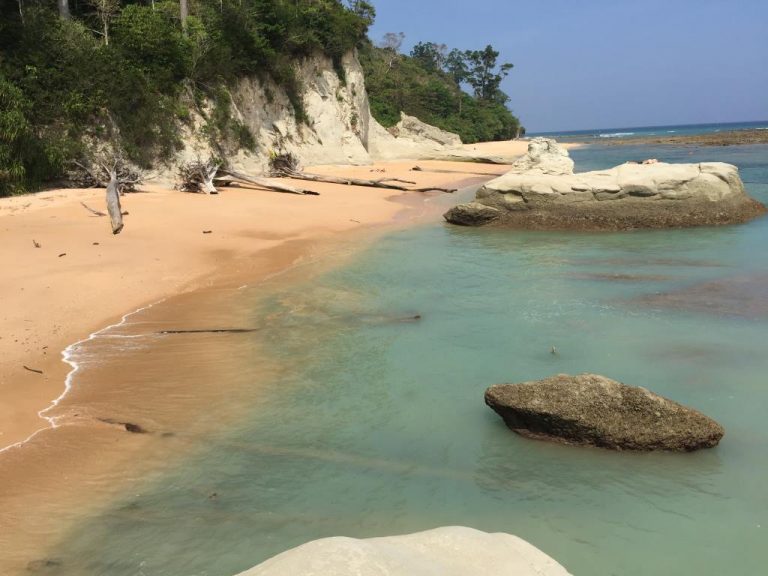 Sitapur beach - the sunrise point, Neil Island
Sitapur beach - the sunrise point on Neil Island
There is something I like about Sitapur beach. When you reach the beach, walk some 500 meters to the left. You will hit a large stone stretching to the sea, which you'll need to climb over. There is (was in 2008) a tree stem to help you climb it, but I found climbing via the tree more risky, than climbing over the rock itself. Exercise caution, but do no be scared by this description, the rock is only some 2.5m high.  Between this rock and the next rock some 200 meters further north-east, you will enjoy quiet sea for swimming and some OK-ish snorkeling. There is also a little fresh water stream to explore and have a fresh water "shower" and a cave to hide if it gets too hot.
Sitapur beach is the beach to visit around low tide. During high tide you will not be able to climb over the rock. Thus plan to arrive before and depart after low tide.
Ram Nagar beach, Neil Island
Ram Nagar is located in the south part of Neil Island. While beach is not notable for any remarkable thing, there are a few budget accommodation options nearby and thus a few travelers stays around here.
Ram Nagar beach is the beach to visit at high tide. During low tide you will not be able to swim there, as the rocky sea bed. Thus plan to arrive before and depart after low tide. If you are strong swimmer, you can swim some 200m away into the sea, where the rocky bed drops into deep. Snorkeling is pretty fine there. Just time your return well, as at low tide the sea is too shallow to return safely.
Neil's Island Video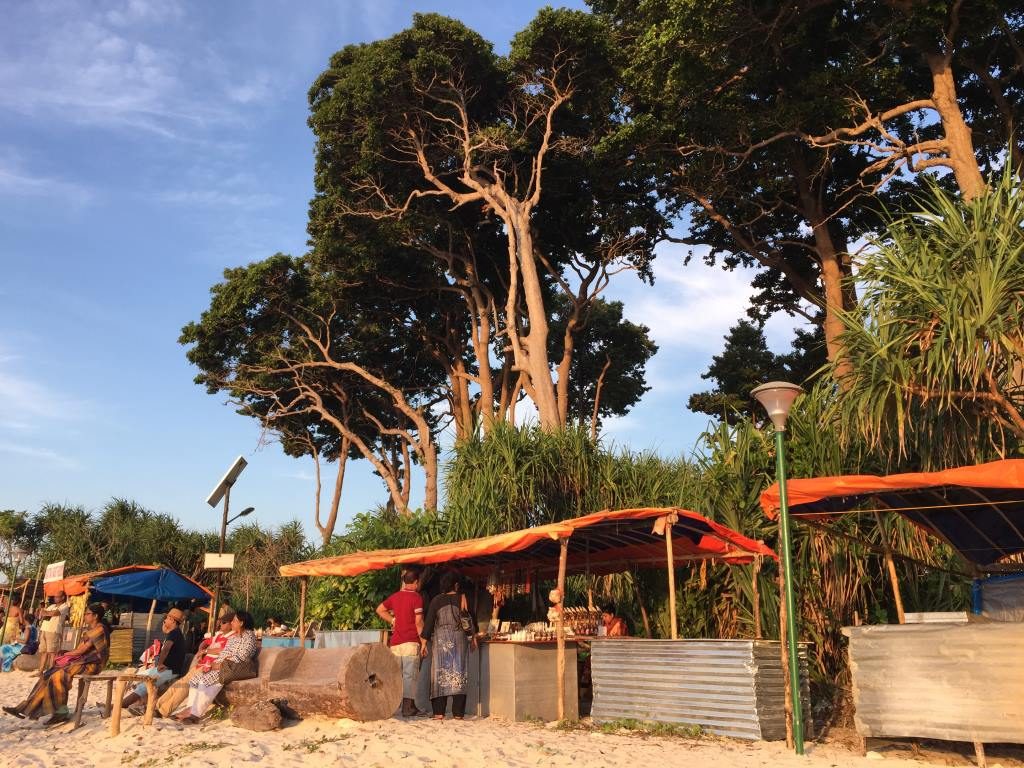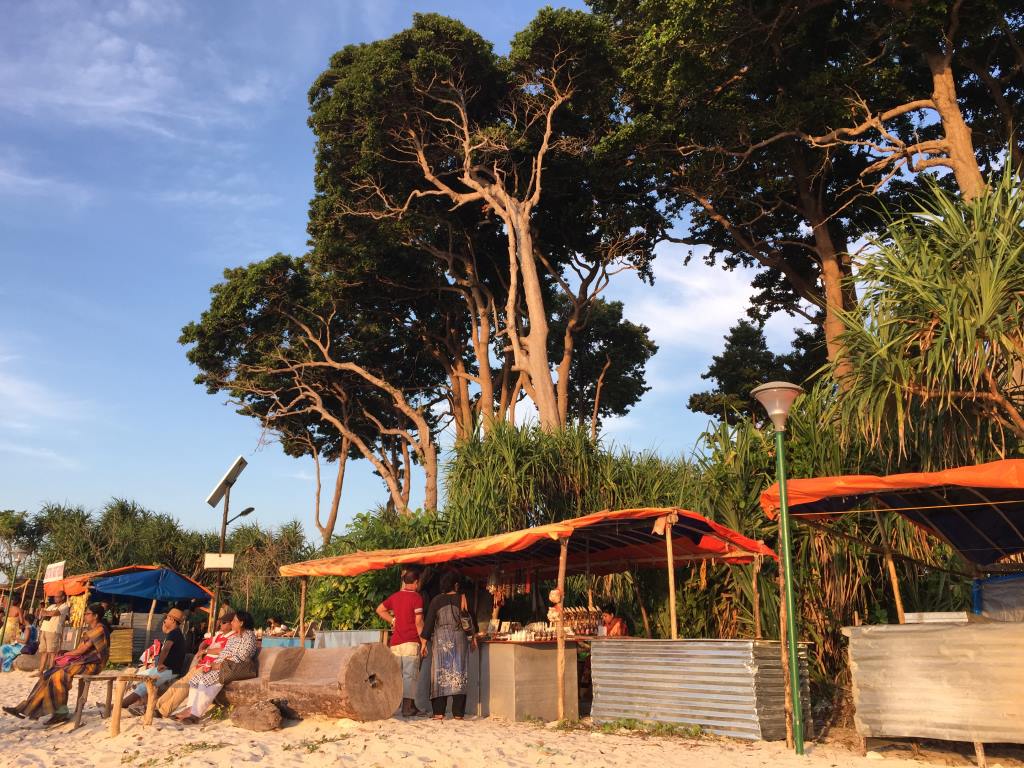 Laxmanpur beach (Lakshmanpur beach) - the sunset one on Neil Island
This beach is quiet the whole day, even around 4 p.m. there is almost no one there. However as sunset time nears, the invasion starts. It is quite amazing to see the hordes of mostly Indian tourists flocking to this westernmost point before sunset.
Save for the human invasion before sunset, it is pleasant place to spend time. There are a few food stalls serving cheap Maggi soups and coconut water. Laxmanpur beach is the only beach around Andaman where we have seen this pleasant service.
I found Snorkeling here a bit stressful. At lower tide, the rocky sea bottom is pretty neat to the sea level. Swimming was OK, but to go further away, I was afraid the water may be too shallow on my return. Thus plan your snorkeling visit to Laxmanpur beach around high tide.
Getting to Neil by Ships
We have dedicated chapter about transport and getting around the Andaman Islands here.
Now specifically about Neil: some people want to go to Neil and some just use it as alternative, if the ship to Havelock is booked out. Indeed we met handful of people, who went to the harbor, right after they landed in Port Blair, hoping to buy a ferry ticket to Havelock. All of them were left empty-handed. In high season, tickets for a cheap, but good, state owned transport are sold very quickly. Only those, who were waiting in front of the gate by 6 am, to be among first when counters open at 9 am, managed to get Havelock tickets. And it is good to note, that it only works on Mondays and Thursdays. See our section on ticket purchasing: buying tickets for ships and ferries around the archipelago.
Getting to Neil is easier and quite possible on state transport. There is a government ship or two daily from Port Blair, depending on exact schedules that keep changing.
Link to the Andaman administration, Neil section, with Andaman ship schedule: www.andaman.gov.in/web/guest/neilhavrangat
Of course, there is also an option of buying tickets from private carriers, Makruzz and Green Ocean are 4 times more expensive then state vessels. Each of them sails to Neil from Port Blair once a day.
Havelock to Neil and vice Versa.
Both State ships and private carriers connect Havelock with Neil. Private carriers once a day and state ship once or twice. So, in the season, there are 3-4 sailings between the two islands daily.
Of course, you do not have buy tickets personally. Ask your accommodation or travel agent, to buy tickets for you. Going fee is 150-200 Rupees per person.
This works well for Indian residents. For non residents there is a typical Indian bureaucracy hook: if ticket is sold to foreigner, his/her RAP (Restrictred area permit) number must be provided. So someone, who buys that precious ticket for you, must have a copy of your permission or at least your RAP number. You got it, right? You will only get permission after arriving in Port Blair, so the option of buying tickets for a state boat from a comfort of your home country is a no go.
Read more about Getting around Andaman islands by Ships in separate section of this guidebook.
Where can I find a ship schedule for Neil?
There are 2 daily between Port Blair and Neil. Example departure time as of 18th of July was 6:20 and 11:00. Andaman administration is pretty poor at publishing schedules. Check here if this page is updated (often it is not) https://www.andaman.gov.in/interisland-shipping-schedule
How much is ferry ticket from Port Blair to Neil Island?
Government ferry ticket from Port Blair to Neil is Rs. 485 as of September 2019.
Green ocean and Makruzz tickets are roughly 4x more expensive.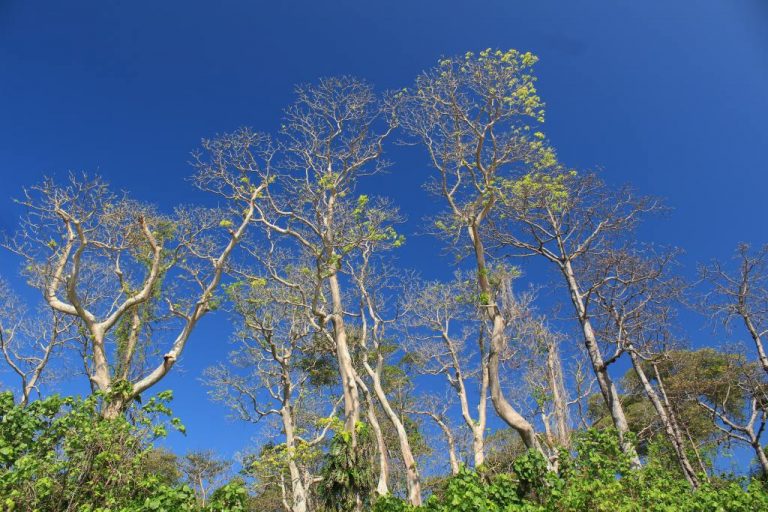 Lakshmanpur beach, nel Island - the sunset one
Getting around Neil Island
Bike and Motorbike is the buzz word when transport is concerned around Neil Island. While the Island is small and can be discovered on a day or two, the distances are not walking distances. From sunrise to sunset beach it is good 7 km distance. We have seen a bus running along the east-west road here and there, but never used it as we rented a motorbike. You may try to stand by the road hitchhiking and someone transport will pick you up ? … sooner or later.
A jeep prom the jetty to your accommodation will cost an elevated 100Rs charge or even more. More is pure rip-off for some 2-3km ride, but you have no choice and they know it.
Accommodation on Neil's Islands
Neil's accommodation may be less expensive and easier to get than accommodation on Havelock, but it still is expensive on price to quality measure. Nice places are booked well ahead and many places are not available online, just offline.
Ugly bamboo shacks with mattress on the floor may ask for 1000-1500 Rs per night. Brick and mortar structures, most likely with AC will start at 2500 Rs during peak season.
Honestly, I have difficulties to recommend something. Nice places very expensive, average places are expensive and many places are ugly. Budget places recommended in Lonely Planet are both overpriced and ugly for the price.
If you come outside of the main season, spend some time getting around with your driver checking various options. If you intend to come during peak season, read carefully the experience of other travelers on online booking sites and make your own judgement.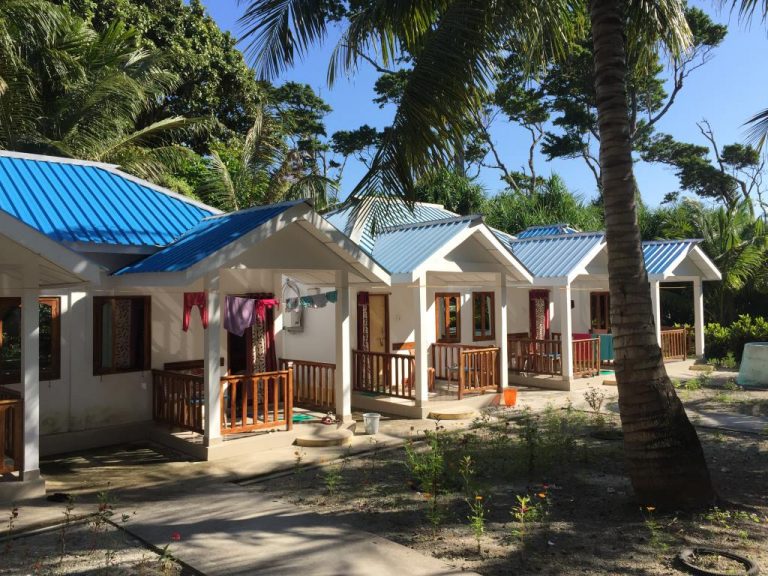 Brick and mortar huts on Neil Island, cost 2500 Rs during peak season.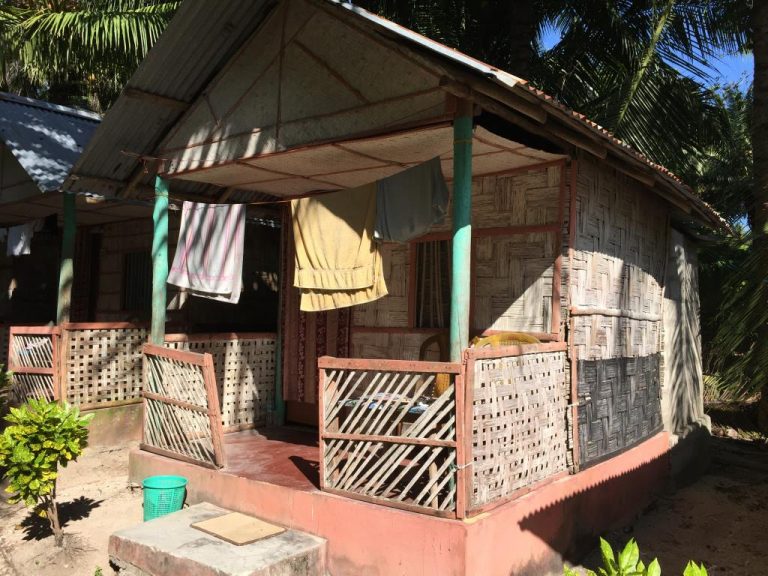 Bamboo shacks with mattress on the floor may ask for 1000-1500 Rs per night, Neil Island
Food and Restaurants on Neil Island
Most of accommodations will also cook for you breakfast, lunch and dinner. Prices are very reasonable and if you want something other than eggs or rice, order your food well ahead, so resort can buy supplies for your meals. Handful of mini-markets sell snacks and drinks around the island.   There is quite a busy market in the island's center, where you can buy fresh fruits and vegetables. Honestly, we were quite disappointed with poor choice and high prices.
Conclusion abou Neil Island
I am sorry to say that, but if there is one island that I would skip next time we come to Andamans, it is Neil. It is not "the less touristy brother to Havelock", as some people believe, it is quite as touristy as Havelock is. Food is poorer, beaches are poorer than in Havelock…
However, if you did not get a Havelock ship ticket and should be left in Port Blair, then yes … jump on the Neil ship, spent a night or two there and move onto Havelock or more interesting places in the far north or far south of this archipelago.