Living Root Bridges of Meghalaya - Amazing cooperation between human and nature
If there are 3-4 most amazing places on the planet, in terms of a result of human effort, like the pyramids of Giza, the living root bridges are among them. For me, they are the most impressive example of human and nature cooperation on Earth.
Remember Pandora Moon, of Jim Cameron's Avatar film? Welcome to the place!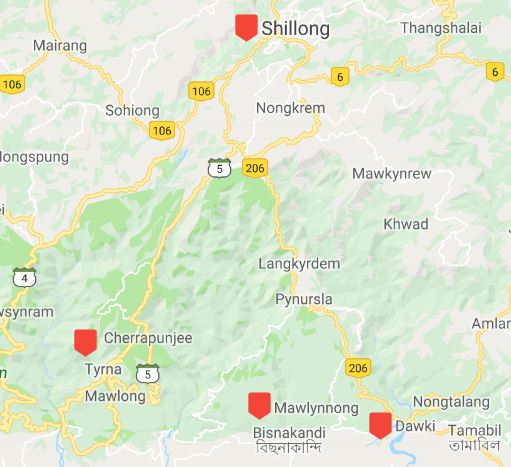 Meghalaya highlights Map data (C) 2019 Google
What are living root bridges?
Tribes living in the Khasi hills, near the border of the Indian state of Meghalaya and Bangladesh, live in steeply sloped hills, intersected by river streams that have created deep, often narrow valleys. For rural connectivity in this vertical landscape, bridges are essential.
During the monsoon season in Meghalaya, rainwater gushes through the deep gorges of Khasi Hills and the tribes, who inhabit these hills, have developed an exceptional relationship with the forest. Long before the arrival of modern construction materials, the Khasi devised a nature-friendly way to link isolated villages.
Two Ficus elastica trees are planted at the opposite sides of the river. Over the following years, the Khasi slowly thread tree roots across the river to connect the gap, often using a temporary bamboo scaffolding. Once the roots connect, they grow stronger and stronger. The living root bridge is able to support a crossing human within 15 to 30 years. Bridges then live for a century or even longer.
Wooden bridges would be washed away by flooded rivers. Metal bridges would corrode quickly in this humid environment. Unlike modern materials, root bridges grow stronger and more resilient over time.
For a detailed guide on how to reach the bridges click here Transport and Treks to living root bridges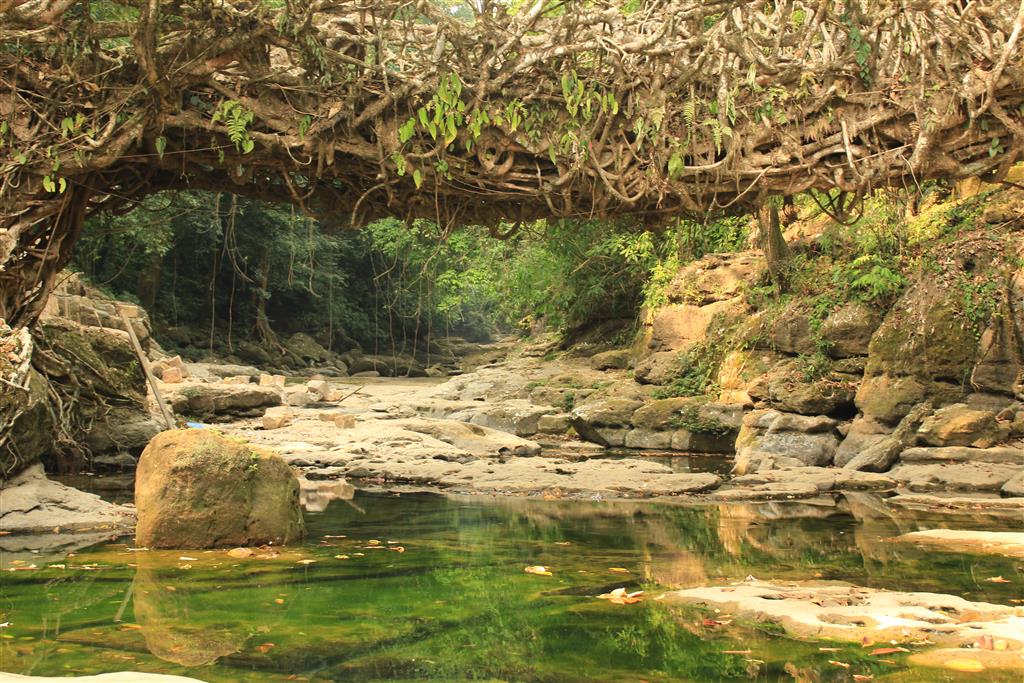 Strong and resilent root bridge near Riwai village
Mawlynnong, the living root bridge easy to reach
Whenever you read about Meghalaya root bridges, you will realise, that trekking to most of the root bridges requires strength and energy. The Mawlynnong root bridge is the ideal alternative for anyone who wants to take it easy. This root bridge is often referred to as "Mawlynnong root bridge" thanks to its proximity to the so-called "the cleanest village", named Mawlynnong, however, it is situated near the village of Riwai (pretty clear one too). The bridge is a mere 10-15 minutes walk from the village. Being easy to reach, this place is pretty touristy and you will share the man-made, natural miracle with dozens of mainly Indian tourists. If you plan to visit Double Decker or other bridges, you can skip this one.
Combine the visit to this easy root bridge with a visit to Umgnot, "the cleanest river" in India, near Dawki village. This trip impossible on public transport, it can only be done with Taxi or tourist bus. Price for taxi per full day starts at 2000,- Rs for small Maruti, tourist bus costs 500,- Rs per person. Both are starting and returning to Shillong.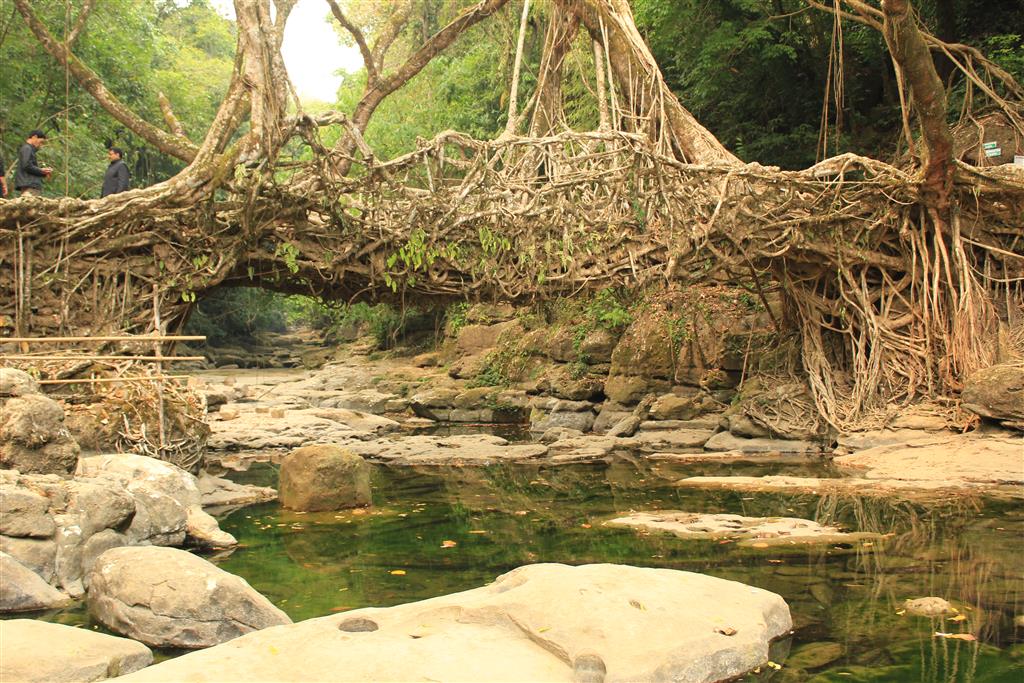 Easy to reach root bridge
Ritimmen, not the longest, but pretty long root bridge

On the way to Double Decker, you will meet the Ritimmen. Located near Nongthymmai settlement, it is better known as "the long bridge". I would say, the Ritimmen is more spectacular than the Double Decker. Do not miss it. Nongthymmai is a surprisingly neat settlement of beekeepers with clear cement paths and flower gardens.
It takes about an hour from Tyrna, along a seemingly endless trail of steps that plunges deeper and deeper. The views are amazing and stairs are surrounded by pineapples and jack fruits growing wildly amid the jungle of vegetation.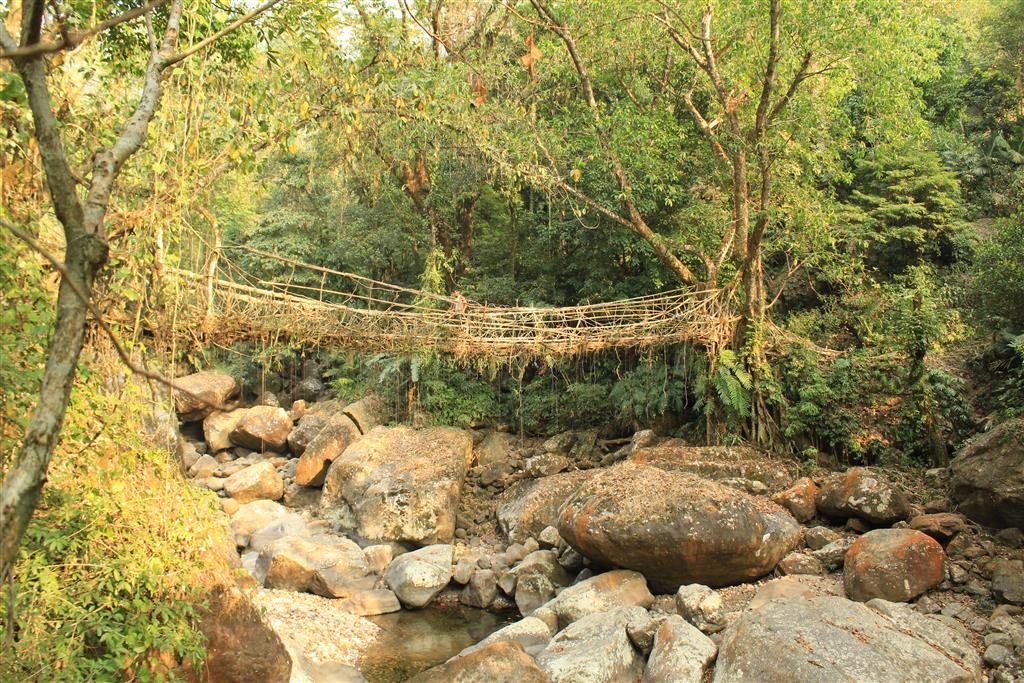 Ritimmen root bridge
Double Decker Living Root Bridge

From the long bridge, you will need another 60 to 90 minutes to reach the Double Decker root bridge. Crossing Umshiang river, Double Decker is kind of an icon, a "holy grail" of root bridges. Take it slowly and enjoy the scenery. You will reach Nongriat settlement after crossing the long metal bridge over an amazing river valley. The change in elevation between Tyrna and Nongriat is 730 meters.
See more details about the trek and how to reach both Double Decker, the Ritimmen and how to continue to Rainbow falls in a separate section, here: Travel Guide to Meghalaya Root Bridges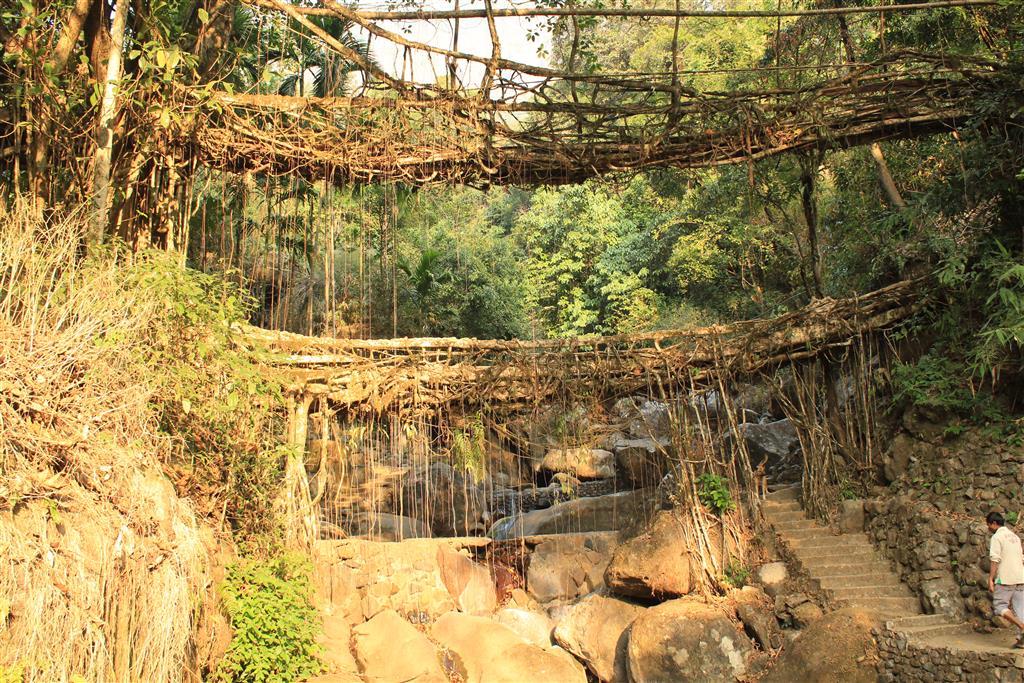 Double Decker by Nongriat
2 More living root bridges
There are a handful of root bridges in the area. The following 2 we did not visit. Perhaps next time 🙂
Ummunoi Root Bridge is a 17-meter long root bridge, one of the oldest known root bridges in the region. Located at Ummunoi river near Siej village, Nongkroh, via Sohsarat village. A starting point for Ummunoi root bridge is Laitkynsew village. While it is only two kilometres one way expect four to five hours return. The descent here is only 1,400 feet (430 meters) which makes it more accessible that Double Decker and still it is said to be a very impressive living bridge.
Umkar Root Bridge. One more "easy" root bridge located half a kilometre or 15 minutes away from Siej village. Umkar root bridge was partly washed away by flash floods and the villagers in the process of regrowing it. There's also a waterfall by the bridge, but only during the monsoon season.