How to visit Nicobar islands.
As of July 2018, the answer to this question still was: there's no way. With the recent announcement of the opening of the Nicobar Islands for tourism, there is or soon will be a way how to do it.
Facts - Nicobar will be open to tourism
At the beginning of August, Indian government decided to remove RAP requirement from Andaman islands and threw in a few more islands into the open list, including Nicobars.  The list of 29 Islands removed from Restricted Area Permit is here:
Andamans -
East Island; North Andaman; Smith Island; Curfew Island; Stewart Island; Land Fall Island; Ayes Island; Middle Andaman; Long Island; Strait Island;  North Passage;  Baratang;  South Andaman;  Havelock;  Neil Island;  Flat Bay; North Sentinel Island;  Little Andaman;  ; Narcondam Island and Interview island.
Nicobars -
Chowra;  Tillang Chong Island;  Teressa;  Katchal;  Nancowry; Kamorta;  Pulomilo; Great Nicobar and Little Nicobar
In addition 11 uninhabited islands will also be accessible for foreigners and Indians alike.
Before us, adventure seekers, open a bottle of champagne and book our tickets, I have to say that the announcement created more questions than brought answers:
- Is is already valid or is it just a good intention and it will come to force later? When?
- Will all the islands be open also for overnighting or some of them just for a day visit?
- How can I travel to Nicobar islands?  (Here I try to help.)
- Are there any accommodations, hotels on Nicobar islands? 
What do Nicobar islands look like and how can I travel to Nicobar islands
Even if Nicobar islands were closed for outsiders to visit, there still is a population which lives there. According to 2011 census, more than 36000 inhabitants dwell there. And they need to be supplied with everything from food and petrol to mobile phone services, as well as provided with an access to education and medical treatment.
In the February 2018 we have visited Little Andaman, which has been as south as you could get in the archipelago. Having a chance to observe live on Little Andaman, I have pretty good idea what live on Car Nicobar or Great Nicobar looks like.
OK so how to get there?
Theoretically, it will be easy. Fly to Port Blair and then board one of the ships heading down south. At the time of writing,10th of August 2018 there are two ships sailing the waters between Port Blair and Car Nicobar. MV Sentinel and MV Campbell Bay. The journey to Car Nicobar takes around 24 hours and ships stop at Hut Bay on Little Andaman. The journey to Campbell bay on Great Nicobar takes some 40 hours with a stop at Nancowry.
Strange thing is that Car Nicobar, thought pretty developed island, is not on the list. Unless this changes, you would have to travel all the way to Nancowry and Great Nicobar.
I would really suggest anyone heading south to Nicobar islands, to stop for a few days on a Little Andaman. That place is fantastic and it is quite well connected with outside world. There is daily sailing from the Port Blair to Hut Bay. 
Tip: Avoid cockroaches infested MV Bharat Seema, take clean and well maintained MV Corral Queen.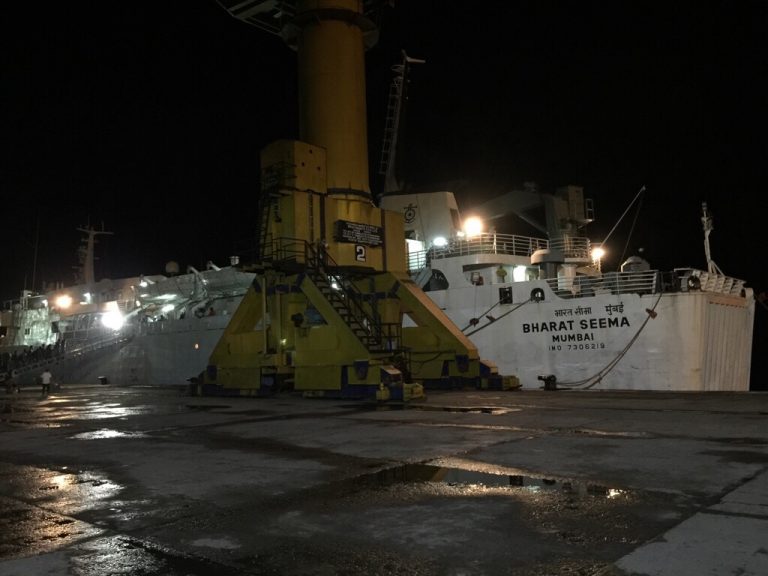 Avoid Bharat Seema on the way to Little Andaman
Sail on Coral Queen whenever possible
Sea Sickness
There is no way to avoid sailing while on Andamans, thus take motion sickness pills from home country or buy them in India. (Drugs are ten times cheaper in India then in Europe.) Me and my wife, we suffer from motion sickness easily and we can honestly say, that sailing in Andamans was quite bad, but we survived. When the ship begins to swing, assume horizontal position quickly.
Updates on Nicobar Islands
The topic of Nicobar Islands opening is so new, that we can all expects frequent updates and more information coming in.
Subscribe for updates in the comment section below and we'll follow the development and make sure you are well informed.
Follow us on Facebook, see photos on Instagram and videos on YouTube. Thank you.