How to visit Nicobar islands
With 200.000 people visiting Andaman Islands questions about possibility of Nicobar Islands Tourism are becoming more frequent. Is it possible to visit Nicobar islands? Nicobar archipelago has been close from the outside world for couple of decades. With the recent announcement of the opening of the Nicobar Islands for tourism, there is a way how to do it. We had the honor and pleasure to be one of the first foreign visitors to reach the shores of this distant, mysterious archipelago. In this article we bring a report about the places to visit, places to stay and places to eat in Nicobar Islands as well as details of local and inter-island transport.
Nicobar Islands entry formalities
At the beginning of August 2018, Indian government decided to remove RAP, the Restricted Area Permit requirement from Andaman islands and threw in a few more islands into the open list, including those belonging to the Nicobar Archipelago. The list of 29 Islands removed from Restricted Area Permit is here:
Andamans -
East Island; North Andaman; Smith Island; Curfew Island; Stewart Island; Land Fall Island; Ayes Island; Middle Andaman; Long Island; Strait Island;  North Passage;  Baratang;  South Andaman;  Havelock;  Neil Island;  Flat Bay; North Sentinel Island;  Little Andaman; Narcondam Island and Interview island.
Nicobars -
Chowra;  Tillang Chong Island;  Teressa;  Katchal;  Nancowry; Kamorta;  Pulomilo; Great Nicobar and Little Nicobar.
More questions than answers about Nicobar Islands Tourism
The
announcement created more questions
than brought answers:
Is it already valid or is it just a good intention and it will come to force later? When?
Are the islands be open to overnight or just for a day visit?
How can I travel to Nicobar islands?
Are there any accommodations, hotels, restaurants on Nicobar islands?
Wishing to answer those questions for our readers, we have packed our bags and headed for Nicobar Islands to find answers directly in the place.
Andaman and Nicobar Islands Forest department permit and Tribal permit
While the RAP regime is canceled, there are two more two more permits, prohibiting you from roaming freely around the Nicobar Archipelago.
Tribal permit
The Tribal permit is needed to visit all Nicobar islands, with the exception of urban and most of the eastern coast of the Great Nicobar Island. For Tribal permit you need to apply in Port Blair. If you are a foreigner, there is a very little chance you get a Tribal permit granted for the purpose of tourism. Do not even try. If you want to increase your chances, state different purpose, not tourism.
Forest department permit
Some areas are under the administration of the Forest Department and you need permits to visit those.  A valid Forest Department permit is needed to visit Galatea National Park and Great Nicobar Biosphere Reserve. Visit Forest Department office in Campbell Bay and apply for both. Permit for the Great Nicobar Biosphere Reserve you are likely to obtain there. However, Galatea National Park lies in a tribal area, therefore here both tribal and forest permits are needed. Forest department will most likely not grant you the permit if you did not obtain the tribal permit first. Still give it a try once you are there. Indian visitors have a bigger chance of scoring a permit than foreigners.
What do Nicobar islands look like
Even if Nicobar islands were closed for outsiders to visit, there still is a population which lives there. According to the 2011 census, more than 36000 inhabitants dwell there. And they need to be supplied with everything from food and petrol to mobile phone services, as well as provided with access to education and medical treatment.
Nicobar Islands have no infrastructure for tourism. When you visit, you will be exploring an uncharted territory. Well almost. We chartered the Nicobars' highlights, transport, accommodation and food for you.
How to travel to the Nicobar Islands?
This part is easy. Fly to Port Blair and then board one of the ships or a helicopter heading down south.
Nicobar islands by ships
At the time of our visit (February 2020) there were two or three ships sailing the waters between Port Blair and Campbell Bay: MV Sentinel, MV Campbell Bay and MV Coral Queen. Before 2019 season, there was only one departure per week to Campbell Bay, only November 2019 schedule brought inclusion of the Coral Queen into the list. When all the mentioned ships are available, there may be two departures per week. Otherwise count on one ship per week heading down south only.
How long does a journey Port Blair to Campbell Bay take by Ships
The journey from Port Blair to Campbell Bay on Great Nicobar takes some 30-40 hours with most ships making a stop at Nancowry. Some sailing itineraries also involve a stop at Car Nicobar, Chowra, Teressa or Katchal. You need the tribal permit to disembark on these islands. If there are 3-4 stops between Port Blair and Campbell Bay in the ship's itinerary, the journey can take 2 and even 3 days.
How much is a ticket from Port Blair to Campbell Bay by Ships for non-Islanders
Prices for sailing one way are as follows:
Deluxe (2 Pax) Rs. 2625/-
Semi Deluxe (2 Pax only in MV Coral Queen) Rs. 2415/-
Cabin First Class (4 Pax) Rs. 2205/-
Bunk (Dormitory) Rs. 1995/-
We traveled MV Campbell Bay. On the way from Port Blair to Campbell Bay, our ship had 3 stops and the journey took from Tuesday morning 10 a.m. till Wednesday late evening. We arrived to Campbell Bay at 9 p.m., thus the journey took 35 hours. The return trip involved only one stop and duration from Campbell Bay to Port Blair was "only" 29 hours.
Nicobar islands by helicopter
The idea of flying between South Andaman and Great Nicobar sounds fancy. Exchanging 2 days on a rocking boat for a few hours in a on RAF Dornier chopper, must be worth it. However, the chance of getting allocated a seat in a helicopter is small and the cost is pretty high.
How much is a flight ticket from Port Blair to Campbell Bay on helicopter
One way ticket from Port Blair to Campbell Bay costs 13.400 Indian Rupees (for non-Islanders). There are two flights per day between Port Blair to Campbell Bay, both making a 45 minutes petrol stop at Car Nicobar. Flying time between Port Blair to Campbell Bay is 2 hours and 45 minutes, including the petrol stop.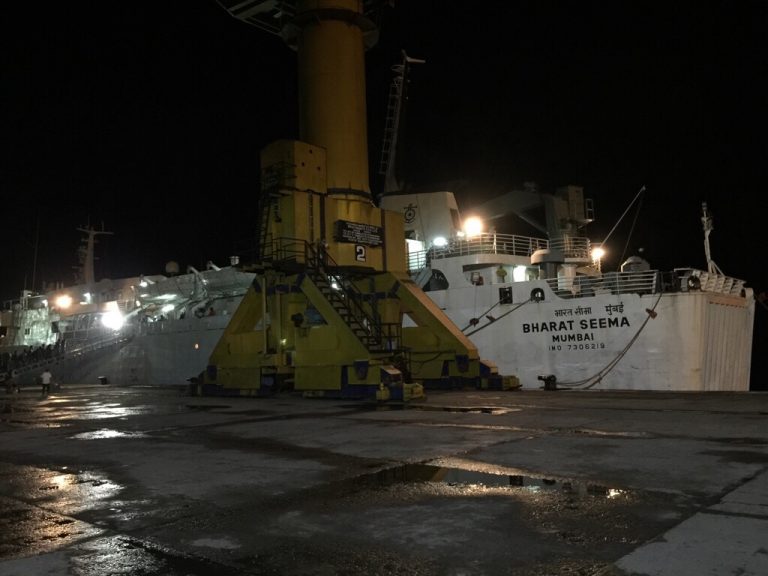 Avoid Bharat Seema if you can
Accommodation in the Nicobar Islands
At the time of our visit (February 2019), there was no private accommodation, no homestay, no resort in Great Andaman Island. There are four state or municipal Guest Houses in Campbell Bay where you can theoretically stay.
APWD guesthouse Campbell Bay
APWD (Andaman Public Works Department) Guest House, with its air-conditioned room, may be the best place to stay in Campbell Bay. The advantage of APWD guesthouse is its lovely manicured garden and the fact that they cook meals for the guests. While on other Andaman islands APWD will cook for non guests as well, in Great Nicobar they were not willing to cook for non guests. Booking APWD guesthouse is kind of mysterious process, where you need someone to arrange it for you. Price is 1200 per double room.
ALHW guest houses Campbell Bay
ALHW (Andaman Lakshadweep Harbour Works) Guest House also has Air Conditioned rooms. However at the time of our visit, it was closed for reconstruction works.
Let us be realistic here. Both APWD and ALHW guest houses will only accommodate you if they have a vacancy and must be booked ahead. These guesthouses are intended for managers and visiting staff working for these government departments here. We tried to show up personally APWD guesthouses twice, in Mayabunder and Hut Bay and they were twice full.
IP&T Guesthouse Campbell Bay
Campbell Bay Panchayat (the municipality) runs two guesthouses. The IP&T Guesthouse was originally run by tourism department as tourism guesthouse, however is now run by the municipality. IP&T Guesthouse provides 4 spacious air-conditioned rooms with attached toilet and hot water bathrooms, very adequate for a comfortable stay. As APWD is picky on guests, the IP&T Guesthouse is your best bet. Price is 400 Rs for Indian and 500 Rs for foreign visitor, per bed. IP&T is not cooking for guests and there is no service or reception. You get room key and you are left to your on devices.
Private hotels in Great Nicobar Island
With the "legalizing" the tourism here, private accommodation will be available soon. Mr. Anthony is building his "hotel and bar" already. Please check it out and let us know what it looks like. It occupies a prime location overlooking the central 0-th km roundabout in the town center.
Recommendation: Keep the outside gate closed at all time, otherwise cows will come into the guesthouse territory and bomb it with dung.
The Panchyat Guesthouse in Campbell Bay
If the IP&T will be full, you will end up in the fourth guest house, also run by the Panchyat.  The Panchyat Guesthouse in Campbell Bay has Non-Ac private rooms with common toilets. It looks a bit like a prison. While this is the least liked option in town it still has two advantages. First, they cook food and second, they have a plenty of rooms and thus a good chance that you do no end up sleeping in the street.
Places to visit in the Great Nicobar Island
The Great Nicobar, surprisingly, has handful of places to visit, so even if you have to wait one week for next ship back to Port Blair, there is something to do.
The southernmost point of India – the Indira Point
For many, this will be "the reason" to endure such a long journey. Southernmost tip of the Great Nicobar is also the southernmost point of India. There used to be a road to reach the Indira Point from Campbell Bay, however, the road was washed away by the Boxing Day tsunami. While the road is being reconstructed, you have 2 options to reach Indira Point. Via 25 km long trek from the last road point or by a fishing boat. Obviously, the boat is an easier option.
Tip: Do not take the boat all the way from Campbell Bay to Indra Point. Agree with the boatman instead to pick you up in Gandhi Nagar and reach the Gandhi Nagar by bus or car. This way you will save 2 hours out of the 3 hour boat journey to the southernmost point and lighthouse of India.
Unfortunately the Indra Point is currently within tribal territory and entry there is prohibited.
Beaches or garbeaches?
Great Nicobar Beaches may be the biggest disappointment of your trip. They are full of garbage and Nicobarese are not to blame. All the garbage you see washed away on the pristine shores comes from Indonesia and Thailand. It is extremely sad to witness this level of plastic pollution. I cried twice, realizing how did we screwed this planet and its oceans.
B-Quarry Beach
is beautiful and located just near Campbell Bay Bazaar. The coastal vegetation is majestic and there are a few beach huts to relax in. But beware! The currents are strong here and it is not advised to swim in the B-Quarry Beach. Plastic garbage is widespread. Bring a plastic bag and collect some. We picked some 20kg only. See more in the video.
Laxman Beach
Laxman beach is another beach within Campbell Bay town limit. This beautiful C-shaped beach can be reached by short 5 minute trek from town edge. The coastal vegetation along the short trek is again amazing. Local fisherman will be amazed to see you and may offer you a boat trip to small islet just off shore of the beach. Garbage story repeats here, unfortunately.
Many more beaches are reachable via the North – South road.
The 10th km beach and the turtle hatchery
I love this place as one of my dreams came true here. In one night we have observed the turtle nesting as well as seen newly hatched baby turtles. Moreover this is the only clean beach we have seen in Great Nicobar. I believe the forest department rangers are collecting the plastic garbage from the beach to make sure it does not distract nesting turtles. We recommend this place for swimming and sunbathing. To reach the 10th km beach, pass Joginder Nagar and turn left from the main road, roughly 2km after the village. Decent asphalted road leads all the way to the beach. If travelling by bus, ask the bus driver to drop you at the 10th km or better a the road leading to the hatchery.
Laxmi Nagar beach
Lovely, C-shaped Laxmi Nagar beach is also good for swimming. You will be alone at this beach and there will be no one in the 2 km radius. The area is farm land and revenue land, with locals mainly growing coconut trees here. There is firm gravel track turning left from the main north-south road, about 500 south of the Laxmi Nagar Village. Bus drivers know. It is a pleasant 2 km walk from the main road to the beach. Unfortunately, this beach was the most severely hit by plastic garbage of all beaches we have seen on the island.
Gandhi Nagar beach
We have spent a nice day at a beach some km or two north of the Gandhi Nagar village and its pier. The area is again a revenue land with coconut palms and a bit of agriculture. Not much plastic here and no strong waves or currents made it pleasant place for a swim and sunbath.
The Great Nicobar is pretty large island and there are beaches everywhere along the accessible eastern coast. Turn left anywhere from the main road and you will hit the coast soon. The Vijay Nagar beach is pretty far from the main road so we skipped it. The beach by Shastri Nagar looked very welcoming, however we did not have a spare time to spend there. Check it out and let us know how was it via comments below this article.
Sail on Coral Queen whenever possible
Great Nicobar Biosphere Reserve
Great Nicobar Biosphere Reserve is in some sources also called Campbell Bay National Park. Small but exciting part of the Great Nicobar Biosphere Reserve is open for visitors. Inform the forest department in Campbell bay of your intention to visit and ask for permit. You will have to register and pay a small fee at the reserve's gate.
Places to explore within the Campbell Bay National Park
There is surprisingly plenty of places to visit and see here. Early morning head to the "Bird Watching Point". Here you can listen to the sound of nature waking up to the new day. Wonderful view all the way to the ocean opens here in from of you. Climb the Watchtower and enjoy an aerial view of the Great Nicobar island. Even swing is here, available for children to play. In the middle of the journey between park gate and the Watch Tower is "Nature Trail" head. The Nature Trail will take you thru the jungle to the Watch Tower. We advice you to let the forest department in Campbell Bay know, that you intend to trek the Nature Trail and ask them in specifically include it into your permit. If you are very, very lucky, you may encounter the Shompen tribe here.
The Fern Trail is probably the most amazing part of what is available for visitors to see. Enter the trail head and you will time travel to the Mezoic period. Rare species of fern trees, including the Sphaeropteris Nicobarica will surround you and the only thing missing here is the scream of Tyranosaurus Rex. 
How to reach Great Nicobar Biosphere Reserve
Multiple options are available to reach the reserve's entry gate. Cheapest would be to come by bus. The bust stop is only 800m from the gate and the walk is already so pretty here. The distance of of 8km from Campbell Bay makes it easily reachable by a tuk-tuk. Interestingly, local auto-rikshaw (tuk-tuk) are not used to ferry tourists arround. We paid 800 Rs for a return journey with one hour waiting and found this price a bit to high.
Galathea National Park
The place, where the Galathea River meets the sea, is the entry point to the Galathea National Park. This national park is one of the most important places globally for turtle nesting, especially for the giant leatherback turtles. As we learned fro ur forest department friends, during peak season there may be 12-15 leatherbacks nesting just nearby from the forest department camp.
How to reach Galathea National Park and how to arrange your trip to Galathea River
You can reach Galathea National Park by car or by a motorbike. Bus will only take you to the Shastri Nagar. With a bit of like you might hitch a ride on one of the road building trucks that roam the roads here frequently. We even spoke to a guy who walk the sea shores from Shastri Nagar to the forest checkpoint at national park border. It must be 7-8 km walk one way. Plan accordingly if you want to try.
Arrange your Galathea National Park visit
You may have a nice trip if you com here on your own, however, to actually enter the national park, you need to arrange your visit with forest department beforehand. The reason is simple. If you want to reach the Forest Dept. Camp located on the other side of the river there, you will need a boat.  Bring all the food and water with you.
Transport and getting around the Great Nicobar Island
Tuk-tuks, cars, busses and motorbikes exist in the Great Nicobar islands. Yep, they exist, but are they available for visitors?
Auto-rickshaws in the Great Nicobar Island
There are about 30 auto-rickshaws in Campbell bay, many of them have fixed arrangement, ferrying kids to and from schools and government official between their work and homes. The trip from the jetty down-town will cost 50 Rs, short trips within town go at 30-40 Rs. Tuk-tuks are practical and economical way of getting around the town, but there is many of them. You may spend a long time waiting for one to pass by, so it is wise to note down a phone number or two of the driver and get picked up when needed.
Buses in the Great Nicobar Island
A few buses ply the roads on the Great Nicobar Island. There are two routes. The north to south route bus goes from Campbell Bay via Joginder Nagar, Vijay Nagar, Laxmi Nagar and Gandhi Nagar all the way down to the southernmost village of India, the Shastri Nagar. There are 4 departures daily and the journey takes 1.5 hours. Second route is short Campbell Bay to Govind Nagar trip, practical for visiting the Great Nicobar Biosphere Reserve.
Renting a car, bicycle or motorbike in the Great Nicobar Island
As there is no tourism infrastructure, there is no official car or motorbike rent. However, if you ask around, someone will be willing to rent you his bike or take you o a day trip in a car.
Is there electricity, mobile signal and internet on the Nicobar Islands?
Indeed it is. All of those modern world things are available in Campbell Bay.  Most of the inhabited areas of Great Nicobar have electricity supply 24/7 and BSNL Mobile signal for communication. BSNL 3G Internet is available here and there is even a Cyber Cafe in Campbell Bay. Expect poor speed and patchy connection. In the first half of the 2020, the internet was barely adequate for checking email or text messages. Good news is that the undersea optical cable has already reached Campbell Bay and the place will offer world class internet before the Covid-19 pandemic is over and you are able to visit this friendly island.
Food and restaurants in the Great Nicobar Island
There is only one restaurant with bakery and we noted 2 small eateries around Campbell Bay. APWD, Panchyat guesthouses will cook meals three times a day for their guests. However outsider are not served in APWD. In the evening one or two small eateries serve hot samosas around the zero kilometer roundabout.
Suruchi restaurant
Clean, family run, Suruchi restaurant is the only "restaurant" on the island and we must admit they cook great food. Suruchi is open from early morning time till late evening, serving tasty breakfasts, lunches and dinners. Both Indian and continental dishes are available here and to our pleasure, they were both willing and able to prepare tasty Indian dishes without their hot and spicy ingredients. I had the best paneer masala here in the whole India here. They also bake lovely sweets in Suruchi.
Mr. Sima eatery
The small eatery run by friendly Mr. Sima just in front of the IP&T Guesthouse. Honestly the place looks like those places I would never enter for having a food. Dark inside shack with walls from corrugated iron sheets. Cows graze the nearby land plot and cow dung is everywhere, mixed with roaming cats and dogs. You need to cross stinky open waste canal that flows just in front of the Mr. Sima's eatery. 2 crabs live under the channel bridge. However, Sima is a skillful cook and his place is full during morning noon and dinner times. It is easy to fill the place. There is just one table with 6-8 people sitting capacity. Only Indian food is served by Mr. Soma. We ate there our breakfasts almost every day and were fine, digestion wise.
Is there electricity, mobile signal and internet on the Nicobar Islands?
Indeed it is. All of those modern world things are available in Campbell Bay.  Most of the inhabited areas of Great Nicobar have electricity supply 24/7 and BSNL Mobile signal for communication. BSNL 3G Internet is available here and there is even a Cyber Cafe in Campbell Bay. Expect poor speed and patchy connection. In the first half of the 2020, the internet was barely adequate for checking email or text messages. Good news is that the undersea optical cable has already reached Campbell Bay and the place will offer world class internet before the Covid-19 pandemic is over and you are able to visit this friendly island.
Food and prices in the Nicobar Islands
While Campbell Bay only boost the population of 5-6000 inhabitants, the geopolitical importance of Great Andaman island for India is tremendous. Island is supplied regularly by boats from Port Blair. MRP, the maximum retail price, is observed here as anywhere in India, Thus packaged goods are sold at the same price as in the mainland, which is great. However. Local businesses that need to adhere to MRP in this remote place make litle to no profit on selling MRP regulated goods, thus stock are low and the place often runs out of supplies. Such a ubuquitos thing like your Coke or Sprite may not be available At the time of our visit the bottled water was not available at all. We needed to fill our bottles with filtered water every morning.
Sea Sickness
Me and my wife, we suffer from motion sickness easily and we can honestly say, that sailing in Andamans was quite bad, but we survived. The 2 days journey will however test your abilities, thus take motion sickness pills from home country or buy them in India. When the ship begins to swing, assume horizontal position quickly. If you do feel sick, please remember there is a doctor aboard every ship and he (or she) will help you. 
Updates on Nicobar Islands
The topic of Nicobar Islands opening is so new, that we can all expects frequent updates and more information coming in.
Subscribe for updates in the comment section below and we'll follow the development and make sure you are well informed.
Follow us on Facebook, see photos on Instagram and videos on YouTube. Thank you.
Nicobar Islands Tourism Tips:
I would really suggest anyone heading south to Nicobar islands, to stop for a few days on a Little Andaman. That place is fantastic and it is quite well connected with the outside world. There is daily sailing from the Port Blair to Hut Bay. See our Little Andaman Guide here.
Take 2 liter water bottles from Port Blair. Currently selling of the water bottled in plastic is forbidden aboard the ship. Thus the only water you can drink is the one you bring with you or the filtered water. While staying in the plastic free Great Nicobar Island, those bottle will come handy again.