Hello and welcome to Turtle Resort Kalipur, Diglipur
Dear Traveller,
thank you for visiting our web page. It will be our pleasure to welcome you as guest in Turtle Resort. 
We offer you
If you are a travelling couple or a family, if you just stop over for a night or you plan to stay in Kalipur for longer, we have something for everyone.
Turtle Resort accommodation:
Double bed rooms with attached bathroom and balcony.
Sleeping places for 2 plus possible extra bed
2 dormitories with 4 beds and bathroom outside.
Sleeping places for 4 guests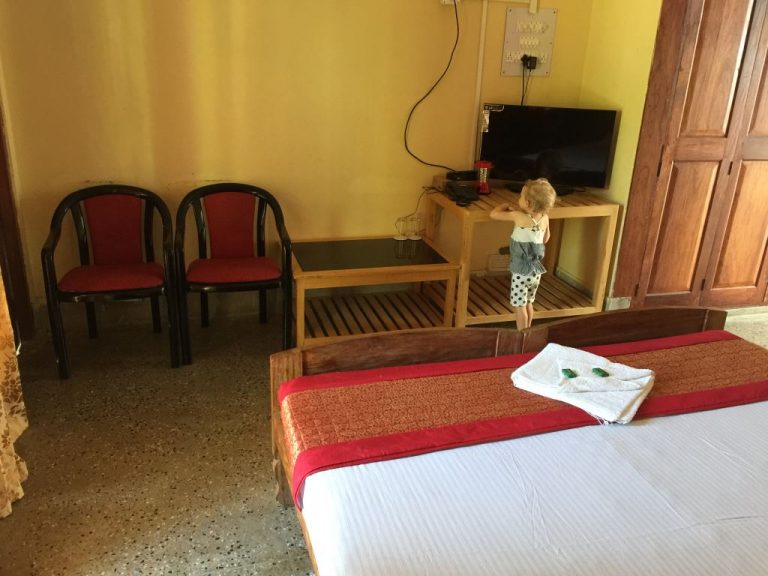 Typical doubleroom in Andaman gov't owned guest house
More services for our guests
Parking - free
Breakfast served in the restaurant
Lunch or dinner - we are able to offer you our freshly cooked Indian food as well as western dishes. Lunch or dinner  we serve in our restaurant.  Dear guest, please note that we are located in remote area and the menu depends on our stock and market availability of supplies. Therefore please order your food well ahead and please accept our apologies if some of the menu items are no available every day.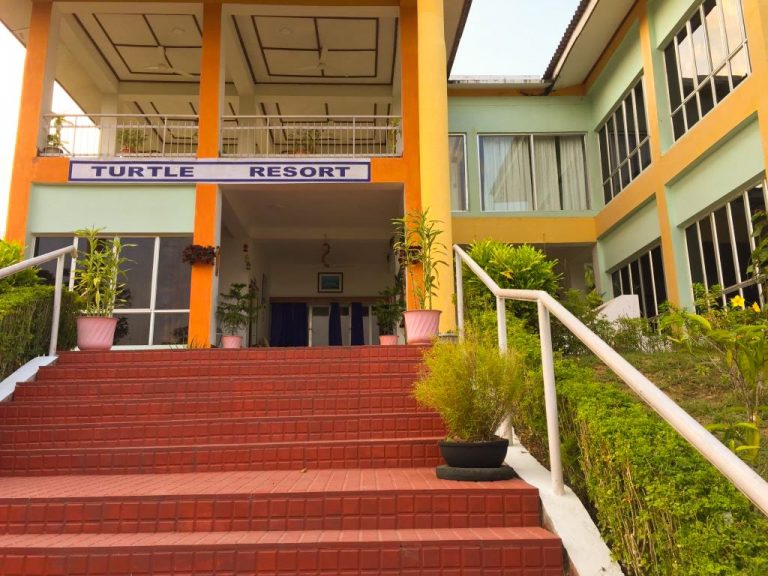 Entrance to Turtle Resort Kalipur, Diglipur
Tours and travel information 
Our staff is happy to provide you with all necessary information about highlights of Kalipur and Diglipur area: Ross and Smith Island, Saddle peak, Kalipur beach or Cragy Island. We can also arrange a taxi or tuk-tuk for your transport needs.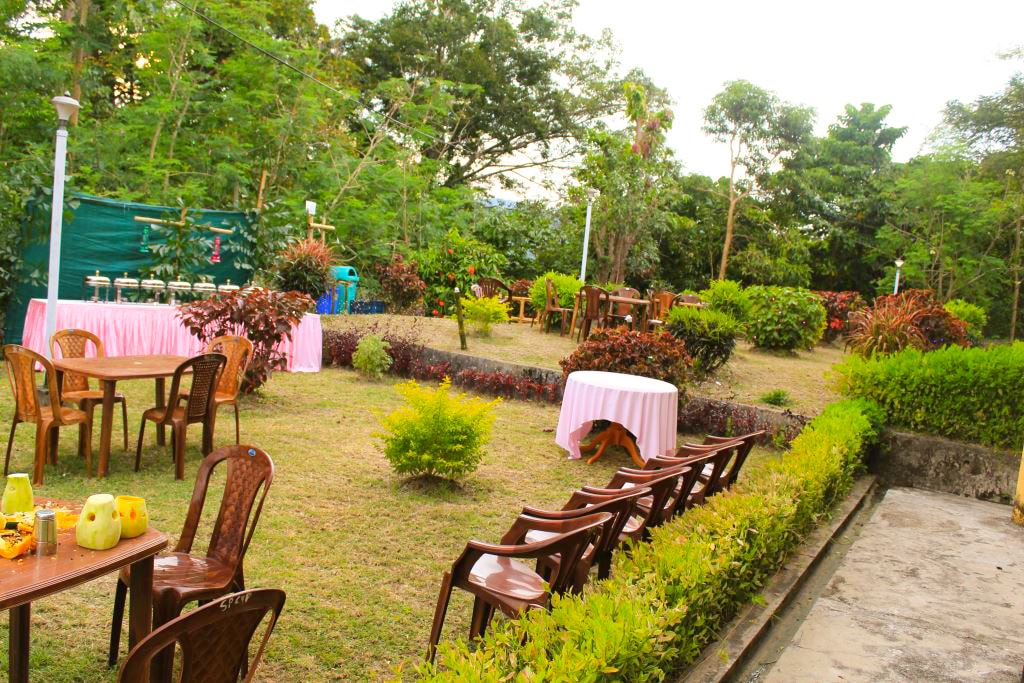 Garden at Turtle Resort Kalipur, Diglipur
How to reach us
Turtle Resort Kalipur is located in Kalipur, near famous turtle nesting Kalipur beach, 16 km away from Diglipur. 
If you arrive by bus from the south, the bus will drop you in Diglipur city center, market area. Public bus is the cheapest and reasonably convenient way to reach Turtle Resort in Kalipur from Diglipur. Buses leave every hour from Diglipur central market area. Please note that the last bus leaves at 7pm.
Tuk-tuks (auto rickshaws) and taxis are also available from Diglipur city center, they cost 300-600 INR one way, depending on you bargaining skills.
If you arrive by ship, you will disembark at Aerial Bay jetty. Same Diglipur - Kalipur bus passes by Aerial Bay and will pick you up with no problem. Tuk-tuks and taxis  meet arriving ships. It is only 8 km, e.g. half the distance from Aerial Bay to reach Turtle Resort Kalipur.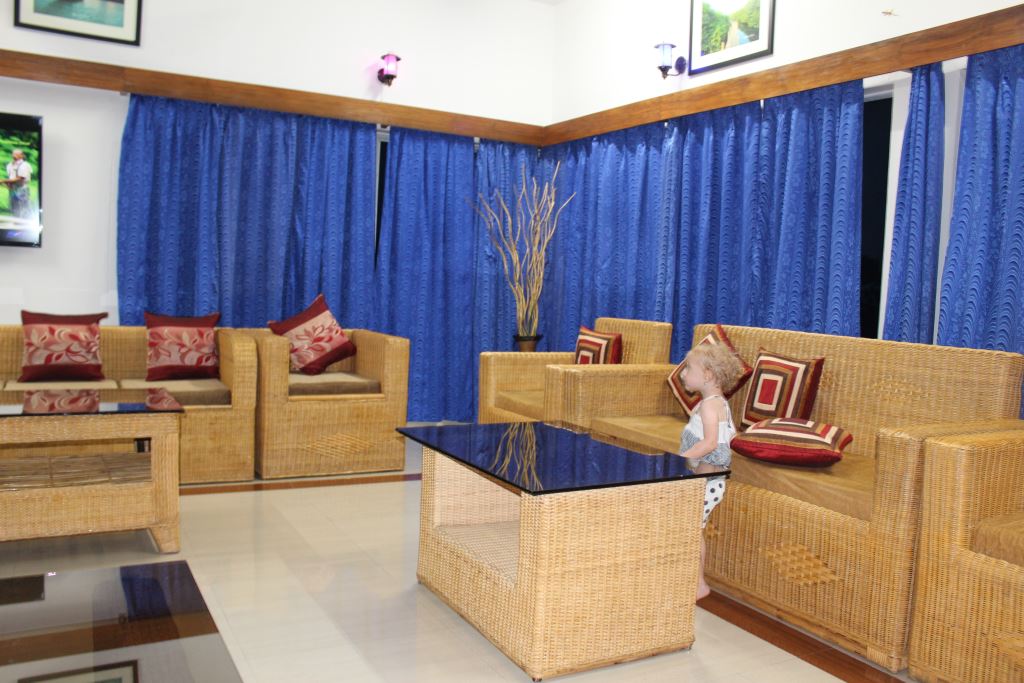 TV / meeting room at Turtle Resort Diglipur, Kalipur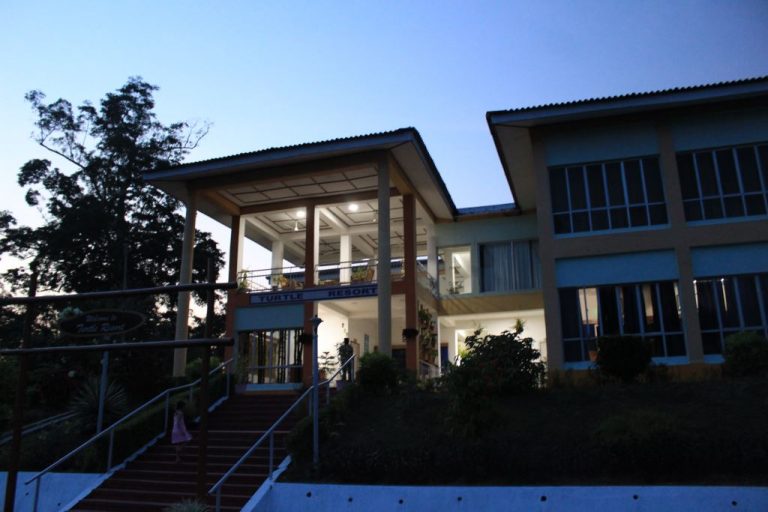 Evening view of Turtle Resort Diglipur, Kalipur
Why is Turtle Resort featured on Eagle Fly Free?
While we rarely pick and recommend specific accommodations or restaurants, I believe Turtle resort deserves it. We have spent here 5 nights and it is the best value for money accomodadation in 500km radius. I guess it would be worth 3***+ rating. North Andaman is worth spending some time, 5 nights are just OK to explore the area. Good sleep and good food is provided at best prices by Turtle Resort here.
Become EagleFlyFree's Facebook friend, see pictures on Instagram and videos on YouTube. Thank you.
Andaman Islands Guidebook
Click below to see our guidebook full with useful, first hand information:
Book or contact Turtle Resort directly