Maldives individually are now 50% cheaper than via travel agent
In the past, visiting Maldives was limited to visiting expensive resorts. The cheapest ones were and still are starting from € 1,300-1,400 per person per week and sky is the limit. Would you care for one week in Maldives for less than € 700? Price including air ticket from Europe. If you live in India, count on 22,000 INR + cost of flying, e.g. some 15,000 from Bangalore or Cochin.
Major changes in Maldives archipelago
10 years ago, major changes have begun and today you can easily backpack around Maldives individually. 2 things happened simultaneously.
Previously tourists were limited to visit the "tourist islands" only and the islands inhabited by locals were taboo. This is the first thing that has changed. You are free now to visit them all.
At the same time, Maldivians have established regular public transport, both among atolls and the capital and within atolls. This is how tourism has begun to develop outside of large resorts, and today almost every island has one or two places where you can spend the night, some islands have five or even more. Competition appeared. A visit to Maldives is no longer limited to tour operator arranged week in the 5 ***** resort. You are free to visit the archipelago and you can do so with a modest budget.
Let us offer you  3 interesting and budget friendly options.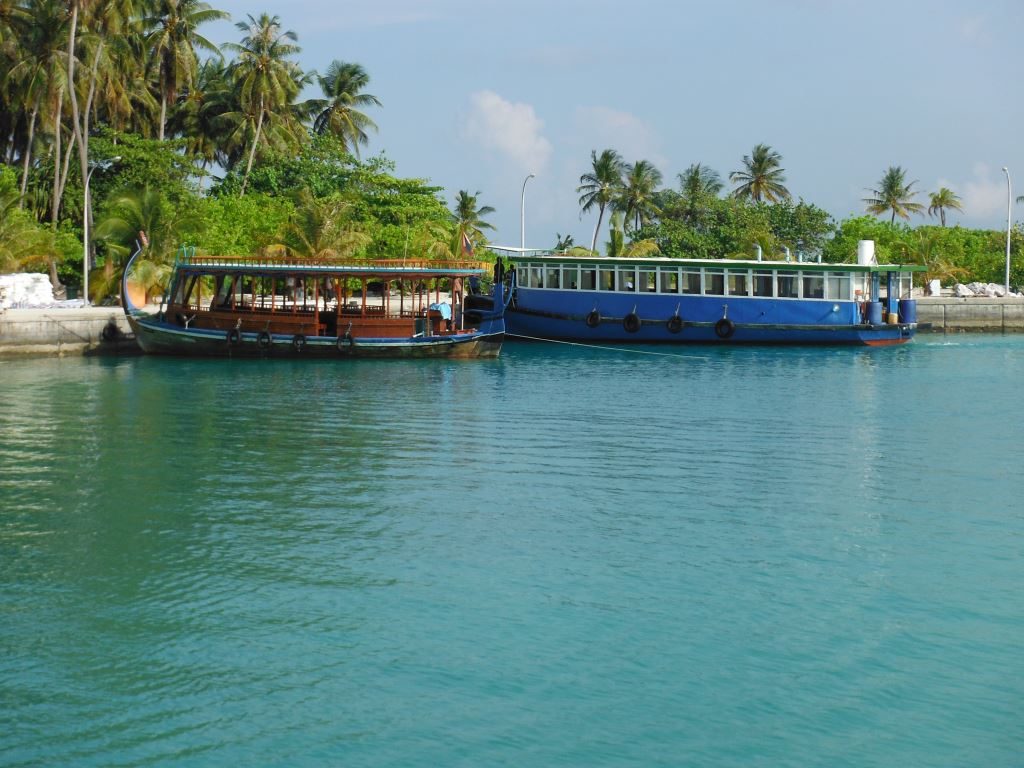 Maldives public transport ships connect all the inhabited islands
Maldives on reasonable budget
See our tips for a trip to the Maldives that will not ruin your wallet:
Flight ticket
With some planning and effort you should get a flight ticket from Europe to Male for some 400 €.
1st option: Sand, sea, beach - the cheapest Maldives holidays
Assuming your flight arrives in the morning, you should be able to get the public boat to your desired island. which is a slower but generally very convenient form of transport. Public transport ships are slower, but generally very convenient form of transport. They connect the capital city with all the atolls of Maldives archipelago.
Maafushi island
Which Maldives island to choose? Our 1st option is Maafushi, the most developed of the inhabited (non-resort) islands. 10 years ago foreigners were forbidden to put their feet on the Maafushi's soil. Today, there is a choice of more than dozen private accommodation options. Believe it or not, prices really start from 30€ per double room per night. Yes, the same Maldives, same palms, same sand as in the resorts ... It is amazing what free market and competition can achieve.
If you do not believe in Maldives at 30 Euro a day, CLICK here and enter Maafushi into search box. Moreover, as a bonus, you will receive 15$ cashback from booking.com.
On most of the islands you need to add 12% sales tax and 3$ environmental tax per day, per person, thus prices in reality start from $40 per day per couple.
Food is naturally a bit expensive in Maldives. Understandably, the food must be imported from Sri Lanka or India. Therefore local fish can be cheaper than imported chicken. Resort lunch or dinner with take 20 Euros or Dollars from your pocket, per person. Food on local islands is surely cheaper and specifically Maafushi offers some competition and reasonable choice. Today, it is not a problem to lunch or dine for same or cheaper price, as in central Europe. 6-7€ per meal will not ruin your budget.
Counting the costs
If you are a couple and you arrive for 7 nights, you will eat 3 time a day, your one week in Maldives will cost you:
Per person:
Flight from Europe 400€ (or $200 from India, e.g. Bangalore)
Local transport 20€
Accommodation 7x20=140€ Food 7x (3+7+7 breakfast, lunch and dinner) = 119€
All together 679€
When is the flight to Maldives cheapest?
Have you tried Kiwi.com/in/ ?
A few practical things: Search "Anytime" for any departure, just specify how long you are gonna stay.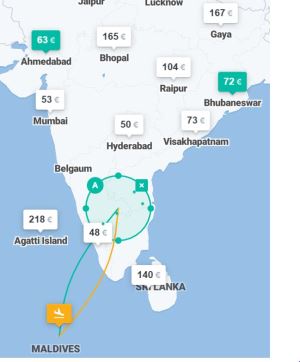 Kiwi also gives you nice map how much is it to fly from your chosen departure point. Here Bengauru +250km radius showing Male as well as key Indian airports and price to reach them.
You can see current best time and map result by following the link here:
2nd option - Maldives amazing underwater life
An alternative, that is worth the little extra cost, is to visit South Ari atoll, for example Dhigurah island. Prices here start from 50€ already breakfast included. We visited this island in 2014, when there was just one accommodation provider. Today there is a choice of 6 hotels and private accommodations.
The reason why you want to go for South Ari atoll is its underwater life. Here you will meet the Whale shark. Diving or snorkeling with this giant creature is a lifetime experience. And have no worries ? this 4-5 meter long guy is pure vegetarian.
In addition to Whale sharks, South Ari atoll is also good place to meet giant Mata rays. Sea currents ensure abundance of plankton here, thus big plankton eaters are easily met here.
Counting the costs (couple, 7 nights, 3 meals a day)
Per person:
Flight 400€
Local transport 40€
Accommodation 7x31=217€
Food 7x (10+10, lunch and dinner) = 140€
All together 797€
Dhigurah's lunches and dinners are bit more expensive due to less competition, but there is an option to eat more simple and cheaper with locals. Breakfast is included in accommodation price. For snorkeling and diving boat trips budget some extra cash.
Thus 797 Euro per person, per week, for transport, accommodation and food. Maldives, next to best diving and snorkeling spots to meet Whale sharks and Manta rays.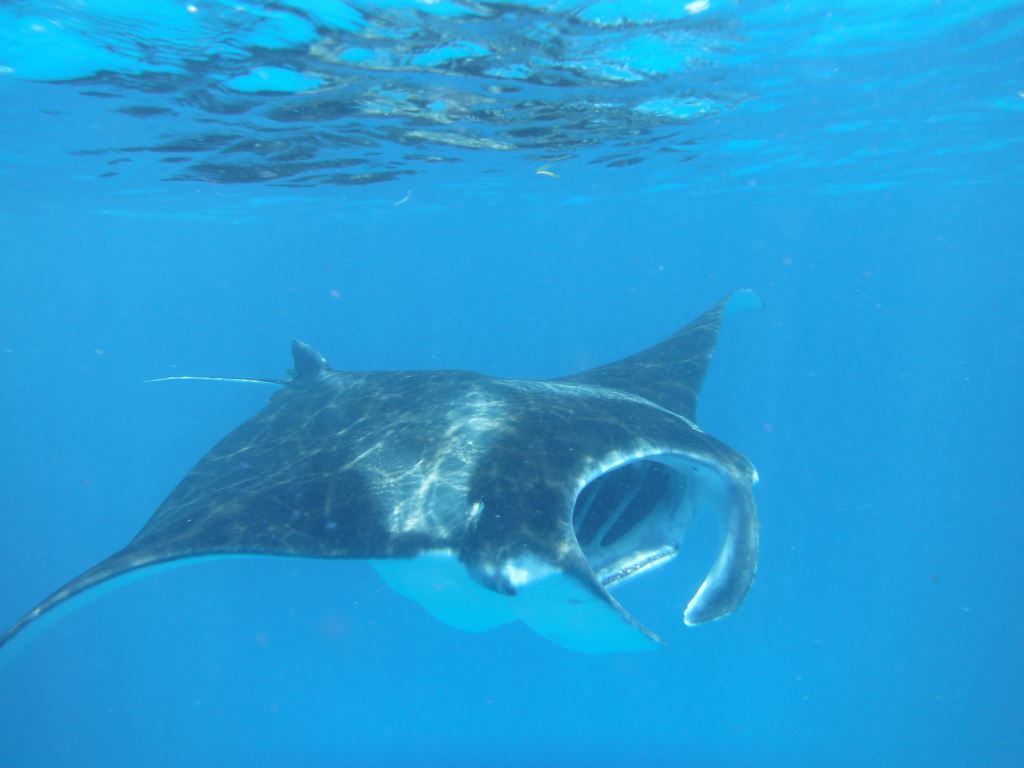 Dive or snorkel in Maldives with these magnificent Manta rays
One more, the 3rd option tovisi Maldives on budget
If seeing Whale sharks and Manta rays are key for you, but you want to minimize the costs: check Maamingili island. For those who visited popular Sun Island resort, one of the cheapest resorts in Maldives, will know Maamingili. It is the airport island, where you get transferred by plane from Male.
Maamingili is at the southern tip of South Ari atoll, thus as near to Whale sharks as Dhigurah and accommodation there is as cheap as on Maafushi island, also starting from 30 Euro. However we speak of an island with an airport, thus expect less of romance and more of the real life. Which, at the end of the day, is also interesting. In any case Maamingili could be a good base to make trips around the atoll.
How to make your Maldives trip more convenient (at extra cost)
Contact your accommodation (ideally before you book it) and check if they can provide transfer from the airport and/or provide information how is their island connected to the capital.
As a rule, ships of the state transport company connect Male mostly with the main administrative island of each atoll. In case of Ari Atoll the administrative island is Mahibadhoo. Thus, after you reach Mahibadhoo, you need to change boats to continue to e.g. Dhigurah. Time tables are public at mtcc.com.mv so planning is possible, but do not expect busy exchange terminal. There is one boat per day … If you need to overnight on Mahibadhoo, it is an interesting island to walk around, with a few accommodation options and 2-3 local restaurants.
Private speed boats
Today, thanks to growing tourism and freedom to do business, private speed boats compete with government ships. While private speed boats are multiple times more expensive, they are at least 3x faster and they not only connect capital with admin centers with Malé, but will sail anywhere where it makes commercial sense. Private boats will connect you from Malé to all here mentioned islands Maafushi, Dhigurah and Maamingili directly.
Private transport prices vary. Bigger islands with enough of local population are cheaper than smaller islands. We paid $20 to Mahibadhoo, one way per person. Maamingili will be some $30, while small Dhigurah may cost you 50-60 USD.
Most of these boats leave near from the Villingili terminal, which is on the other side of Malé's jetty where boats will drop you arriving from the airport. A bit inconvenient it is.  Great news is that now private boats to Maafushi depart directly from the Hulhule Airport Island, cutting the time and most importantly effort to reach Maafushi significantly.
Useful link is www.atolltransfer.com , these guys will book the atoll transfer for you and you can discover the prices there. Sure, they are intermediaries. If you pay directly to the boat owner, your journey will be cheaper. Therefore I will repeat my advice. Contact your accommodation, they know the boat man serving their island and can arrange the best price. For example, we got direct phone number to the boat driver.
Last, but expensive tip.
If you care more for time than money, in addition to Maldivian state carrier, there is now first competitor flying, The FlyMe. They fly to two airports and it is no low cost: Maamingili will cost you 168$ one way and Dharavandhoo 112$ "only". http://www.flyme.mv/

What to add? In Slovakia, where we live, prices have doubled in last couple of years, while in Maldives prices halved ...
Happy journey wherever you are heading.
Please share your Maldives travel experience with us in the comment window below.
Thank you for reading our article. I hope you liked it. If you did, you can share it with friends and become our friend on Facebook.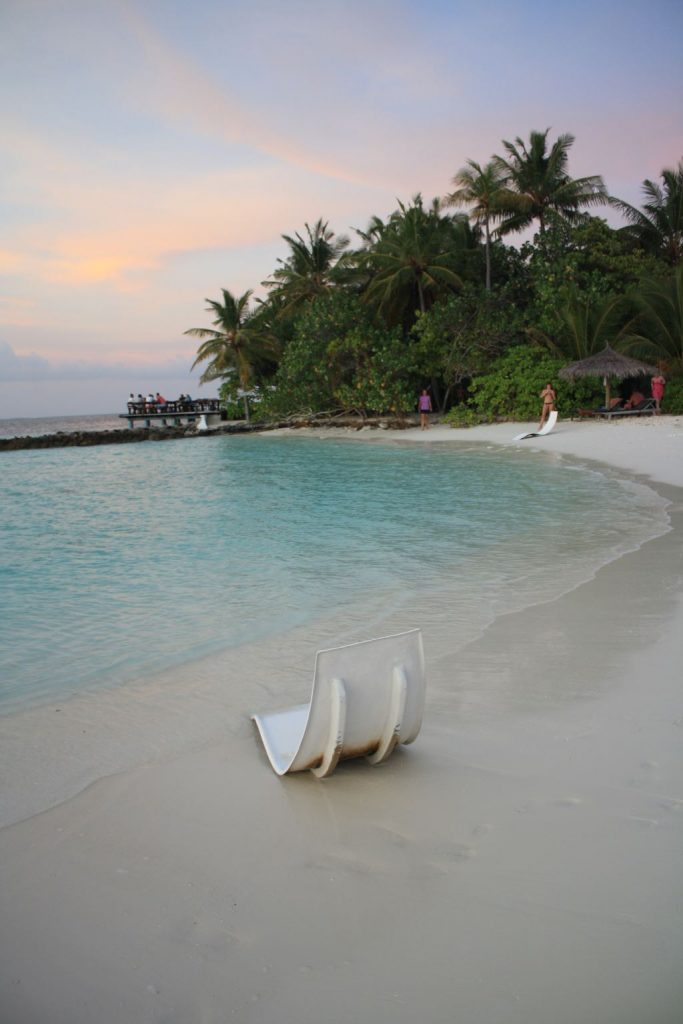 Maldives without travel agent